The holiday season kicks off with Santa comin' to town, tree and menorah lightings. Catch Elmwood Playhouse's She Loves Me or move to the groove with the Music Sessions at RoCA. Nyack's Street Fair goes undercover (and indoors) for the holidays on Sunday at the Nyack Center.
This Fri-Sun list of what to do and where to do it is brought to you by Rockland Center for the Arts. Don't miss Music Sessions at RoCA with Samuel L. Waymon and Jeff Doctorow on Saturday.
Friday
Support the Rockland County YMCA at their annual Night of Magic. There will be a reception, dinner, and live auction. All proceeds will benefit the YMCA programs. 6-11p, The Nyack Seaport, 21 Burd St, Nyack.
Mingle, sip some wine, and snack healthy munchies at Wine & Wellness, all while you talk about wellness and nutrition. 6p, Sage's Herbal Apothecary, 71 S Broadway, Nyack.
Elmwood Playhouse presents: She Loves Me, a story about two feuding perfume shop clerks who have no idea that they are in love with one another. Watch this intimate, touching musical about hidden affection and romance from the songwriting team that wrote Fiddler on the Roof. Through December 8. Fri and Sat at 8p & Sun at 2p, 10 Park St, Nyack.
The Machine performs Pink Floyd's The Wall. 8p, Tarrytown Music Hall, 13 Main St, Tarrytown.
Saturday
What's better than leaving cookies for Santa? Having breakfast with him. Enjoy a delicious buffet before you meet Santa and watch him lead a parade back to Santaland. 9a, Levity Live, 4210 Palisades Center Dr. A-401, West Nyack.
Get an early start and shop for Christmas presents at the Holiday Craft Fair. Find locally handcrafted items, including jewelry, seasonal decorations, crafts, knitted and crocheted items, and ceramics. 10a-4p, Valley Cottage Library, Valley Cottage.
With Tibetan Medicine Bowl Healing you can experience deep and meditative vibrational sounds. Relax while the bowls are placed on your body and gently struck to produce a tonal vibration that feeds your cells, organs, bones, tissues, and calms the brain. 10:30a-12p, The Open Spirit Nyack, 55 Burd St, Nyack.
Want to learn how to row? Give it a try at the Free introduction to Rowing. event. Learn the basic body mechanics of the rowing stroke on an individual land-based rowing machine. Suitable for ages 10 years and up. 1p, Rockland Rowing Association, New York Sports Club, Palisades Mall, 3656 Palisades Center Dr, West Nyack.
Get in the holiday mood with the Nutcracker. It is the 39th annual performance of the Rockland Youth Dance Ensemble. Sat and Sun, 1 and 4p, Rockland Community College, 145 College Rd, Suffern.
It's the most wonderful time of the year. Start it off at the Holiday Lights of Nyack where the Bossy Frog Band and the Sunrise Choir entertain you as you wait for the tree lighting and Santa to arrive on his special sleigh. Bring a coat to benefit a local charity and bring food or a toy for the Hi-Tor Animal Shelter. 4-6p, Veterans Park Gazebo, Main and Cedar St, Nyack.
Enjoy a night out with Music Sessions at RoCA. Experience award winning composer, singer, and pianist Samuel L. Waymon and eclectic electric guitarist Jeff Doctorow in concert. 7:30-10p, Rockland Center for the Arts, 27 S Greenbush Rd, West Nyack.
Sunday
Need a gift for someone who has everything? Head to the annual Nyack Indoor Street Fair for handmade art, jewelry, clothing, and sweets. There will be great entertainment all day to put you in a holiday mood. 10a-5p, Nyack Center, 58 Depew Ave, Nyack.
Celebrate the holidays with handmade works by over 25 artists. At the Handmade Holiday Party you can shop for Portuguese inspired ceramics, one-of-a-kind tiles, and unique treasures. 12-5p, Piermont Straus, 10 Roundhouse Rd, Piermont.
Join the drawing workshop Hop into Art and create your own masterpiece. 12p, Edward Hopper House, 82 N Broadway, Nyack.
Celebrate the first night of Chankah and the festival of lights at a Community Menorah Lighting. 4p, Veterans Memorial Park, Main and Cedar St, Nyack.
It's a "Wild World," so why not join the Nyack Pop-Up Chorus as they sing the songs of Cat Stevens? No experience necessary, just come and have fun. 6p, Casa del Sol, 104 Main St, Nyack.
Next Week
Wednesday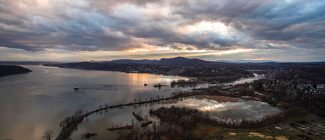 Riverkeeper presents Hope on the Hudson: three short films by National Geographic filmmaker Jon Bowermaster that highlight some of the uplifting stories in the decades-long struggle to save the Hudson River and the communities who cherish and depend on it. Please RSVP here. 6:30-9p, Nyack Center, 58 Depew Ave, Nyack.
Thursday
Piermont's Holiday Wish List Night – Fill out your wish lists at your favorite shops, get some early holiday shopping done, and enjoy refreshments on the side. 5-9p, 478 Piermont Ave, Piermont.
Join family, neighbors, and friends for the annual Heritage of West Nyack Tree Lighting and Open House. Enjoy live music, hot chocolate, and cider while you wait for a visit from old St. Nicholas. 6:30-8:30p, Heritage of West Nyack, 131 Germonds Rd, West Nyack.
Looking Ahead …
Friday, December 7
Maria Luisa Boutique presents a very special edition of its annual Holiday Wish List Event. There will be an artistic collaboration with award-winning, Nyack-based artist and illustrator Johanna Goodman. See a collection of accessories and home goods at the party from 4-8p, 77 S Broadway, Nyack.
Sunday, December 9