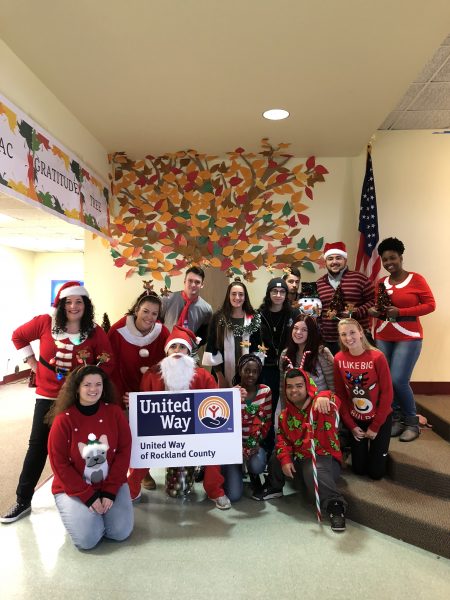 by Erin Durkin
Sparkill, NY – Students of St. Thomas Aquinas College would like to challenge Rockland County to spread gratitude to others this holiday season with their #GivingTuesday inspired event, the United Way of Rockland Gratitude Challenge (#UWRGratitudeChallenge). 
Approximately 60 students from Professor Elaine Winship's Public Relations and Social Media Marketing courses have teamed up with the United Way of Rockland County to create a movement that will share joy and raise funds for UWRC's holiday campaign, Hope For the Holidays. How? By encouraging the community to record messages of gratitude to post on social media platforms and then challenge others to do the same. 
"This campaign reinforces our mission, to live united, and we hope Rockland will accept the challenge and spread gratitude this season," stated Dana Treacy, CEO of the United Way of Rockland County as her organization worked with STAC students to provide them real-world public relations experience with hopes to create a viral campaign inspired by the goodness of others throughout the county.
"The United Way Rockland Gratitude Campaign is an inspiring service learning project that not only reinforces the importance of treating others with kindness during the Thanksgiving season, but also allows my students to gain professional communication experience," said Professor Winship. 
"This is more than a feel-good service project," added Senior Alyssa Chelak. "It also teaches me valuable skills and allows me to build my resume."
To add physical life to this campaign, the students of STAC created their own addition to the movement, a 10-foot-tall Gratitude Tree, and encouraged students and faculty members to write messages of thanks on paper leaves. These leaves are attached onto the tree and the authors are encouraged to take the #UWRGratitudeChallenge. The students have a goal for the tree to sprout more than 1,000 leaves by Giving Tuesday, the global day of giving on November 27th where they will celebrate the success of their movement with a #GivingTuesdayUglySweaterParty. The event will have food, prizes, raffles, and donation buckets. All funds raised at this event will be used to purchase about 50 $25 gift cards for United Way of Rockland's Hope For the Holidays campaign so that children and teens in the county can enjoy their own gifts this holiday season. To donate, go to https://www.uwrc.org/give.html.
Erin Durkin studies Communication Arts at St. Thomas Aquinas College.