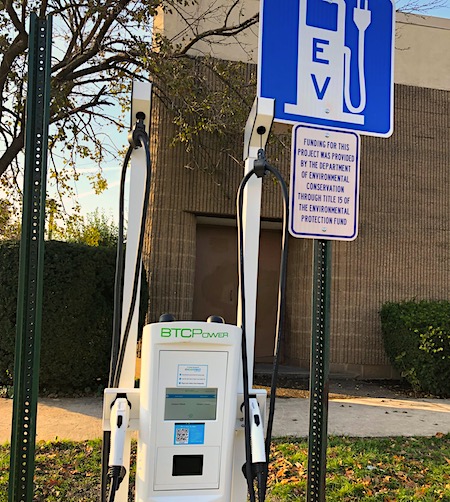 "Nyack Sings the Parking Electric" with its new EV Charging Station just in time for the holiday shopping season. The two-port Level Two station is located near Main Street at Cedar St & Artopee Way behind the Veterans Memorial Park gazebo.
Year to date electric vehicle and plug-in hybrid car sales are a rapidly growing segment of the the US auto market. More than 232,000 cars shipped to dealers through September, representing a 63% increase over the same period last year. Bolt, E-Golf, Leaf, Tesla,  Plugin Prius, Clarity, Ioniq, Fiat, Ford Focus EV owners and drivers of 20 other US EV cars can charge up for free while shopping, dining or just visiting the Village of Nyack on the Hudson River, located between Exit 10 and 11 on the New York State Thruway / I-287.
The Nyack charging station is part of the EV Connect network. Electric and plug-in hybrid car owners need to download the free EV Connect app from Apple's App Store or Google Play to use the station. Charging is free, but visitors will still have to pay to park during regular Nyack municipal parking hours, Mon-Sat 11a-6p and 11p-6a.
Nyack Mayor Don Hammond says the village will be able to monitor how often, how long, and when the station is being used. System software will also report on greenhouse gas savings. "Our goal is to make our transportation infrastructure safe, connected, green and multi-modal in the village," said Hammond. "Nyack is rising to the challenge of transforming how we get around as part of our continuing effort to make Nyack a sustainable community."
The Nyack EV station is one of 1,100 charging ports throughout New York to encourage the use of electric vehicles with the goal of reducing greenhouse gas emissions statewide 40 percent by 2030.
The village doesn't just get brownie points for being green — there are real points for Climate Smart communities that encourage sustainable transportation alternatives.  "The Climate Smart program rewards improvements to sidewalks and intersections and the installation of  bike lanes, as part of the federal Transportation Alternatives Program (TAP)," says Village of Nyack Sustainability Coordinator Marcy Denker. "Installing alternative fuel infrastructure and making it available to the public will earn Nyack points in the Climate Smart Communities certification program, which helps municipalities take meaningful actions to prepare for future impacts of climate change by reducing greenhouse gas emissions." She says the recently completed Greater Nyack Bike Walk Master Plan and planned improvements to biking and walking infrastructure will help Nyack deliver on its efforts to be a sustainable community.
To encourage the installation of clean vehicle support infrastructure the NYS State Department of Environmental Conservation's (DEC) Clean Vehicle Infrastructure Rebate program provided a 75% municipal rebate on the cost of the equipment and installation. "The Village of Nyack is doing its part to support the growth of clean transportation by offering drivers of electric vehicles a convenient place to recharge," said Gil C. Quiniones, president and CEO of The New York Power Authority (NYPA), who coordinated and contracted the installation. "State partnerships with municipalities are key to building an extensive network of charging stations across the state, accelerating the adoption of EVs and achieving New York's clean energy goals."