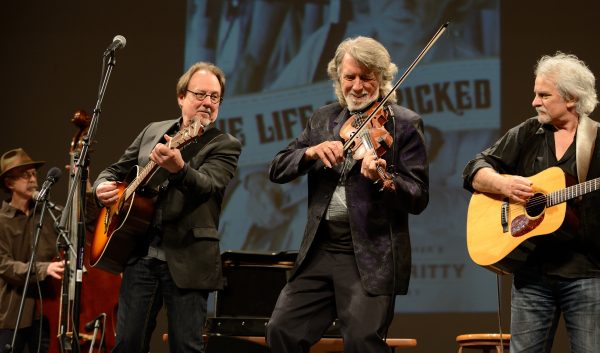 John McEuen is old school. He's appearing at the Emelin Theatre in Mamaroneck on Saturday Nov 17, with a few of his buddies from the Nitty Gritty Dirt Band, which he helped form 50 years ago or more, and a few friends he's met along the way. I asked him if he's touring to promote a particular album.
"I'm promoting about 40 albums," he drawled laconically. "It's just what I do."
As it happens, he does have a new album to promote—Made in Brooklyn, a collaboration with several of his tour mates, including Andy Gessling, Steve Martin, and David Amram, around a single binaural microphone.
McEuen is a recent inductee into the American Banjo Museum Hall of Fame, but he wears the honor lightly. He plays banjo, picked or strummed, along with mandolin, fiddle, guitar, and perhaps even a touch of dobro, and sings in a high, spare, plangent Pete Seeger tenor.
Plus he's got stories galore. He just published his autobiography, The Life I've Picked, and it's full of war stories and love stories and stories of his involvement in one of the foundational albums of what came to be called Newgrass, Will the Circle Be Unbroken. It's a triple album. Quite unheard of at that time or any other. Very different music, but like they say about the first Velvet Underground album, everyone who heard Will the Circle Be Unbroken went out and started a band. It's the 50th anniversary of the album's release, and they'll be playing major chunks of it on Saturday.
But resting on laurels is not what McEuen is all about. He's about his playing, and his stories, and the quiet confidence that comes from years of being on the road in front of a live audience. Go check out John McEuen if you really want a shot of old school. I believe the last school he actually attended was high school, where he was a classmate of Steve Martin, who makes a guest appearance on Made in Brooklyn. Go hear the story about him busking in Edinburgh with John Carter Cash. Or about instructing Dylan on which input to plug into to get his amp to work. He's got a million of em. And each one is worth the price of admission. Tickets start at a mere $30. And if you haven't been to the Emelin, well, it's a great place to hear music. Not a bad seat in the house.
Dan Cohen is a songwriter, music producer, and freelance writer. His reviews and reporting have appeared in SF Weekly, High Country News, the legendary North Conway Mountain Ear, and elsewhere. He performs for kids as Danna Banana.