This week in the villages: A new era in transit begins as Hudson Link service replaces the Tappan Zee Express. And we've got an app for that called HudsonLinkNyack.com. There's still time to volunteer for the Village of Nyack Citizens Advisory Committee. And pickleball drop-in play continues on Wednesday mornings in Memorial Park.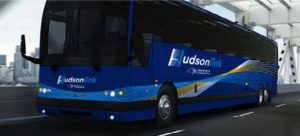 Hudson Link Service Launches Monday, Oct 29
Starting Monday, Oct 29, Hudson Link will provide more than 230 one-way rides per day between Rockland and Westchester counties. The NYS Department of Transportation has hired Transdev to operate the service to take commuters to Metro-North train stations in Tarrytown or White Plains.
A pdf schedule is available at RideHudsonLink.com for the H07/H07X route that runs from the Palisades Center through Nyack to the Tarrytown train station. To make the transition a little bit easier, NyackNewsAndViews.com has created HudsonLink.com, which provides a one click simplified bus schedules for the Nyack routes. It offers three specific benefits:
It only includes the Nyack to Tarrytown buses, eliminating the need to search multiple schedules.
It includes the departure/arrival times of all Metro North trains that leave/depart within 22 mins of Hudson Link bus and Metro North train connections.
It reduces the visual clutter of typical bus schedules by limiting the results to your bus stop, and the Tarrytown and Grand Central arrivals/departures, making it easier to read and follow
HudsonLinkNyack.com is built on the former tzxBus.com application, which provided similar information for the now retired Tappan Zee Express bus service.
Each span of the bridge will feature a dedicated bus lane to support the new regional service and other high-capacity transit. The Westchester-bound bus lane will be operational on Monday morning. The Rockland-bound bus lane will be available for use next year after construction of the bridge's shared biking/pedestrian path is complete.
Each bus lane will be located on the right side of the road, between general travel lanes and the outside shoulder. The bus lane will be available to all vehicles seating 15 or more passengers, including Hudson Link buses, charter buses, school buses, and other regional public transit buses.
New York State Police will be responsible for enforcing the proper use of the bus lane. The first violation will carry a fine of $150, and the penalty would escalate for any repeat violations within an 18-month period.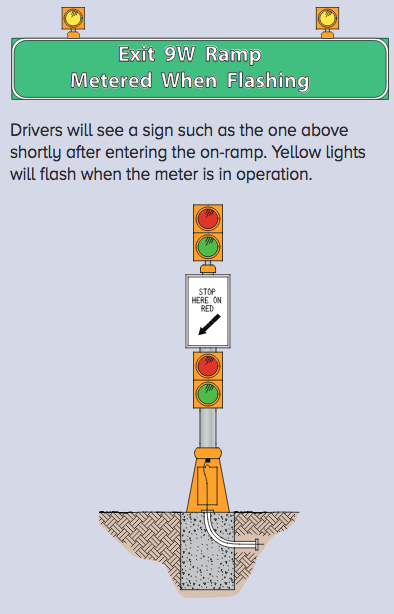 The Hudson Link service will feature intelligent transportation management technology with real-time traffic information for commuters. The 45-foot fully accessible buses will provide several passenger amenities on the buses, including free wireless network service, USB charging stations, and bike racks on the front of the buses. The buses will be equipped with LED panels to provide passengers with real-time travel information and provide overhead storage and personal lighting for passengers.
Halt Before Entering: A new way to merge on the Thuway. To lessen the impact of merging traffic on the NYS Thruway in the two country corridor, ramp meter signals will be installed on 13 Rockland and Westchester County interchanges along I-287. Ramp meters are red/green traffic signals regulating the flow of vehicles from local access ramps entering I-287 to manage roadway congestion. The entrance ramp meters will be installed from Interchange 14A in Rockland County to Interchange 4 in Westchester County with the three Westchester ramp meters installed by Nov 1.  New York State Police will enforce traffic rules at these meters.
Village of Nyack
Volunteers Needed for Citizens Advisory Committee
The Village of Nyack is currently looking for volunteers to sit on the Citizen Advisory Committee (CAC).  The committee will be responsible for reviewing projects that might be eligible for Community Development funding and making recommendations to the board. There will be a minimum commitment of two meetings.  The volunteers must be residents of the Village of Nyack.  If interested in becoming a volunteer member of the CAC, please submit your name and contact information to James Politi (jamespoliti@nyack-ny.gov) no later than October 29, 2018.
Pickleball Drop-in Play
Pickleball anyone? The Nyack Rec Dept invites pickleball players to Memorial Park each Wednesday at 9a for "drop-in" pickleball through November. The sport is somewhere between tennis and ping-pong. The Rec Dept will supply nets and balls with a few spare paddles to lend if you are new to the sport. Meetup at 9a on the basketball courts at Nyack Memorial Park, Depew & Piermont Aves.
Village of Upper Nyack
It's Leaf Season
The Village of Upper Nyack requires all residents to bag leaves and place the bags at curbside for pick-up by the Department of Public Works Employees. Leaves, grass, clippings, and yard debris may not be placed in the roadway and will only be collected if placed in biodegradable paper bags. Bags are available at Village Hall. Residents may take up to 20 bags per visit. Do not place leaves in plastic bags, boxes, or cans.
Residents are also encouraged to mulch or compost leaves: shred fall leaves with a mulching mower and leave in place on the lawn, use shredded leaves as a free decorative mulch for landscape beds, rake, or blow excess leaves into wooded areas and margins, or start a compost pile (with shredded leaves) and include grass clippings. For further information, visit www.LELENY.org, or email info@leleny.org, or visit www.rocklandrecycles.com.
Town of Clarkstown
2018 Ballot Questions for Clarkstown Residents
There are two propositions on the ballot this upcoming general election for Clarkstown residents. The election will be held on November 6, 2018. Clarkstown voters will have the opportunity to decide whether town council members should serve two year terms (as they do currently) or whether they should serve four year terms. The same question is being posed as it relates to the offices of town clerk, highway superintendent, and supervisor. It is important to note that this will have NO EFFECT on the current term limits that were established in 2015, which limits the amount of years Clarkstown elected officials can serve at eight consecutive years.
Below the two propositions are written as they will be displayed on the ballot:
PROPOSITION #1: "Whether the Town of Clarkstown should amend Chapter 71 (Ward District Boundaries) of the Town Code of the Town of Clarkstown to change the length of term of office of Town Councilpersons from two years to four years, and this amendment shall apply to the Town Councilpersons who are elected at the town elections to be held on or after November 5, 2019?"
PROPOSITION #2: "Whether the Town of Clarkstown should add a Chapter to the Town Code—Length of Terms of Elected Officials—Supervisor, Town Clerk and Superintendent of Highways—to change the length of term of office of the three officials from two years to four years, and this new Chapter shall apply to the Supervisor, Town Clerk and Superintendent of Highways who are elected at the town elections to be held on or after November 5, 2019?"
For more information about voting, polling places, and sample ballots, please visit the Rockland County Board of Elections, or call (845) 638-5172.
Rockland County
Congresswoman Nita Lowey, Ranking Member on the House Appropriations Committee, announced last week that Big Brothers Big Sisters of Rockland County has been awarded $450,000 in federal funding to provide mentoring services for youth impacted by opioids.
"The funding announced today will go a long way toward keeping Rockland County youth safe and healthy, strengthening mentoring services for those impacted by opioids, and helping protect a new generation from opioid addiction," said Congresswoman Lowey. "I will continue to secure these vital federal resources to keep our communities safe."
Proposed 2019 Budget
The proposed 2019 budget for Rockland County was recently unveiled by County Executive Ed Day. The proposed 2019 budget has a net total of $709,050,000. There will be a tax increase of 2.9 percent, under the state property tax cap. The tax increase will be $3 monthly or $37 annually. There will be zero layoffs, while 28 vacant positions were eliminated; the total workforce is 1,708. A copy of the entire proposed 2019 budget may be found at budget.rocklandgov.com.
Mario Cuomo Bridge News
River Road Work 
TZC continues work near River Road in South Nyack, requiring single lane closures and brief, periodic traffic holds. Travelers should expect brief traffic stops between 7a and 5:30p, Monday to Friday. Flag persons are on site to facilitate the lane closings and maintain traffic safety. School buses and emergency vehicles are given priority throughout the closure period. Cyclists and pedestrians should follow flagger's instructions.
Shared Use Path
TZC will continue placing rebar, formwork, and concrete for the bridge's bicycle/pedestrian path's barrier on the northern side of the westbound span. Concrete will be also be placed to form the first two overlooks. At the Rockland Landing, a segment of the Esposito Trail from Clinton Avenue and South Franklin Street to Village Hall, is temporarily closed for the construction of the side path. Drilling and installation of piles will continue behind Village Hall. Pedestrians and cyclists are being detoured to South Broadway and through Elizabeth Place Park. Additionally, crews will continue drilling and installing piles along Hillside Avenue, necessitating temporary lane closures. Flag persons will keep traffic moving by alternating the directional flow between east and west. Ramp construction will also continue for the new connection between Interchange 10 and Hillside Avenue.
---
Here are the municipal events in the Village of Nyack for the week of 10/29. There are no meetings scheduled in South or Upper Nyack this week.
Village of Nyack
Tue 10/30, 5p: Justice Court
Thurs 11/1, 9:30a: Justice Court
Nyack Village Hall is located at 9 N. Broadway.