Joan Konner, an award-winning producer, documentarian and trailblazing dean of Columbia University Graduate School of Journalism, passed away on April 18, 2018 of Leukemia in Manhattan.  A Memorial and Celebration of her life will be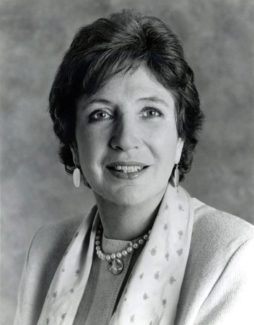 held at Rockland Center for the Arts on November 4 at 2p.
Ms. Konner was known as a trailblazing woman ahead of her time.  After graduating with a Master's from Columbia's School of Journalism in 1961, she began writing for New Jersey's The Bergen Record.  In 1977, she became the executive producer for national news and public affairs for PBS, WNET/Thirteen, the public broadcasting station for metropolitan New York.  She went on to be the executive producer of Bill Moyers Journal in the 80's.  In 1986 she founded Public Affairs Television Inc., an independent production company in partnership with Moyers and worked as its president and executive producer.  She helped to produce, in collaboration with her husband, Alvin H. Perlmutter, the acclaimed six-part documentary series Joseph Campbell and the Power of Myth with Bill Moyers, dealing with the very essence of life and living.
Her many trailblazing accomplishments included: Producing more than 50 documentaries and television series for PBS that focused on ideas and beliefs. Two of those included: "She Says/Women in News" and "The Mystery of Love."  She earned two Primetime Emmy nominations, 16 News & Documentary Emmys, a Peabody Award, 1980; and an Alfred I. du Pont Award, 1989 for those documentary series.   She received three American Bar Association Awards; and Outstanding Broadcast Journalism Educator, from the Association for Education in Journalism and Mass Communication, 1996.
"Ms. Konner broke through barriers to produce her first documentary and showed women it could be done.  She paved the way for hundreds – maybe thousands – of other women journalists to rise in the field," according to Mr. Moyers.
She was the first female Dean of the Columbia School of Journalism and served as the publisher of the Columbia Journalism Review.  She was already a trustee of the college at the time and was credited with creating a brand-new doctoral program, instituting a two-year curriculum for working journalists and producing millions in endowments.
Ms. Konner was also an author of a half-dozen books on ideas and beliefs that she said in her words to be "takeout gourmet food for thought."  In 2007, she wrote "The Atheist's Bible," in 2009, "You Don't Have to Be Buddhist to Know Nothing," and in 2012, "The Book of I: An Illustrious Collection of Self Reflections." 
Ms. Konner believed that good journalists were looking for the right questions.
Joan Konner and husband, Alvin H. Perlmutter, created The Catherine Konner Sculpture Park at Rockland Center for the Arts in honor of Joan Konner's daughter, Catherine.  The Sculpture Park hosts revolving exhibitions by nationally recognized sculptors is and open to the public year-round.
The Rockland Center for the Arts is located at 27 S Greenbush in West Nyack. The memorial will take place in the Emerson Gallery at 2p.  For more information, 845-358-0877.