by Robert Tompkins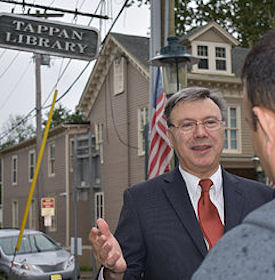 It's a challenging time of the year for Orangetown and river village residents to tune out the high voltage coming from our national politics, the negativity littering our mailboxes and the vitriol flooding our airwaves. Let's focus on something very local at stake this November 6th : the special election for Town Clerk, Receiver of Taxes.
After a lifetime of public service, long-time Town Clerk Charlotte Madigan retired in July, creating a vacancy. I'm honored the Orangetown Democratic Committee recently placed me on the ballot as a candidate to fill the remainder of Charlotte's term.
The Town Clerk's office is more than just issuing permits, taking minutes, safeguarding important documents, opening bids, and certifying contracts. On January 1  the Town Clerk position as merged with the Receiver of Taxes, and for the first time is responsible for collecting more than $200 million in property taxes. Monies that must be quickly and efficiently distributed to our schools, libraries, fire departments, town, county, and villages. This is a new job description that demands knowledge of accounting and experience with municipal finances, as well as supervising town staff.
I'm running because I want to build on Charlotte's fine legacy and because I share her vision for the office–one focused only on service. Although I was not interviewed by the Town Board for the interim position I believe I am the most qualified candidate for this department head position. Thus Orangetown and the river villages have a choice.
I'm a certified public accountant with a master's degree in public administration from Cornell University. I have decades of experience in both the public and private sectors, including as a division manager of a city. I'm an active volunteer in many sectors of our community: I have been a member of the boards of the Cornell Cooperative Extension of Rockland County, the Sparkill Creek Watershed Alliance,as well as the Orangetown Housing Authority for five years. They have 96 one bedroom apartments for seniors. There I helped save more than $3 million in interest expenses after discovering a special clause in their bond covenant allowing refinancing following the Cortwood Village fire—not just a significant accomplishment but the kind of expertise taxpayers could benefit from too.
This November election for Town Clerk, please compare each candidate's vision, background and experience. Until then, look for me at Nyack Farmer's Market or walking around the Village.
You can hear about my plans to implement mobile office hours, make the website more user friendly, protect against ID fraud with expanded shredding and notary services, and more. And I can hear from you what kind of improvements you would like to see—as I work to earn your vote this November 6.
Pearl River resident Robert Tompkins, CPA, MPA, is a candidate for Orangetown Town Clerk / Receiver of Taxes. His website is TompkinsForClerk.com and his phone number is 845-587-7847.