The 2nd biggest Halloween Parade in the NY Metro Area will be held one day later than originally announced. Nyack's 31st annual Halloween Parade will step off at 5:30p on Sunday Oct 28. Predicted Saturday showers forced organizers to start the event one day later.
Nyack's Main Street and South Broadway will be closed from approximately 1-8p to make way for the Halloween marchers.

Over 25,000 spectators are expected to line the streets of Main and Broadway in Nyack for this fun-filled, family-friendly event, featuring marching bands, festooned fire trucks, fantasmagorical floats and a host of costumed revelers. 
The Travel Channel ranked Nyack's parade in the top four Best Halloween Celebrations nationwide
.

 
The Nyack Chamber of Commerce promises to award over $2,000 to the most creative costumes among the parade's participants.
Nyack Halloween
Parade Route
Memorial Park
South on Piermont Avenue
West on Cedar Hill
North on Broadway
West on Main Street
South on Franklin Street
East on Artopee
The festivities start at 2p with a "Trick-or-Treat Trail" of goodies leading kids from the center of town to the parade assembly in Memorial Park. "Kids and their families can come to the Nyack Chamber's Visitor Kiosk on Main Street to pick up special trick-or-treat bags and a map showing the establishments that will be offering treats," said Nyack Chamber parade organizer Kristin Ozanian, .
Marchers and floats will assemble at 3p for registration and judging in Memorial Park at the corner of Depew and Piermont streets in downtown Nyack. Registration is required for prize eligibility. Registration and judging continue until 5:00 pm, followed by the parade step-off at 5:30 pm.
Nyack Halloween Parade participants include the Nyack Red Storm, East Ramapo and Nanuet High School marching bands, the For Vibration drum circle, Vince Mocerino's Creep Show and Morticia Horror Hearts, Suburbia Roller Derby of Westchester, and the Hudson Valley Harley Riders.
The winner of this year's Best Float competition will take home a $750 cash prize. Floats winning second and third place will receive $500 and $250 respectively. Cash prizes and special gifts for costumes will be awarded in multiple categories including both children and adults. The prize award ceremony will begin immediately after the parade (about 7p) in the Main Street parking lot.
Following the parade, Halloween revelers can go to the Nyack Center's 12th annual "Monster Mash" party at 6:30p featuring music, dancing, and a dinner buffet. The Nyack Center is located at Depew and South Broadway. More information is available at www.nyackcenter.org.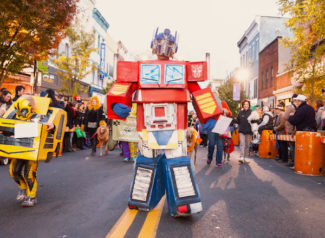 Parade Day Schedule
2p – Trick-or-Treat Trail opens. Pick up treat bags and maps at the Chamber Visitor kiosk on Main Street. Live music festival begins; continues all afternoon
3p — Floats and Costume contestants assemble and register in Memorial Park; DJ Don of the Dead
5:30p — Parade steps off

6:30p — Monster Mash at Nyack Center (after parade)
7:30p — Prizes awarded on stage in Main Street parking lot
Outdoor live music and dancing will begin at 2p at the gazebo in Veterans' Park at Main and Cedar Streets. Big Bois New Orleans-style brass band, Tyranasour Xblues group, classic rock with Phantom Electric Company, progressive rock served up by Distant Figure, and great classics from Frankie D and Dave Reiss and Friends. Costumed teens from Nanuet music school "Bach to Rock" will also perform.