by Susan Hellauer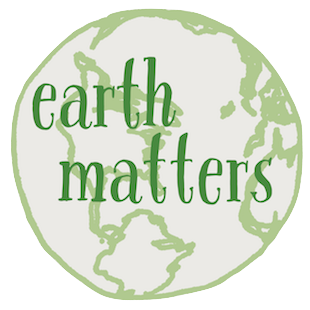 Earth Matters focuses on conservation, sustainability, recycling and healthy living. This weekly series is brought to you by Maria Luisa Boutique and Strawtown Studio.
If Earth Matters to you, sign  up for our mailing list and gthe next installment delivered right to your inbox.
Sometimes dirt is more than just dirt. Our kids run and roll around on it in playgrounds, ball fields, and backyards. We eat what we grow in community garden soil or the home vegetable patch. But scientists and public health advocates are worried about a lurking danger in that dirt—one that's more common than you might think.
For the past few years, scientists and grad students at Columbia University's Lamont Doherty Earth Observatory (LDEO) in nearby Palisades, NY, have been testing soil in North Brooklyn backyards and public areas for contamination with lead. "They discovered that about a third of the backyard samples were at 'Superfund' levels, well above any of the EPA standards," LDEO geochemist Lex van Geen told Earth Matters.
A leader of that research, van Geen will present a lecture on sources of child exposure to lead in NY and Newark at the LDEO Open House on Saturday, October 13 at 1:30 pm. He also wants—needs—Rockland residents to help themselves and public health researchers by bringing soil samples from their backyards, gardens, and wherever their children play, to the Open House for free lead testing.
Lead contamination and young lives
Lead is naturally occurring in the earth's crust, not normally exceeding 50-100 parts per million (ppm). The U.S. Environmental Protection Agency (EPA) has set a "safe" maximum of 400 ppm in soil where children play, and 1200 ppm for bare soil in other residential areas. How can soil get contaminated with dangerously high lead levels? Researchers have pointed to paint stripped from old buildings, demolition, old industrial uses, waste disposal, and even garbage incineration.
Recognized as a neurotoxin by ancient Romans, Benjamin Franklin, and public health officials since the 19th century, lead abatement from paint (1970s), potable water fixtures (1980s), and gasoline (1990s) have caused a steady drop in blood lead levels in children. (The U.S. Centers for Disease Control recognizes no safe blood level of lead in children.) Those younger than six are especially vulnerable to lead exposure which can lead to cognitive impairment.
Those high soil lead levels in Brooklyn backyards prompted van Geen and his team to insist on a meeting with the NYC Dept. of Health and Mental Hygiene. "We knew from publicly available data that blood lead levels in children—the best biomarker of exposure—were high in northern Brooklyn and we were trying to understand why," van Geen said. The NYC officials stuck to their lead-exposure hierarchy of paint from public housing, and drinking water, he added, "but with abatement from those sources, could soil now be a significant source?" Small-scale studies conducted by van Geen and citizen scientists in Westchester and New Jersey last summer seem to point in that direction.
Looking for lead: A map of concern
The combination of "legacy lead" from old paint, plumbing, and tainted soil are reflected by blood lead levels in children up to five years old, for which pediatricians are required to test. In a groundbreaking 2016 study, investigative journalists from Reuters News Service scoured public records for such test results, extracting many of them from reluctant government officials via "Freedom of Information Act" (FOIA) requests. "These journalists have done an amazing job compiling and making this data available," said van Geen. "It's a tremendous public service."
The result of this deep digging is the "Looking for Lead" interactive map of children's blood lead levels from 34 states, including New York. The color-keyed map shows the percentage by locality of young children with tested blood lead levels at or above 5 micrograms per deciliter of blood (the EPA's "action level").
How did our region fare? The numbers around here are not comforting. The national average works out to 2.5% of children in a given area with elevated blood lead levels. For Nyack, it's 9.45%. For Haverstraw, over 10%. Other areas in the Hudson Valley, like Newburgh and Poughkeepsie are even higher, approaching 20%. The worst in New York State? Downtown Buffalo, where an appalling 40% of children tested showed elevated blood levels of lead.
Dig a little, help a lot
LDEO's offer of free testing at this Saturday's Open House will help you learn whether your backyard, your veggie garden, or your kids' playground is tainted with lead. If it is, it can be remediated, and the sooner the better. But your soil sample is worth much more than that. It's a valuable piece of data that will help scientists construct a true picture of our region's lead-contaminated soil, and its connection with lead toxicity in children.
And there's still more. Scientists have recently conducted a raft of studies—carefully controlled for "confounding factors"—looking at the causality between childhood lead exposure and criminality. The results are mind-blowing, and have now been confirmed over and over again: Children exposed to lead grow up to commit crimes in significantly higher numbers than those who have no history of elevated lead levels. Is the fight against environmental lead exposure behind our nation's falling crime rates? It's more than possible.
Ready to take some soil samples? There's a limit of three per person and the Open House. (They're free, but a donation for attending the Open House is suggested.) "Do all three samples," says Dr. van Geen. "One close to wall of the house, one where you grow vegetables, and one where children play." (For the best scientific precision, LDEO has an app to use: Click on this link from your phone when collecting your samples). If van Geen and his team find elevated lead levels, they will answer your questions and steer you to the appropriate help.
Me? I'm headed over to the elementary school playground. See you at the Open House.
Learn more:
Email Earth Matters
Read Earth Matters every Wednesday on Nyack News And Views, or sign up for the Earth Matters mailing list.
Earth Matters, a weekly feature that focuses on conservation, sustainability, recycling and healthy living, is sponsored by Maria Luisa Boutique, Dying to Bloom, and Strawtown Studio.