by Susan Hellauer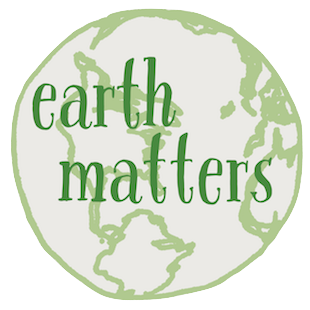 Earth Matters focuses on conservation, sustainability, recycling and healthy living. This weekly series is brought to you by Maria Luisa Boutique and Strawtown Studio.
If Earth Matters to you, sign up for our mailing list and get the next installment delivered right to your inbox.
"Roman, stop hitting that rock so hard!"
With his spot-on teacher tone, Rory Laverty quickly restrained an over-eager future scientist. But the fourth grade instructor didn't otherwise need to raise his voice on a brisk fall Friday at Nyack Beach State Park. His Liberty Elementary students, equipped with professional-grade hammers and safety glasses, were engrossed in their work at the "rock hardness station," one of four geology experiments set up on the spectacular plateau in Nyack Beach State Park. They had already learned from Greenburgh Nature Center educator Andrew Michalski about the plant and animal food chain while hiking the zigzag trail from the river up to the plateau. And they would end their morning field trip down at the riverbank, examining, identifying, and reporting on creatures "borrowed" from the chilly water.
This sunny day of science discovery, disguised as engaging outside fun, was created and carried out for the Nyack School District by the new Outdoor Science Alliance (OSA), with curriculum development and most other expenses covered by the venerable Friends of Rockland Lake and Hook Mountain. All the district's third graders were introduced to the park last year, encouraged to visit it over the summer, and now, as big fourth graders, were ready for a hands-on inquiry into the biology and geology of the Hudson River and the Hook.
Playing "Hook-y"?
Mr Laverty's class eagerly awaited the catch from their science guides' seine nets off the river shore as Assistant Superintendent for Instruction/Curriculum & Personnel Dr. Winsome Gregory looked on. "You know, some of the teachers were understandably concerned about the time taken out of their classroom routines. But just look at these children. They are learning!" Gregory said. "This is absolutely worth it. They will remember every bit of this."
This pilot program to support STEM (Science, Technology, Engineering, Math) learning in Nyack classrooms includes the district's three elementary schools—Upper Nyack, Liberty, and Valley Cottage. All fourth graders are getting this same "Hooked on Hook Mountain" experience this fall. In the spring, Lamont Doherty Earth Observatory geologist (and Liberty Elementary mom) Nicole Davi will visit their schools for a lesson on plate tectonics.
The Nyack School District is extremely fortunate to operate within a community that places a high priority on the education of its children.  The 'Hooked on Hook Mountain' learning project is nothing short of a magical partnership with the Outdoor Science Alliance, Friends of Rockland Lake, Hook Mountain, Nyack Center, William and Mary University, EPA and our school district.  Through hands-on, interdisciplinary learning activities taught by community and parent volunteers our kids are able to explore the wonderments of nature right in their own backyard.  The beauty and history of our natural surroundings are being brought to life by the talents of environmental scientists who reside in our community.  The Nyack Schools are deeply grateful for the vision, hard work and commitment of the Outdoor Science Alliance.
                                     Dr. James Montesano, Superintendent, Nyack School District
STEM and Stewardship
STEM learning is job one for this fall's Hooked on Hook Mountain pilot program. U.S. Environmental Protection Agency (EPA) hydrogeologist Diana Cutt used the monumental Palisades Sill rising high above the plateau as her blackboard for a talk on our region's starring role in Earth's geological history. "When the Earth's one supercontinent Pangea began to break apart about 175 million years ago," Cutt said, "this was a 'rift zone.' It ripped apart right here," she added dramatically, freezing 25 hungry fourth graders in mid-snack.
But there's more to "Hooked on Hook Mountain" than future STEM careers for Nyack students.
OSA Coordinator Melody Partrick, who observed Friday's outing, wants more families, now and in the future, to love and protect our parks and natural places—like Nyack Beach State Park, with its many trails,  habitats, stunning vistas and world-class geological significance. "We want these students to use our parks. That's why we are teaching them how to understand and move about in nature," Partrick said. "That's how we can build environmental stewardship, and preserve our wonderful parks and open spaces."
So put on your walking shoes, grab the kids, and go.
Learn more:
Email Earth Matters
Read Earth Matters every Wednesday on Nyack News And Views, or sign up for the Earth Matters mailing list.
Earth Matters, a weekly feature that focuses on conservation, sustainability, recycling and healthy living, is sponsored by Maria Luisa Boutique, Dying to Bloom, and Strawtown Studio.