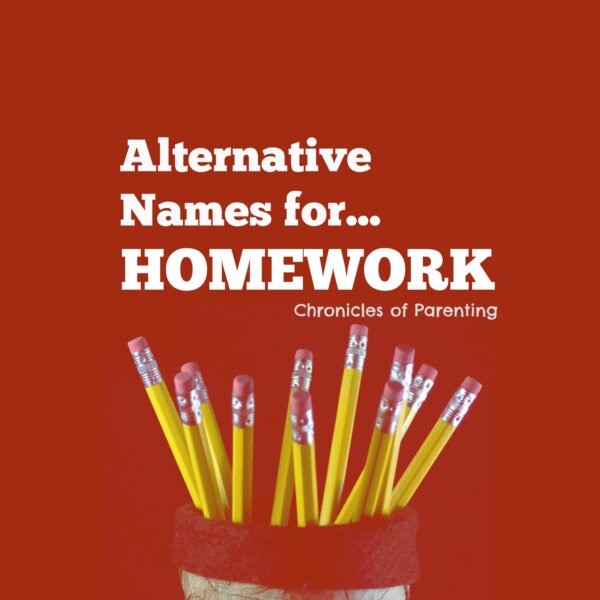 by Jocelyn Jane-Cox
My son, who is in kindergarten, just started getting homework a few weeks ago. So far, so good. He's been tasked with things like practicing writing his name, and my husband or I have sat next to him while he's traced the letter of the week in upper case and lower case multiple times. (Excellent news: His "G" is starting to look a little more like it's supposed to.) Our son hasn't resisted this nightly process yet, but I realize that this is the honeymoon and that we have a loooooong haul ahead.
I also understand that this is a hot button issue, and that lots of parents are frustrated with the workloads their kids are tasked with in elementary school and beyond. (And maybe some are frustrated that their kids aren't getting enough!) I'm not far enough in to have a fully-formed opinion about that yet, but I do keep wishing I had a different way of referring to homework. After all, we all work all day in our own various ways (at school, at our jobs, in the home) and who wants to add more… work? Besides, our kids have the rest of their lives to work.
I'm not opposed to learning, or extra-learning, or even extra-extra learning. I just think that, like so many things, it's all about nomenclature–and, yes, I'd like to sugarcoat this for my five-year-old at this point. So I've been brainstorming some new names. Do you think any of these could… work?
Household Explorations of Knowledge: The acronym could be HEK. As in: "Why the HEK wouldn't you want to learn these spectacular spelling words?"
Mind Magic: Instead of a hat, there's a backpack. Instead of pulling out a rabbit, you pull out assignments. And instead of using a pencil you use a wand. Abra cadabra!
Residential Brain Sports: The desk or dining room table is the playing field, and you are the coach. As in: "Get in there! You got this, go go go! When you get to the bottom of that worksheet you'll reach your GOOOAL!"
Individual Adventures in Memorization: As in, "If you just stare at it for a few more hours, Honey, I know your brain will take you somewhere totally cool."
Cerebral Celebrations: As in: "CEL-E-BRATE your math! Come on!"
IQ Expanders: As in: "This Social studies project is exactly like your palette expander, except for your brain… and it's so much less painful." (Okay, okay, that one might not fly, don't bring up the palette expander.)
Fun Fun Fun Fun: As in: *handing your kid a glitter/confetti pen scented with cherries* "Oooooh, what fun-to-the-fourth-power did your teachers send home today?"
Wisdom Fair: Every subject has its own booth. "Hey! I hear you're going to be rewarded with some great prizes…. the letters 'A' through 'F'!"
Jocelyn Jane Cox is a freelance writer and author. Her humor book on life in the New York suburbs, The Homeowner's Guide to Greatness: How to handle natural disasters, design dilemmas and various infestations, is available on Amazon.com. Follow her on Twitter at @JocelynJaneCox.