This week in the villages:  It's a quiet week at village and town halls near Nyack as schools begin the new year. Labor Day is a federal holiday and government offices, banks and post offices will be closed. The Tappan Zee Express will run on a weekend schedule on Monday 9/3. On Thursday 9/6, NYS Senate Candidates Julie Goldberg and David Carlucci square off at a Candidates Forum at the Nyack Center.
Village of Nyack
Candidates Forum at the Nyack Center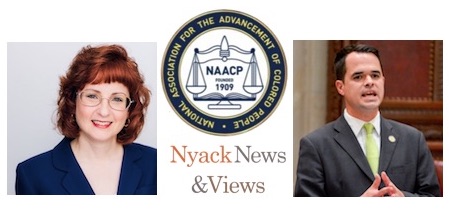 The New York State primary election is only a few days away. Hear why the democratic candidates for NY State Senate, incumbent David Carlucci and challenger Julie Goldberg, deserve your vote on Thursday, September 6 from 7 to 8p at the Nyack Center.
This event is sponsored by the Nyack & Spring Valley NAACP and Nyack News And Views. The Nyack Center is located at 58 Depew Ave, Nyack.
Labor Day Closures
In addition to the village hall office, Nyack's Department of Public Works will be closed on Monday. Trash will be picked up on Tuesday, September 4.
As for transport options: TZx buses will operate on a weekend schedule; Transport of Rockland (TOR) buses 59, 91, 92, 93, 94 and Loop 3 will operate on a Saturday schedule; Loop 1 and Loop 2 will operate on a weekday schedule; there will be no service on TOR 95 and 97; and Metro-North will operate on a  Sunday schedule.
Mayor's Monthly Meeting
Join Mayor Don Hammond on Tuesday, September 4 at 9a at the Village Hall to hear about issues and happenings in Nyack.
Main Street Movie – "Coco"
On Friday, September 7 at 7:30p, the Village of Nyack and Rivertown Film present Coco at Veterans Memorial Park, Main and Cedar Street in downtown Nyack. Outdoors, under the stars, and free.
Citizen Preparedness Corps Training Program … Save the Date
The Citizen Preparedness Corps Training Program will be held on Wednesday, September 12, 2018 at 6:30p in the Nyack library. This two hour training session gives residents the tools and resources to prepare for any type of disaster, respond accordingly, and recover as quickly as possible to pre-disaster conditions. Each family participating will receive a free Citizen Preparedness Corps Response Starter Kit that contains key items to assist in the immediate aftermath of a disaster. All participants must register in advance at prepare.ny.gov.
Job Opening – Assistant Building Inspector
The Village of Nyack is currently looking to hire an Assistant Building Inspector to review plans and specifications submitted with building permit applications, perform inspections, and investigate complaints, in addition to other similar duties. A qualified applicant must possess at least three years of on-site building construction experience or two years of full time technical or trade school training in building construction; or a Bachelors or higher degree in architecture, engineering, or other course of study applicable to building construction; or any combination of the above. Resumes should be submitted to: Village of Nyack Attn Jennifer Hetling, Clerk/Treasurer, 9 North Broadway, Nyack, NY 10960 or to jenniferhetling@nyack-ny.gov.
Village of Upper Nyack
Visit the Hester Haring Cason Preserve with the Mayor
On Thursday, September 6 from 7 to 8p, walk with Mayor Tarapata at the new open space acquisition, the Hester Haring Cason Preserve. Access is restricted to accompanied walks at this time while old fencing and other rubbish is cleaned up. Come see what a gem this will be. Meet the group on N. Midland, just North of Locust Dr. Please RSVP to Village Hall at 845-358-0084.
Tappan Zee Bridge News
Overnight Lane Closures
There will be no overnight lane closures over the Labor Day weekend in accordance with the Driver's First initiative.
Shared Use Path—Rockland Landing
The Thruway Authority will continue tree removal, clearing and grubbing activities in South Nyack. Crews will also work near the Interchange 10 off-ramp near Route 9W and Hillside Avenue.
---
Here are the municipal events in the Village of Nyack for the week of 9/3. There are no meetings scheduled in Upper or South Nyack this week.
Village of Nyack
9a: 'Downtown' Meeting
5p: Justice Court
Thurs 9/6, 9:30a: Justice Court
Nyack Village Hall is located at 9 N. Broadway.