OPERATIONS TO SHIFT ROCKLAND-BOUND TRAFFIC ON GOVERNOR MARIO M. CUOMO BRIDGE TO BEGIN FRIDAY NIGHT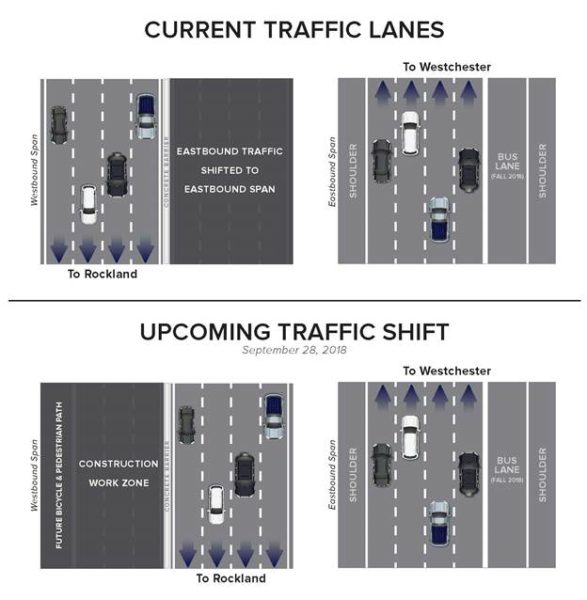 The New York State Thruway Authority announced yesterday that operations to shift four lanes of Rockland-bound traffic to the opposite side of the concrete median on the Governor Mario M. Cuomo Bridge's westbound span will begin on Friday night, Sept. 28, weather permitting. This temporary traffic configuration will allow crews to construct the bridge's bicycle and pedestrian path and its six overlooks.
Motorists traveling on the northbound/westbound New York State Thruway (I-87/I-287) should plan for multiple lane closures and brief traffic stoppages so workers can reconfigure the landings and stripe lanes at both ends of the 3.1-mile span during the overnight operation. There will be no lane closures in the Westchester-bound direction.
Near the main span, Rockland-bound traffic will be slightly re-aligned towards the center of the bridge, protected by temporary concrete jersey barriers. This alignment will provide TZC crews with safe access for operational activities. After passing the main span area, traffic will re-align with the southern side of the westbound crossing. All four traffic lanes will maintain at least an 11-foot width throughout the main span area.
Earlier this month, Westchester-bound traffic was shifted onto the bridge's eastbound span. Westchester-bound motorists now have access to four general traffic lanes and emergency shoulders. A dedicated bus lane will open next month for eastbound traffic. The fully completed project will include shoulders and dedicated bus lanes in each direction, and a bicycle and walking path.
The bridge, including its landing areas, remains an active construction work zone. As such, the posted speed limit will remain 45 mph on both spans for the safety of motorists and construction workers. The Thruway Authority strongly encourages motorists to abide by the reduced speed limit and remain alert when crossing the bridge.
Here are details about Friday night's traffic shift:
Multiple lane closures will begin at approximately 8p Friday as traffic conditions permit. At least one Rockland-bound lane will remain open except when State Police stop and temporarily hold traffic.
Work will require a temporary closure of the Thruway (I-87/I-287) Exit 9 (Tarrytown – Sleepy Hollow – US Route 9) northbound on-ramp from 9p until 6a Saturday. Northbound/westbound drivers will be detoured to the exit 8 on-ramp, shown below.
During the shift, there will be two traffic stops of all four northbound/westbound lanes near Exit 9 in Tarrytown, each lasting up to 20 minutes. The traffic stops will allow Thruway Authority and Tappan Zee Constructors workers to stage operations, stripe lanes at both ends of the bridge and shift barriers and equipment.
All four northbound/westbound lanes are scheduled to be fully open by 10a Saturday.
Variable Message Signs along the Thruway and other highways in the region have been activated to inform motorists of the traffic shift. Motorists are encouraged to tune to Thruway Highway Advisory Radio for updates.