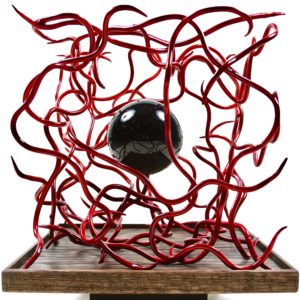 The trees may not be turning yet, but the fall season is kicking off this weekend at Rockland Center for the Arts (RoCA) with an opening reception for the Contemporary Rockland Artists: RoCA Faculty Exhibit on Sat Sept 8 from 1-4p in the Emerson Gallery. This exhibit celebrates the present vision of the teaching artists at RoCA and will be on view through Sept 23 and is free to the general public.
RoCA's exceptional faculty actively creates, teaches, and exhibits throughout the Hudson Valley. The U.S.  Pottery teacher Jim Shaughnessy is a nationally known artist whose ceramic sculptures have been used as awards for Nobel laureate author Toni Morrison, Rockland County Congresswoman Sue Kelly, and NY State Senator Hilary Rodham Clinton. Laura Vogel has been a freelance botanical artist and teacher for 20 years. Her illustrations have appeared in magazines, products, books, and scientific publications, including the Illustrated Companion of Gleason and Conquist's Manual of Vascular Plants for the New York Botanical Garden Press, which was awarded top bio/science book of 1998 by the Association of American Publishers, and Intermountain Flora Exhibits: The New York Botanical Garden, Brooklyn Botanical Garden, and The American Society of Botanical Artists. Eleanor Miller is a classically trained artist, having studied under Eleanor Mikus, a Vanguard Minimalist, and Bernard Aptekar, one of the original SOHO Ten Downtown at Monmouth University. She continued studies at the National Academy School of Fine Arts.  Miller has exhibited extensively throughout the East Coast and is the recipient of numerous awards, including Best of Show at the Museum of Fine Arts, Springfield, MA, the Anna Hyatt Huntington Award from the National Arts Club, and the Gamblin Artists Award from the Salmagundi Club.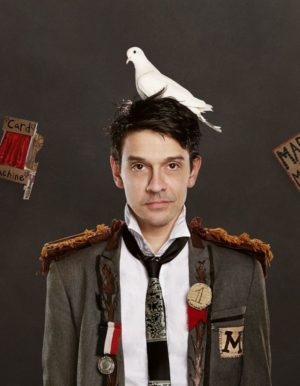 After the opening reception, bring the whole family back for an evening of magic with legendary Mario the Magician on Sat Sept 8, at 6:30p. Seen on Sesame Street and Sprout, Mario the Maker Magician is known for his DIY robotic creations, handmade props, and signature slapstick character. He has been touted "the best kids magician in the world!!" by David Blaine and was the opening act for the most recent David Blaine live tour. Mario's show is an upbeat, hilarious, and very interactive experience that leaves children and families inspired to nurture their own creative paths. Tickets are $15 per person and are available at rocklandartcenter.org.
Looking ahead… RoCA's third annual Full Moon Party is Sat Sept 22 from 4-8p on the grounds of The Catherine Konner Sculpture Park. Festivities include music and dancing with Used Karmas and The Old No. 7 Band, a BBQ dinner and drinks, and a silent auction of fine wines, art, and more. The Contemporary Rockland Artists: RoCA Faculty Exhibit will also be open for the evening. Tickets are $60 per person and are available at rocklandartcenter.org. The ticket includes music, food and exhibitions.  All proceeds benefit RoCA's exhibitions and educational programs.
For more information on any of these events, contact: Rockland Center for the Arts, 845-358-0877, info@rocklandartcenter.org or visit rocklandartcenter.org. Rockland Center for the Arts is located at 27 S Greenbush Rd, West Nyack, NY 10994. Regular hours are: Mon-Fri 10-4; Sat and Sun 1-4p.