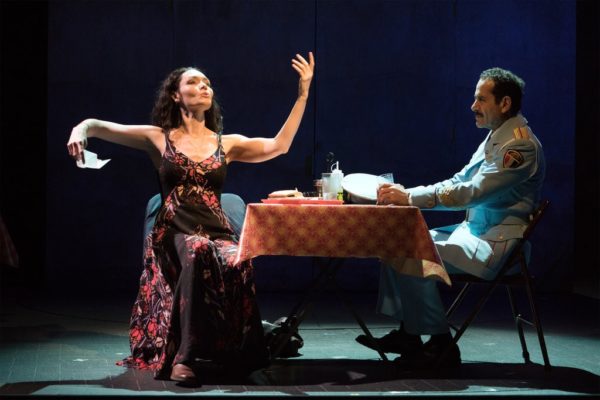 Hungry? Sometimes you want a five-course gourmet meal, and sometimes you want scrambled eggs. Hungry for a Broadway show? Sometimes you want a kick line, or 40 people singing in unison at the top of their lungs, or falling chandeliers, and sometimes you want… something more intimate. Introspective. Quiet.
I love big splashy Broadway musicals. The opening numbers of Titanic (37 cast members singing to their "Ship of Dreams") and Ragtime (40 cast members ushering us into the New York City of 1904) make the hairs on my arms stand up. But I also love quieter musicals, such as this year's Tony Award winning Best Musical, The Band's Visit, on Broadway at the Ethel Barrymore Theatre.
Based on the 2007 film of the same name, and with essentially the same script, it's about an Egyptian band heading to one Israeli city, but ending up in a similarly named teeny tiny place that is basically a café and an apartment building. The locals take in the musicians for the night, and their interactions are the story.
The cast features only 18 actors, either as frustrated Egyptian band members or Israeli locals. But the small cast is not the only thing that makes The Band's Visit what I call a "quiet musical." It's the simple story. It's the internal monologues we the audience get a peek at. The loneliness of the café owner and her longing for "something different." The young married couple who no longer communicate. The man who waits by the payphone for a call from his girlfriend. The socially awkward guy who can't talk to girls because he gets so nervous that all he hears is a whoosh in his head.
The utter intense submersion, and enjoyment, in watching The Band's Visit comes from experiencing the inner sorrow—as Thoreau said, "The mass of men lead lives of quiet desperation"—of these isolated people and their attempts at connection. It's delightfully awkward having these strangers sitting at your kitchen table.
The Band's Visit isn't big or splashy, but it is warm and funny. Its underlying sadness and loneliness give it its power. Egyptian- and Israeli-influenced music, often played by onstage musicians, utilizing such new-to-me instruments as a darbouka, riq, oud, add to the melancholy of the characters: The café owner sings, "You know what I think / There's two kinds of waiting / There's the kind where you're expecting something new / Or even strange / But this kind of waiting, you keep looking off out into the distance / Even though you know the view is never going to change / You wait…."
At other points, though, the songs are funny ("I don't know what to do with the hands or the feet / Frozen in fear like a deer with the lights / In their eyes in the middle of the street," sings the awkward guy) or romantic ("Is this a hymn? / Is this a love song? / Something ancient by a poet / Maybe Hafiz, maybe Rumi? / Is he singing about two hearts searching in the darkness?" sings the cafe owner).
The Band's Visit is reminiscent of a slim book of simultaneously heartwarming and  heartbreaking intimate short stories. It brings to mind words like "wistful" and "ennui." But in this divisive political moment the show also serves as a kind, thoughtful piece about loving one's neighbors. I loved it. I loved every song, every interaction, actor, musician on that stage. I hope you get to see it, too.
Holly Caster knew in 9th grade she wanted to be a writer after receiving an A+ on a paper about 1930's actress Irene Dunne. That early triumphant high hooked her, and she's been writing ever since. She writes nonfiction (self-help articles), fiction (a novel, Cape May), and edits two continuing medical education journals. She's proud to call Nyack "home," and writes about all things entertainment every other week at NyackNewsAndViews.com.
Please Be Seated is sponsored by Elmwood Playhouse and Westchester Broadway Theatre.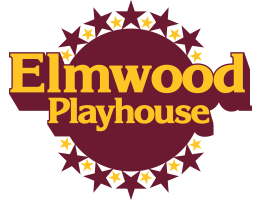 Elmwood Playhouse presents the 2013 Tony Award® Winner for Best Play, Vanya and Sonia and Masha and Spike. While mourning lost dreams and missed opportunities, adult siblings Vanya and Sonia get an unexpected visit from their movie star sister Masha with her sexy boy toy Spike in tow. Now on stage through Sept 29.
Now playing at the Westchester Broadway Theater: Yeston & Kopit's Phantom based on the famous Gaston LeRoux novel. Maury Yeston said his Phantom "differs radically from the Andrew Lloyd Webber show. It tells the life story of the Phantom—a character of deep pathos who, misshapen from birth—radiates the beauty of music from within, despite his outward imperfections." See Phantom at Westchester Broadway Theatre, through Nov 25, 2018 with a second run from Dec 27-Jan 27, 2019.