You Know Phantom of the Opera. But Yeston & Kopit's Phantom Is An Entirely Different Experience.
Like most novels dubbed classics by virtue of their literary excellence and enduring popularity, Gaston Leroux's The Phantom of the Opera was bound to enjoy a life beyond the confines of its 1911 book-cover. Set in the world's most romantic city, in the famed Paris Opera House, the haunting tale is replete with mystery, romance, and conflict galore.
By 1925, the thriving silent film industry had fashioned Leroux's story into a vehicle for fright master Lon Chaney. Next came Claude Rains' more sedate 1943 cinematic impersonation, followed 20 years later by a British screen version, and, more recently, Brian De Palma's rock-toned modernization, The Phantom of the Paradise. It also received a television adaptation in 1983 with Maximillian Schell. The transition to the musical stage was inevitable.
The Phantom In Elmsford
See Phantom at Westchester Broadway Theatre, through Nov 25, 2018 with a second run from Dec 27-Jan 27, 2019 following holiday season performances of A Christmas Carol.
WBT's first production of Phantom ran for nine months, making it the longest running show in the theatre's 44 year history. The July, 1992 – April 1993 Phantom perfmances brought 120,000 people to the theatre. Phantom returned to Elmsford in 1996, in 2007, and is back on stage in 2018.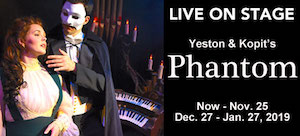 Westchester Broadway Theatre is located at 1 Broadway Plaza Elmsford, NY 10523. The Box Office can be reached at (914) 592-2222 or online at BroadwayTheatre.com
The Tony Award-winning-team of Arthur Kopit and Maury Yeston (Nine) had created a brand new adaptation of Gaston Leroux's classical novel. This Kopit/Yeston Phantom should not be confused with the Andrew Lloyd Webber version running on Broadway. Yeston said his Phantom "differs radically from the Webber show in that it is a musical theatre piece, Operetta-like in tone and deeply French in style, it tells the life story of the Phantom—a character of deep pathos who, misshapen from birth—radiates the beauty of music from within, despite his outward imperfections."
Kopit and Yeston were working on their Phantom at the same time as Andrew Lloyd Webber. They were close to getting financing when it was announced that Webber's version was being staged in London. The Kopit and Yeston financing ended because no one was going to put money into a show that was competing with Andrew Lloyd Webber (creator of Evita, Cats, Jesus Christ Super­star, Joseph And The Amazing Technicolor Dreamcoat). The musical was shelved. Kopit proceeded to turn his Phantom into an NBC mini-series that starred Burt Lancaster, and Yeston went off to do Grand Hotel.
"I never wanted anyone to be able to say that I was influenced by Lloyd Webber's Phantom of the Opera, so I chose not to see it," Yeston said. "I have tremendous respect for Andrew Lloyd Webber, but our show is so different from his. We invented a mother and father for the Phantom, which isn't in the novel, and you really get to know the man and feel for him… I don't want to toot my own horn, but I think that our story touched on some universal truths by making the man outwardly disfigured but inwardly beautiful."
It took Frank Young, the President of the Alliance for Musical Theatre Producers, to bring the Yeston/Kopit Phantom back from oblivion. His Houston theatre, Theatre Under the Stars, is continually looking for new musicals. Having heard about the Yeston/Kopit Phantom, he made contact. By January of 1991, the show was produced to critical acclaim, and was an immediate outstanding commercial success. The produc­tion was then moved to the Fifth Avenue Musical Theatre in Seattle, Washington with the same results. Subsequently, The Candlelight Dinner Playhouse in Chica­go produced the show in January of 1992, breaking all attendance records in its 33 year history.
Catch up on all things entertainment with Please Be Seated on Nyack News And Views. Whether you cue up to watch it in line or online, local author Holly Caster has entertainment recommendations and insights about what is new and what you might want to rediscover.