by Paul Adler
The very backbone of our democratic electoral process is information, and debate is the best engine to find the truth.

NYS Senator David Carlucci and challenger Julie Goldberg will discuss issues and take questions from the audience on
Thurs Sept 6 at 7p  in the Nyack Center
. The two candidates are running in the Sept 13 Democratic Primary Election for the 38th Senate District which includes the Rockland County towns of Ramapo, Clarkstown and Orangetown, and Ossining in Westchester.
"I hope everyone who is available Thursday evening seizes the opportunity to experience local politics in person, with neighbors and with the candidates who hope to represent you," said Julie Goldberg.

"An engaged electorate is essential for any democracy to exist. I encourage residents to come out and listen to the debate so they can make an informed choice on September 13," said Senator David Carlucci.
Thursday's debate will follow this format:
Three minute opening statements from each candidate
As moderator, I will ask each candidate several questions on issues of concern to the NAACP. Each candidate will have two minutes for each question with limited follow-up.
Index cards will be distributed to attendees for questions to the candidates. The questions will be screened by Regional Representative Wilbur Aldridge to prevent personal attacks or inappropriate comments.
The candidates will have one minute to respond to questions asked by the audience through the moderator.
The candidates will have two minute closing statements each.
The 2018 primary for the Democratic nomination for the 38th Senatorial District will be held on Thursday, September 13.
The Nyack Branch of the NAACP has hosted candidates' forum for decades in Nyack, and throughout Rockland with is its sister NAACP branch in Spring Valley. The 2018 Candidates Forum is jointly sponsored event by the Nyack & Spring Valley NAACP and Nyack News & Views.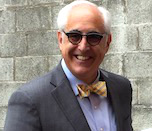 Paul Adler, the Chairperson of the Nyack NAACP's Civic Engagement Committee, will moderate the NAACP's Candidate's Forum on Sept 6. The Nyack Center is located on South Broadway at 58 Depew Ave.