This week in the villages: The Nyack Center and the Town of Clarkstown are both holding school supply drives for students in need. Nyack holds its first ever village-wide sidewalk sale. And preliminary work begins on the South Nyack terminus of the shared use path for the Governor Mario M. Cuomo Bridge.
Village of Nyack
Nyack Center Back to School Drive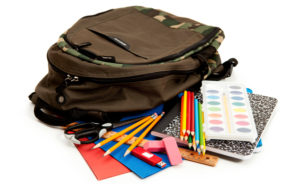 Join Nyack Center's School Supply Drive for children in Nyack Public Schools. Donate or drop off your donation of supplies at Nyack Center, 58 Depew Ave, Monday through Friday, from 10a-4p. For more information, email info@nyackcenter.org or call 845-358-2600.
Village-wide Sidewalk Sale
Nyack's first-ever summer sidewalk sale will be held Saturday, August 18 from 12-8p. Shoppers can shut down their computers for some real brick-and-mortar browsing. Great deals will be available from dozens of retailers and restaurants. The sale runs rain or shine. Retailers interested in participating can contact Village of Nyack Recreation Director Melody Partrick at 914-629-9748 or recreation@nyack-ny.gov.
Fall 2018 Recreation Programs
Registration is now open for Fall 2018 Recreation Programs, including Mini Dragons Kung Fu, Beginning Piano, Teen Aerial Yoga, Skateboarding, Self Defense/Kickboxing, Field Games in the Park, and Kids Wrestling Club.
In Case You Missed It… read Elijah Reichlin-Melnick's August Village Trustee Update.
Town of Clarkstown
Back to School Drive
Clarkstown is participating in a back-to-school drive from now through August 17, 2018. The drive will help two local not-for-profit organizations, Advocating for Change, Inc. and People to People, distribute supplies to students in need. A donation box is located in the lobby at Town Hall, 10 Maple Ave, New City. The list of items to donate includes: backpacks (grades K-12), three subject notebooks, five subject notebooks, marble notebooks, binders (1.5" or larger) and binder dividers, loose leaf paper, index cards, scientific calculators (new or used in working condition), pens, #2 pencils, crayons, colored pencils, markers, pencil cases, pocket folders, rulers, scissors, glue sticks, pencil sharpeners, and highlighters.
Family Movie Night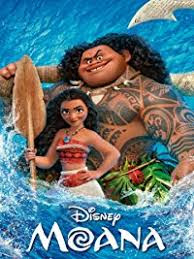 On Wednesday, August 15, 2018 at 8p, take the entire family to a free screening of Disney's Moana on the New City Courthouse Lawn, 1 S Main St, New City. Bring chairs and blankets for a movie under the stars.
Car Show
On Thursday, August 16, 2018 at 5:30p, bring your "collectible" car to Congers Lake Memorial Park to be judged for awards. "People's Choice" trophies will be given for 1st, 2nd, and 3rd place. Food will be available for purchase. The fee is $10 per car and limited spots are available. Rain date: August 23, 2018.
Edward Hopper House Museum & Study Center
The Jazz in the Garden series concludes with the Richard Sussman Group on Thursday, August 16, 2018 at 7:30p. Bring a lawn chair or a blanket. Refreshments are available for purchase prior to the concert and 8pduring the intermission. In case of rain, the concerts will be held at Grace Church, 130 First Ave, Nyack.
Tappan Zee Bridge News
Shared Use Path – Rockland Landing
The Thruway Authority will implement traffic control measures in South Nyack in advance of construction for the project's shared use path. Crews are scheduled to install temporary traffic signals on the South Broadway bridge, which will be reduced to one travel lane so workers can safely construct an underpass for the path.
Updated Aerial View of Bike/Pedestrian Path in South Nyack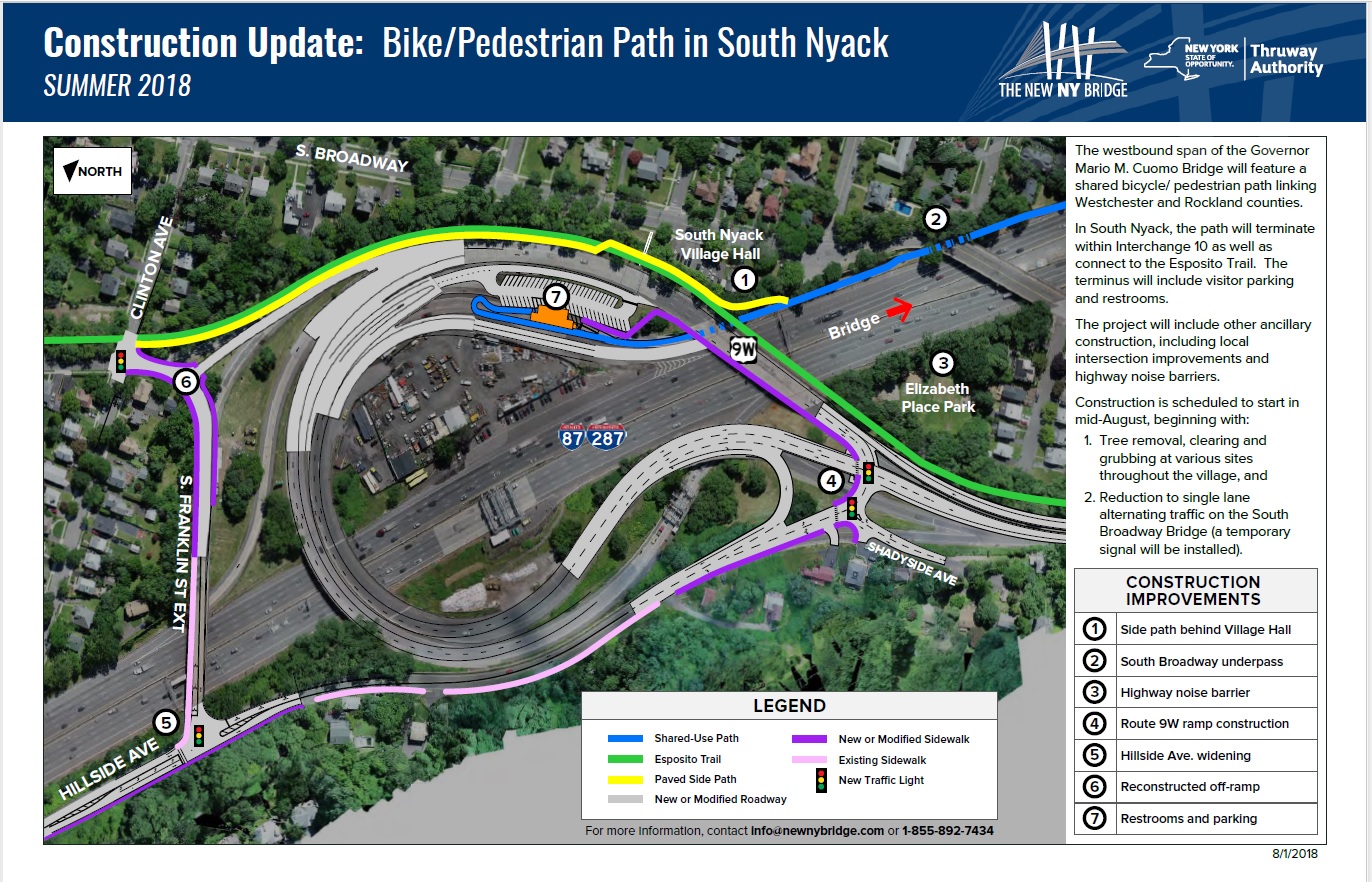 ---
Here are the municipal events in Upper, South and the Village of Nyack for the week of 8/13. 
Village of Nyack
Tue 8/14, 5p: Justice Court
Wed 8/15, 7p: Nyack Art Collective
Thurs 8/16, 9:30a: Justice Court
Nyack Village Hall is located at 9 N. Broadway.
Village of South Nyack
Mon 8/13, 5:30p: Justice Court
Tue 8/14, 7:30p: Board of Trustees Regular Meeting
South Nyack Village Hall is located at 282 S Broadway.
Village of Upper Nyack
Thurs 8/16, 7p: Board of Trustees Meeting
Upper Nyack Village Hall is located at 328 N Broadway.