This week in the villages: Work on the bridge continues at a feverish pace, requiring overnight lane closures this week. The Village of Nyack is hiring an Assistant Building Inspector. The Village of Upper Nyack has issued a permit for removal of high risk trees. And the Nyack Center is holding a back to school drive.
Village of Nyack
Job Opening – Assistant Building Inspector
The Village of Nyack is currently looking to hire an Assistant Building Inspector to review plans and specifications submitted with building permit applications, perform inspections, and investigate complaints, in addition to other similar duties. A qualified applicant must possess at least three years of on-site building construction experience or two years of full time technical or trade school training in building construction; or a Bachelors or higher degree in architecture, engineering, or other course of study applicable to building construction; or any combination of the above. Resumes should be submitted to: Village of Nyack Attn Jennifer Hetling, Clerk/Treasurer, 9 North Broadway, Nyack, NY 10960 or to jenniferhetling@nyack-ny.gov.
Nyack Center Back to School Drive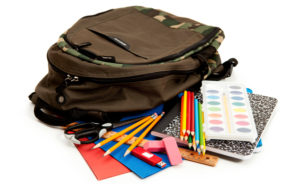 There's still time to join Nyack Center's School Supply Drive for children in Nyack Public Schools. Donate or drop off your donation of supplies at Nyack Center, 58 Depew Ave, Monday through Friday, from 10a-4p. Donations are being accepted until Tuesday, August 28. For more information, email info@nyackcenter.org or call 845-358-2600.
Fall 2018 Recreation Programs
Registration is now open for Fall 2018 Recreation Programs, including Mini Dragons Kung Fu, Beginning Piano, Teen Aerial Yoga, Skateboarding, Self Defense/Kickboxing, Field Games in the Park, and Kids Wrestling Club.
Citizen Preparedness Corps Training Program … Save the Date
The Citizen Preparedness Corps Training Program will be held on Wednesday, September 12, 2018 at 6:30p in the Nyack library. This two hour training session gives residents the tools and resources to prepare for any type of disaster, respond accordingly, and recover as quickly as possible to pre-disaster conditions. Each family participating will receive a free Citizen Preparedness Corps Response Starter Kit that contains key items to assist in the immediate aftermath of a disaster. All participants must register in advance at prepare.ny.gov.
Village of Upper Nyack
Linden Trees on North Broadway
On July 18, 2018 the Summit School appeared before the Upper Nyack Planning Board to review a request for tree removal beyond the allowable number of trees that can be removed. The Building Inspector had already issued a permit for 10 high risk trees to be removed. The Planning Board requested the applicant, The Summit School, arrange for a Level II assessment by a Certified Arborist of all of the trees before they proceeded to remove any trees or get permission for additional trees.
As a result of the Level II Risk Assessment by a Certified Arborist, the Building Inspector, with the support of the Village Board of Trustees and the Planning Board, has issued a tree permit for the removal of the 22 linden trees on North Broadway, on the Summit School property. The applicant will return to the Planning Board for review of a landscape plan for replanting of trees in the same location. The risk assessment report is available at the Village hall office.
Tappan Zee Bridge News
Overnight Lane Closures
Tappan Zee Constructors (TZC) continues to prepare the eastbound span roadway with overnight paving operations starting Monday evening at the Rockland landing. The work will require overnight lane closures on the southbound New York State Thruway (I-87/I-287) from exit 11 (Nyack – South Nyack – US Route 9W) to the new bridge.
Specific lane closure times are listed in the chart below.
[table id=11 /]
In addition to the recently installed noise barrier panels on the eastbound span, TZC is employing temporary noise mitigation measures to minimize impacts to residents.
Shared Use Path—Rockland Landing
The Thruway Authority will continue tree removal, clearing, and grubbing activities in South Nyack. Crews will also work near the Interchange 10 off-ramp near Route 9W and Hillside Avenue. Motorists should be advised that the South Broadway bridge has temporarily been reduced to one travel lane so workers can safely construct an underpass for the path. A temporary traffic light is directing traffic.
---
Here are the municipal events in South Nyack and the Village of Nyack for the week of 8/27. There are no meetings scheduled in Upper Nyack this week.
Village of Nyack
5p: Justice Court
6:30p: Nyack Housing Authority (Depew Manor)
Thurs 8/30, 9:30a: Justice Court
Nyack Village Hall is located at 9 N. Broadway.
Village of South Nyack
Tue 8/28
6:45p: Police Board Meeting
7:30p: Board of Trustees Regular Meeting
South Nyack Village Hall is located at 282 S Broadway.