This week in the villages: August is winding down, and it's time to sign up for fall recreation programs. The Orangetown Town Supervisor and Town Board recently voted to appoint an interim Town Clerk. There's still outdoor music to be had as the South Nyack Summer Concert Series continues.
Village of Nyack
Nyack Center Back to School Drive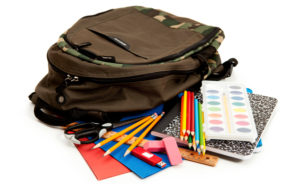 Join Nyack Center's School Supply Drive for children in Nyack Public Schools. Donate or drop off your donation of supplies at Nyack Center, 58 Depew Ave, Monday through Friday, from 10a-4p. For more information, email info@nyackcenter.org or call 845-358-2600.
Fall 2018 Recreation Programs
Registration is now open for Fall 2018 Recreation Programs, including Mini Dragons Kung Fu, Beginning Piano, Teen Aerial Yoga, Skateboarding, Self Defense/Kickboxing, Field Games in the Park, and Kids Wrestling Club.
In Case You Missed It… read Mayor Don Hammond's August Update.
Village of South Nyack
Summer Concert Series
On Sunday, August 26, 2018 at 6:30p, the South Nyack Summer Concert Series in Franklin Street Park will feature Blarney Stew performing a stout broth of jigs, reels, and other traditional Celtic tunes spiced by modern hits of the Pogues and Waterboys, along with some classic rock and country covers. Franklin St between Cedar Hill Ave & Depot Pl, South Nyack.
Town of Orangetown
Rosanna Sfraga has recently been appointed as Town Clerk and Receiver of Taxes ahead of the school tax bill collection period. Mrs. Sfraga has been the owner and operator of a local business for over 20 years. She's a lifelong resident of Tappan who graduated from Orangetown schools and is an active member of the community. She will serve in the capacity of Town Clerk through December 31, 2018. An election will be held this November to fill the remainder of the term for 2019.
Tappan Zee Bridge News
Overnight Operations Scheduled
Tappan Zee Constructors (TZC) continues to prepare the eastbound span roadway with overnight waterproofing and milling operations at the Rockland landing. In addition to the recently installed noise barrier panels on the eastbound span, TZC is employing temporary noise mitigation measures to minimize impact for residents. The work will allow TZC to continue paving activities. Construction vehicles will access the eastbound span from the southbound New York State Thruway (I-87/I-287) in Rockland County.
Shared Use Path – Rockland Landing
The Thruway Authority will begin tree removal, clearing, and grubbing activities in South Nyack. Crews are also scheduled to install temporary traffic signals on the South Broadway bridge, which will be reduced to one travel lane so workers can safely construct an underpass for the path.
---
Here are the municipal events in Upper, South and the Village of Nyack for the week of 8/20. 
Village of Nyack
5p: Justice Court
6:30p: Tree Committee Meeting (Nyack Library)
7p: Nyack NAACP Meeting (Nyack Center)
7p: Parks Commission Meeting
Thurs 8/23, 9:30a: Justice Court
Nyack Village Hall is located at 9 N. Broadway.
Village of South Nyack
Wed 8/22, 7:30p: Planning Board Meeting
South Nyack Village Hall is located at 282 S Broadway.
Village of Upper Nyack
Thurs 8/23, 7p: Board of Trustees Workshop
Upper Nyack Village Hall is located at 328 N Broadway.