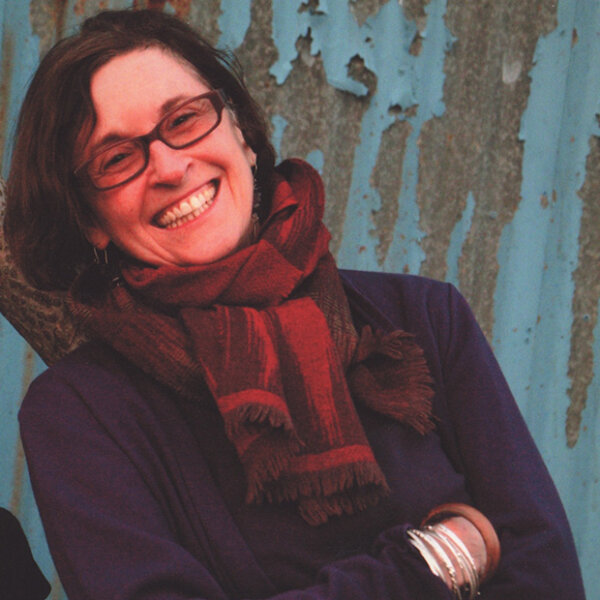 by Christopher Stanton
Kristi Zea's career is one defined by upsetting expectations. As a visual artist working across film and television production for over four decades, Zea has refused to deliver a repeat performance in an industry that often shoehorns talent into the first role they find success in. And yet, the production designer, producer, and director insists her career trajectory isn't so strange after all. Her versatility, instead, has been enabled by two anchors: a family home in Rockland County and a group of core collaborators, among them Jonathan Demme and James L. Brooks.
"When you work with the same directors, you get to really know their working styles, and what makes their movies run and tick," Zea said in a phone interview with Nyack News & Views. "And I think, often times, directors want to have further input from me, that a title does not necessarily allow."
From the start of her career making commercials in late-seventies New York, the value of that "further input" has pin-balled Zea around the industry, from costume designer to producer, from feature films to television and back again. The one constant in her career is versatility, perhaps best represented across her three collaborations with Terms of Endearment director James L. Brooks. Each credits her in a different production role. Input on a film set, according to Zea, is a currency to be fought for, and has proven essential in her ability to defy easy categorization.
"I stayed designing costumes for quite a few years, and then somebody asked me to do a film that sounded like it'd be basically a repeat performance of something like Fame," Zea said, referring to her work on Alan Parker's 1980 hit. "So I said, 'I'd really like to do the film, but I want to design the whole thing, and do production design.'"
Developing Her Creative Approach through Production Design
It was a transition that has defined Zea's career in the years since, and shaped her approach to ventures in directing and producing, as well. A broadly defined aspect of filmmaking that encompasses the entire visual "look" of a project, production design never threatened to box Zea into any one lane, instead allowing her input at every level of the creative process. More crucially, it all but guaranteed a fresh set of challenges with each job.
"One of the most important things a production designer can do is to imbue the sets with as much character as you can," Zea explained. "It's about providing a container in which the story can thrive, without banging it over the audience's head." Zea's indispensability to directors like Brooks and Martin Scorsese (with whom she made
Goodfellas
and
The Departed
) lies in her ability to walk that line—to get viewers to buy into the fictional world of each film, without ever making them too aware of the work that goes into creating it.  
"That's always been a problem for me, when I'm taken out of a film while watching it. The setting has to support the story, no matter what period you're in," she said, contrasting her minimalist 1950s-era recreations on Sam Mendes' 2008
Revolutionary Road
with the contemporary Gothic aesthetic in Demme's 1991
Silence of the Lambs
. That deftness in working across settings and genres—from period to contemporary, from drama to horror—further explains why directors hire her from one project to the next.
A lack of offers rarely seems an issue, but Zea admits that choosing projects is often easier in hindsight.
Silence of the Lambs
—still the only true "horror" film to win Best Picture—remains a high watermark in the careers of everyone involved. And yet, as Zea tells it, she almost turned down the job out of fear that the film would inspire a copycat killer.
"Jonathan said, 'Oh no, you can't think of it like that. This is a feminist piece,'" Zea recalled. "And, sure enough, it was, just couched in a different genre. But, there was Jodie [Foster], up against Goliath."
Directing: HBO's Notes From the Field
Perhaps more than any of her other friends in the industry, the late Jonathan Demme helped to shape Zea's career, and even inspired her family's initial move to Rockland County in the early '90s. Her latest project, directing HBO's filmed version of Anna Deavere Smith's play
Notes From the Field
, was one that Demme intended to make himself before falling ill in 2016.
"I felt like the general was down," Zea said. "And I was the soldier on the field, and I had to just get up on the horse and start leading everybody. After I got over my initial fear of that, I just decided that I had to do it."
Written and performed by Smith for an Off-Broadway run, the original play pulls dialogue from over 250 interviews, conducted across the country with people on every side of the so-called "school-to-prison pipeline." On stage, Smith portrays these real-life individuals herself, splicing monologues together with footage of corresponding events, including the violent arrest of Freddie Gray and subsequent protests. What resulted was a documentary-style assessment of 21st century America.
"She pulled together a dialogue of what is going on in this country right now," Zea said of Smith. Working alongside Smith and a committed crew of Demme's former collaborators, Zea condensed the two-hour
Notes
into a 90-minute experiment that blurs genre lines between film and theater.
"Kristi was determined to make the film with a theater-like collaborative process, since Anna would be performing both acts of the play for the film, uninterrupted," said Paul Snyder, the project's primary editor. "And [Kristi] carried that into post-production."
Filmed on stage and cut together to appear as an uninterrupted performance, the film, at times, recreates the experience of viewing the play live. In other instances, Zea lets the camera linger on a close-up, or expands to a widescreen aspect ratio for the filmed interludes between monologues.
"The idea that, you can go full frame when that young student is being thrown across the room," Zea said. "Or full frame when that cop is sitting on the back of that poor teenager. Those are times when, I think, the power of film is at its most obvious."
While Zea was able to pull from her experience directing the portrait-of-an-artist documentary
Everybody Knows… Elizabeth Murray
,
Notes
represents yet another new direction in a career filled with them. At the same time, the project reframes a politically conscious thread that runs throughout her entire career.
Notes
' blatant social aspirations certainly place it in the lineage of Demme's
Philadelphia
, but also draw attention to the subtler politics of films such as
Silence of the Lambs
.
"What I like to do with my professional life, is something that can make a difference," Zea said. "In that regard, I think I walk in the footsteps of Jonathan and works like
Philadelphia
."
Bringing It All Back Home
Looking forward in her career, Zea hopes for more of the same—that is: new challenges, left-field projects that upset social rigidity and an arts community in Rockland to call home.
"For someone who works in a business where most artists don't interact with audiences personally, Kristi is generous in sharing her work—and her knowledge—with the community," said Matthew Seig, executive director of Rivertown Film, where Zea plans to continue presenting films and moderating panels.
Despite her professional range, Zea clarified that there's one job she never wants to do again: act. When asked about her performance (credited as "Mother At Table") in Brooks' 1997 As Good As It Gets, Zea laughs.
"Oh, yeah! I did do that," she said. "But we don't have to look at that."
Christopher Stanton, a Cornell graduate, is a Nyack News & Views contributor.