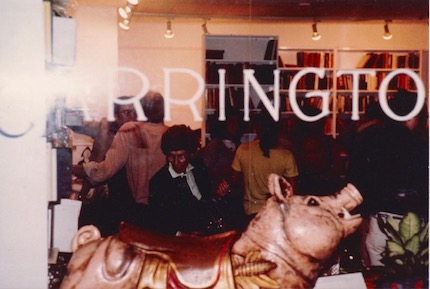 by Janey Tannenbaum
We drove around the block six times trying to decide. On the seventh run we were stopped by police, who thought we were casing the joint. We explained that we were thinking of renting a store to open a bookshop. The look on their faces suggested that wanting to open a bookshop was perhaps even more sinister than a potential robbery. The next day I rented the space for $400.00 a month. 550 square feet with two big sunny windows and a basement that flooded only occasionally.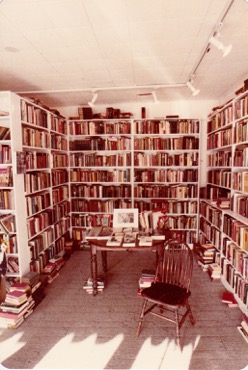 I was determined that this bookshop would be bright, unlike so many used and rare bookshops. My husband built lovely 12 foot tall bookshelves with a ledge for display and had a long conference with a paint-maker friend who then devised an almost car quality white paint that could be washed without the slightest wear. Once applied it was so thick it took two full months to dry.
My sister donated a huge, slightly sinister looking, antique carousel pig for the front window. Nothing says 'books inside' like a ride-able pig.
My second window did have a display of books interspersed with images I loved, to enable passerbys a view into the mind of the proprietor. Unfortunately, what I found to be an amusing and literate selection of books, along with a poster by the surrealist Glen Baxter, and an illustrated Edward Gorey quote from the Enlightenment philosopher John Locke: 'Books seem to me pestilent things…", completely confused everyone.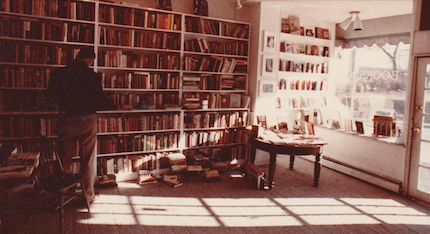 A few curious souls ventured in. Inside, it was very white and had books. If you looked closely there was a wonderful selection of literature, poetry, comics and art. It also had curious objects and small, framed posters for sale. My favorites were a one-line postcard poem by Bill Knott that read: "your balls are my eyes Captain Kirk signed, Mr. Spock" and the famed image by Joe Brainard of the comic heroine Nancy pulling up her skirt to reveal a penis. I was open for business.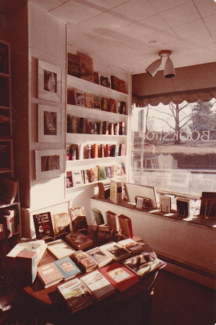 Over the next two years Carrington Bookshop at 198-1/2 Main Street allowed me to meet some of the most intelligent and creative people in Nyack. The poet who wore two different colored Converse sneakers and later infused his amazing poetry into non-fiction; the saxophone player who bought poetry by Persian mystic poets and took time from his booming career to teach sax to my son, and a charming actor who played the most perfect quirky character on television.
When it was time to renew the lease the rent was raised to $1600.00. I had to close the shop. Nyack was changing. Now there were only two good bookshops.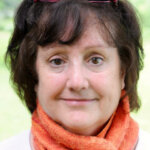 Janey Tannenbaum was most recently the Executive Director of the Arts Council of Rockland.  Previously she was the Director of the Bowery Poetry Club and Director of Sales and Marketing for the Smithsonian Institution Press.
Words & Images is a column that features the work of students from , Writing Your Truth. This weekly feature is sponsored by River River Writers Circle.