by Jennifer Attebery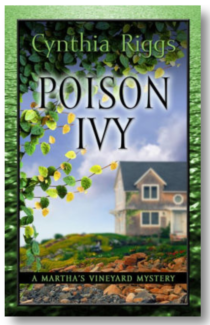 An unexpected letter arrived in the mail to an address on Martha's Vineyard. Cynthia Riggs, a 13th generation Vinyarder and accomplished mystery writer, now in her 80's, opened the envelope and found yellowed paper towels with writing on them which looked like gibberish. She puzzled over the letters in the kitchen of her West Tisbury home, where the frost on the windows from the frigid nights in February last all day. As she shifted through the paper towels, there was a 3 x 5 card which said "I've never stopped loving you."
And then she remembered. Her memory transported her to a time when she was 19, a shy naive college student majoring in marine biology who spent a summer interning in San Diego at Scripps Institute of Oceanography sorting plankton. Her boss at the time, an 'elderly' 27 year old man with a tall athletic build, had bright blue eyes which beamed down kindness, helping to reduce the monotony of the task. A tender platonic romance was built as they sent each other silly notes written in code. When the summer ended and Cynthia went back to college, the relationship dwindled.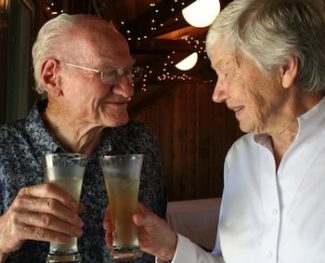 My father-in law was the man who saved each of Cynthia's notes. When he was in his 90's — 62 years later — he reached out to her.
Cynthia was reluctant to write back. It had been a lifetime ago when she had met him. In that interval, she married and raised five children then divorced her husband after 25 years. "I'm finished with men," she would tell everyone who listened.
On the following cold winter evening, she met with her writers group. In her living room with the fire ablaze she mentioned that she received this unusual package. The group were mostly women and they immediately said you must write back. Cynthia reluctantly scribbled a quick ambiguous note "thank you for your letter." A few days later, Howard wrote a long letter and spoke about his life and how he lost a son to cancer at age 50. That broke the ice since Cynthia too had lost a child around the same time.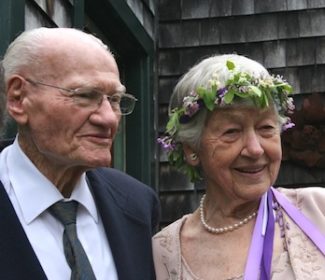 Sometimes it is the tenderness of heartbreak that builds an unspoken trust. Letters went back and forth for six months. As spring finally appeared on Martha's Vineyard, the ice melted around Cynthia's heart. She flew to San Diego to meet Howard.  He met her in his white dodge camper, presenting her with a single red rose. Right there on the spot, he proposed to her.
Howard lived in the same house for over 60 years, over looking a canyon in San Diego. In April, Howard's son, Mark Attebery, flew out to San Diego to pack Howard up. Father and son drove across the country to deliver Howard into the arms of Cynthia in Martha's Vineyard. Mark took the role of the squire escorting the prince to meet his princess and be married.
Cynthia and Howard knew their time would be limited but it was the quality and richness which mattered. Everyday he would leave tender notes around the house for her and they would hold hands as they walked. There was a feeling of great intimacy between them. They giggled like young lovers sharing a private joke together. Everyday was an adventure for them traveling the island and going about their daily life always together. Howard would say with a wide grin, "love is the greatest way to spend the rest of your life."
After five glorious years together, Howard died at the age of 94 in the arms of his beloved Cynthia. His death occurred exactly five years to the day after she received the yellowed paper towels in the mail.
On a personal note, their story changed my life forever. I will never again underestimate the healing power of love at any age. It made me believe once again in fairy tales. It took a lot of courage for my father in law to move to Martha's Vineyard with its rugged winters after spending a lifetime in San Diego. He taught me it's never to late to take a risk and jump, especially for love.
There are so many details and enchanting moments to write about. Their story touched so many people and it was picked up in several newspapers and on the CBS evening news. Cynthia told the story on
The Moth
Radio Hour and the story has traveled all the way to Japan and Australia. It's been 16 months since Howard passed away. I miss him but I'm so thankful he was in my life and that Mark and I were able to witness this love story.

Jennifer Kent Attebery is a 3rd generation Rocklander. She moved back with her husband, Mark Attebery to Nyack 20 years ago to raise their two children, Luke & Sophia. Jennifer has been running a Pilates studio, NyackPilates.com, for the last 16 years. Two of her greatest passions are traveling and playing bocce ball.
Words & Images is a column that features the work of students from Bill Batson's memoir writing class, Writing Your Truth. This weekly feature is sponsored by River River Writers Circle, which invites you to join writers and scientists in the forest of the central highlands of Vietnam for writing workshops, presentations, and explorations toward transformative ecological thought in January, 2019. Program applications are due by July 31, 2018.