Anything Goes this weekend — including comedy, art, music, fitness, and a wine auction. You want to channel your inner self, move your feet, or just contemplate art? There's something for you in or near the Nyacks, including the opening of the famous musical Anything Goes in Westchester.
This Fri-Sun list of what to do and where to do it is brought to you by Rockland Center for the Arts.
Friday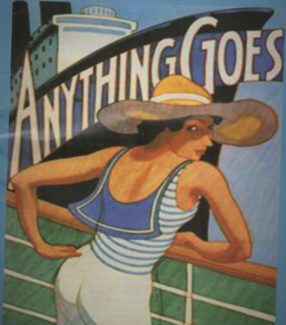 The Westchester Broadway Theatre presents: Anything Goes, a Tony Award winner by Cole Porter and one of the greatest tap-dancing musicals. Enjoy the story of a brassy nightclub singer, a starry-eyed stowaway and Public Enemy No. 13 as they are booked on a transatlantic luxury liner bound for romance and laughter. Experience some of the musical theatre's most memorable songs. Come aboard the tap-happy, SS American, where love is only a song away. Tickets are available online. Show runs through September 9. The Westchester Broadway Theatre, 1 Broadway Plaza, Elmsford.
You might know him from the tv-show It's Always Sunny in Philadelphia. Get a good laugh with Sinbad. 7:30 and 9:45p, Levity Live, 4210 Palisades Center Dr A – 401, West Nyack.
The Joey Saylor Quartet featuring Patrick Bartley, Julius Rodriguez & Ben Wolfe is performing at Maureen's Jazz Cellar. 8 and 9:30p, 2 N Broadway, Nyack.
Saturday
This week Bike Nyack take a spin down 9W and Henry Hudson Drive to Strictly Bikes in For Lee, NJ. 8:30a, meetup at Nyack Memorial Park, corner of Depew & Piermont Aves.
Get ready for A morning with Tao Porchon-Lynch. Step up your yoga flow and learn directly from a master. Experience 99-years-young Tao Porchon-Lynch, who is a Grande Dame of Yoga. Explore the rich potential of your body to renew, heal, and revitalize, from 10a-12p, Union Arts Center, 2 Union St, Sparkill.
Working at a desk? Sitting all day long? Try Chair Fitness. This class is great for any age, from 18 to 100 years. 11a-12p, Nyack Library, 59 S Broadway, Nyack.
Strawtown Studio and the Palisades Parks Conservancy present: Painting with Marsh Grasses. Participants will learn about the Hudson River's marshes, and paint with marsh grasses, which have been prepared and turned into painting tools. 11a-1p, Goswick Pavilion, 95 Ferry Rd, Piermont. To register contact Helene at hbon@mypalisades.org or 845-630-8174.
A rustic recreated mid-century shanty boat, a daring river voyage on New York's historic Hudson River, and a meticulous archive of river stories. All in A Secret History of American River People: Join the artist Wes Modes on a mid-century recreated shanty boat as he tells river-stories. Fri and Sat, 12-4p, Emeline Park, 16 Front St, Haverstraw.
Don't miss the New York Premiere of Her Magnum Opus, a movie by Marta Renzi, filmmaker and choreographer from Upper Nyack. The movie is about a group of friends who gather to celebrate a teacher who has been a constant in their lives. 3p, Walter Reade Theater, 165 W 65th St, New York.
Rachel Astarte will introduce you to Shamanic Journeying, a deeply personal spiritual practice using drumming to move deep into a meditative state. Within this state, you communicate with compassionate, helping spirits for the purpose of healing and guidance. 3-5p, Nyack Yoga, 42 Main St, Ste 101, Nyack.
Sunday
RoCA is holding a Wine and Spirits Auction. Enjoy a great brunch, bid on excellent wines, and help RoCA's exhibitions and educational programs. 11:30a-3p, X2O Xaviars on the Hudson, 71 Water Grant St, Yonkers.
The Open Spirit Nyack presents: Mastering Your Higher Self – Level 1. Rediscover your mental, spiritual and emotional bodies and learn how to build a stronger connection with your personal Spirit Guide. 11a, The Open Spirit, 55 Burd St, Nyack.
Dance into the Sunday afternoon with Square Dance. Pat Cannon's Foot & Fiddle Dance Company will get you off your seats to some square dancing, line dancing, and more. 1-3p, Nyack Library, 59 S Broadway, Nyack.
Next week
Tuesday
The Music on the Hudson series presents: The Jazz Passengers. An eclectic mix from the old to the new, from bluegrass to blues to rock. 7-9p, Memorial Park, Nyack.
Wednesday
Rivertown Film presents: Columbus. When a renowned architecture scholar falls ill, his son finds himself stranded in Columbus, Indiana, where he strikes up a friendship with a young architecture enthusiast who works at the local library. As their intimacy develops, they explore both the town and their conflicted emotions. 8p, Nyack Center, 58 Depew Ave, Nyack.
Thursday
Jazz in the Garden with the Mark Patterson Quintet. Bring your lawn chair or a blanket. Edward Hopper House, 7:30-9:30, 82 N Broadway, Nyack.
Looking ahead … Sunday, July 29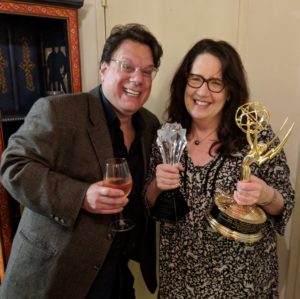 Be a guest at Penguin Rep Theatre's 2018 Gala. The festivities start at the theatre at 4p with musical entertainment and an interview with Ann Dowd (award-winning actress from The Handmaid's Tale and The Leftovers). The evening will continue at the Gilmor Sloane House on the adjacent grounds with dinner and refreshments catered by Rockland Roots. Tickets are $175 and available online. As seating is limited, better get them soon. 4p, 7 Crickettown Rd, Stony Point.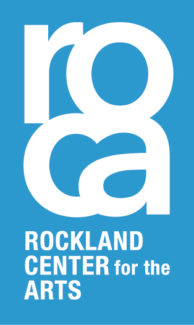 The Nyack Weekender is your Fri-Sun list of what to do and where to do it. This weekly series is brought to you by Rockland Center for the Arts.
To get the Nyack Weekender delivered to your mailbox auto-magically every Friday morning, add your name to our mail list. Visit our
online sign-up sheet
to subscribe