This week in the villages: Help is on the way… from you! This quiet summer week, donate school supplies, blood, or unwanted used electronics. Then, pay yourself back with outdoor music, as three summer concert series continue.
Village of Nyack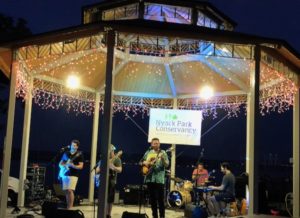 Music on the Hudson
CRUSH plays the outdoor stage in Memorial Park on Tuesday as part of Nyack Parks Conservancy's Music on the Hudson concert series, 7p.
Fall 2018 Recreation Programs
Registration is now open for Fall 2018 Recreation Programs, including Mini Dragons Kung Fu, Beginning Piano, Teen Aerial Yoga, Skateboarding, Self Defense/Kickboxing, Field Games in the Park, and Kids Wrestling Club.
Village of Upper Nyack
The village has purchased the property at 626 N Broadway for municipal use and the enjoyment of residents. But in the short run access to the property is restricted for safety reasons. There are some unsafe conditions that must be addressed, and there is rubbish that must be removed. The Village DPW will perform clean up and property maintenance in coming months. There will be frequent community meetings to collaborate on ideas for the property. The next one will be in September. Accompanied walks through the property will be scheduled on a regular basis, so that residents can safely visit. Check www.UpperNyack-ny.us for dates and times.
Town of Clarkstown
Back to School Drive
Clarkstown is participating in a back-to-school drive from now through August 17, 2018. The drive will help two local not-for-profits organizations, Advocating for Change, Inc. and People to People, distribute supplies to students in need. A donation box is located in the lobby at Town Hall, 10 Maple Ave, New City. The list of items to donate includes: back packs (grades K-12), three subject notebooks, five subject notebooks, marble notebooks, binders (1.5" or larger) and binder dividers, loose leaf paper, index cards, scientific calculators (new or used in working condition), pens and #2 pencils, crayons, colored pencils, and markers, pencil cases, pocket folders, rulers, scissors, glue sticks, pencil sharpeners and highlighters.
Blood Drive
The town will hold a blood drive on Monday, July 30, 2018 from 2-8p at Room 301, Town Hall, 10 Maple Ave, New City. Blood donors will receive two tickets to see the Mets at Citi Field. Appointments are preferred, but walk-ins are welcome. Register at drm.nybloodcenter.org.
Ghana Project Used Electronics Collection Drive
Do you have a working laptop, desktop computer, or printer that you are no longer using? Please consider donating it to support the Ghana Project. Items may be dropped off at the Clarkstown Town Hall lobby, 10 Maple Ave, New City. All data on the hard drive will be erased by Computuners of Nanuet. The Ghana Project is sponsored by St. Francis of Assisi Church, West Nyack.
Summer Concert Series
The Summer Concert Series continues on Wednesday, August 1, 2018 at 7:30p at Germonds Park, with the Springsteen tribute band, B Street Band.
Edward Hopper House Museum & Study Center
The Jazz in the Garden series continues with the Steven Bernstein R&B Jazz Band on Thursday, August 2, 2018 at 7:30p. Bring a lawn chair or a blanket. Refreshments are available for purchase prior to the concert and during the intermission. In case of rain, the concerts will be held at Grace Church, 130 First Ave, Nyack.
---
Here are the municipal events in the Village of Nyack for the week of 7/30. There are no meetings scheduled in Upper or South Nyack this week.
Village of Nyack
Mon 7/30, 7p: Zoning Board of Appeals
Tue 7/31, 5p: Justice Court
Thurs 8/2, 9:30a: Justice Court
Nyack Village Hall is located at 9 N. Broadway.