This week in the villages: Ladies and Gentleman, park your engines! Classic cars take over Main Street on Thursday. There's music in the air on Tuesday, Wednesday and Thursday. And as the 2nd oldest building in the village gets repaired, it's board quarrels and its president quits.
Village of Nyack
Midland Avenue Repainting
Crosswalks and parking stalls will be repainted on Midland Avenue on Thursday, July 12, 2018 starting at 6a. Midland Avenue will be closed at this time starting at 5th Avenue and will proceed north until the work is complete. As the paint dries, the roadways will be open to traffic as the work progresses to allow access to Nyack Hospital as quickly as possible.
Leaf Me Alone
Brush pick-up was delayed last week due to the 4th of July and road paving. The Department of Public Works will be picking up brush on Tuesday, July 10, 2018.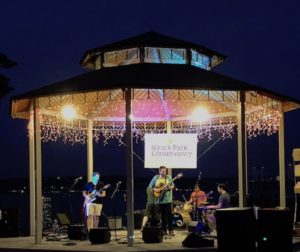 Music on the Hudson
On Tuesday, the Music on the Hudson concert series continues with Country Fresh. 7p in Memorial Park. Sponsored by the Nyack Parks Conservancy.
Cat Herding on The Hudson
July 12, 2018 is Cat Spay / Neuter Day in Nyack. Call 845-358-0548 for an appointment. $20 per cat. This offer is open to all Village of Nyack cat owners.
Classic Car Night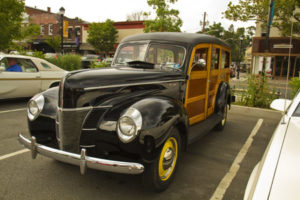 The Nyack Chamber of Commerce hosts the seventh annual Classic Car Night on July 12, 2018 from 5p until dusk. Stroll the village and see hundreds of rare, antique, and vintage vehicles lined up on Main Street. Main Street from Franklin Street to Broadway will be closed from 2p to 9p as will Cedar Street and Park Street from Main Street to New Street. The Veterans Parking Lot and the Riverspace Parking Lot will also be closed.
Town of Clarkstown
The Town of Clarkstown Summer Concert Series continues on Tuesday at 7:30p at Congers Station Park. Rave On performs the songs of Buddy Holly and other legends of early rock n' roll. On Wednesday at 7:30p, at Germonds Park, relive the rad '80s with new wave, rock, and one hit wonders performed by Ridgemont High.
Edward Hopper House Museum & Study Center
The 2018 Jazz in the Garden series begins on Thursday, July 12, 2018 at 7:30p. This week features the Burr Johnson Trio.  Bring a lawn chair or a blanket. Refreshments are available for purchase prior to the concert & during the intermission. In case of rain, the concert will be held at Grace Churc, 130 First Ave, Nyack.
John Green House Votes Down Plan To Hand Over Its Title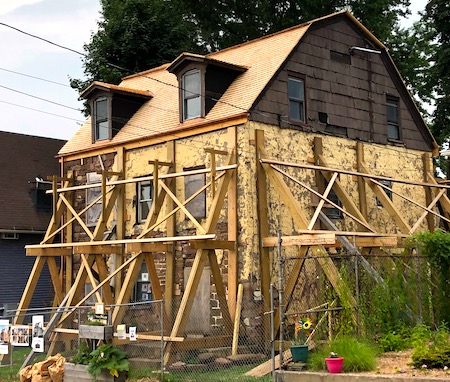 While there's lots of progress to see on the outside of the restoration of the historic 1819 John Green House at the foot of Main Street in Nyack, most of the action last week was indoors during a struggle among board members to determine the future of the property. The John Green Preservation Coalition board met to consider a resolution negotiated by board president Rick Tannenbaum to turn over the assets of the non-profit to a private developer. Following a board vote to reject this initiative, Tannenbaum resigned, the JohnGreenCoalition.org website mysteriously disappeared, and dueling statements were issued by three board members.
"The trustees of the John Green Preservation Coalition, at a meeting on July 5, considered and rejected an offer by a private business entity that would have completed the rehabilitation of the John Green House at 23 Main St, Nyack, in return for title to the property. After the meeting, trustees stated that the offer was very attractive because it would have saved years of fund raising, grant applications and work parties, but did not receive the necessary votes because of a desire to devote the house to a community use." — John Green Preservation Coalition Vice-President Win Perry
"I resigned from the John Green Preservation Coalition this evening. A faction of recently appointed board members voted to sink a proposal that would have fulfilled the Coalition's primary nonprofit purpose — the saving, restoration and return of the John Green House to practical use. Because I felt a fiduciary duty to stay true to the stated mission of the Coalition, and because I believe the board acted against the best interests of the historic structure, I chose instead to resign." — Rick Tannenbaum, former John Green Preservation Coalition board president
"The John Green House board rejected a proposal that would have completely restored the historic house on Main Street, while providing ongoing community space. With this plan, you would have seen a completed house sitting proudly at the foot of Main Street…The estimates to rebuild the John Green House remain at around $1 million. Rick Tannenbaum, John Green's steady, and visionary president, who acquired the building, and secured the only substantial grant we've received, resigned in disgust." — Facebook post by Tina Traster, John Green Preservation Coalition board member. Ms. Traster is married to Mr. Tannenbaum.
You can read more about the John Green House in Nyack Sketch Log: The John Green Preservation Coalition.
---
Here are the municipal events in Upper, South and the Village of Nyack and the Nyack Public Schools meetings for the week of 7/9.
Village of Nyack
Tue 7/10, 5p: Justice Court
9:30a: Justice Court
4:30p: Board of Water Commissioners
6:30p: Village Board Pre-meeting Workshop
7:30p: Village Board Meeting
Nyack Village Hall is located at 9 N. Broadway.
Village of South Nyack
Mon 7/9, 5:30p: Justice Court
Tue 7/10, 7:30p: Board of Trustees Regular Meeting
South Nyack Village Hall is located at 282 S Broadway.
Village of Upper Nyack
Mon 7/9, 6p: Architectural Review Board
Thurs 7/12, 7p: Board of Trustees Workshop
Upper Nyack Village Hall is located at 328 N Broadway.
Nyack Public Schools
Tue 7/10, 7:30p: Board of Education Meetingg
The Board of Education Meeting will be held at the Central Administration Building, 13A Dickinson Ave, Nyack.