by Holly Caster
At the movies, summer is the season of sharp, scary teeth. When the weather gets hot, serious moviegoers know there will be a dearth of character- and story-driven films. Summer movies are about explosions, wide-eyed stares, fast cutting, and, most of all, those animal teeth tearing into flesh and chomping bodies in half.
July brought us dinosaurs, in
Jurassic World: Fallen Kingdom
. In August, a giant shark movie hits the screen:
The Meg
(short for megalodon). Both have DNA that tracks back to what is considered the first summer blockbuster:
Jaws
.
Jaws
, released in 1975, was made for $8,000,000 and grossed $470,000,000 worldwide. Success like that brings sequels:
Jaws 2
(so-so),
Jaws 3D
(bad), and
Jaws the Revenge
(so terrible it must be seen at least once).
Last week, I saw
Jaws
on a big screen at Alamo Drafthouse in Yonkers. It is a great film and my favorite of Spielberg's.
Jaws
hasn't dated: its scenes of shark attacks still make an audience jump. Just as entertaining are the scenes of life on Amity Island—the politicians and shop owners worried tourists won't visit, the fishermen who want to catch the shark, the small town police force trying their best to keep order. And once Chief Brody, oceanographer Matt Hooper, and Quint the shark hunter hit the ocean in search of that 25-foot shark,
Jaws
becomes one of the most enjoyable adventure films ever made. Spielberg made me feel I was on that claustrophobic boat breaking down in the middle of nowhere, being attacked by a predator, bonding with Brody and Hooper, and coming to the realization that Quint is "certifiable."
Nearly 20 years after
Jaws
, Spielberg directed
Jurassic Park
(1993)
.
I will never forget watching
Jurassic Park
at the Ziegfeld Theater in Manhattan with my husband and my best friend. In awe, we felt like we were watching actual dinosaurs. We were clutching at each other in fear when the T-Rex made its first appearance, signaled by vibration rings in a cup of water. The script was solid, and frequently funny. The park's owner, at one point, says, "
All major theme parks have delays. When they opened Disneyland in 1956, nothing worked!" To which a chaos theory mathematician replies "Yeah, but if Pirates of the Caribbean breaks down, the pirates don't eat the tourists."
We loved the film, and so did most moviegoers: it was made for $63,000,000 and grossed over a billion dollars. And like
Jaws
,
Jurassic Park
spawned sequels:
The Lost World: Jurassic Park
(so-so),
Jurassic Park III
(underrated and a lot of fun),
Jurassic World
(pretty good), and now
Fallen Kingdom
.
Seeing
Jurassic World: Fallen Kingdom
just two days after seeing
Jaws
did it no favor. Although
Jaws
was a grainy print on a regular screen and
JWFK
was in IMAX 3D, the former outshone the latter by giant monster leaps. I couldn't care less about the one-dimensional humans in
JWFK.
At least the sidekicks in
JWFK
are nonwhite; I would've been happier if they were also noncliché and nondull. I did love the dinosaurs and actually shed a tear (or five) watching their plight—facing another potential extinction due to a volcano and being exploited by humans.
One of the joys in
Jurassic Park
was being there, experiencing the very real wonder on the faces of a paleobotonist and an archaeologist seeing an extinct animal they've loved and studied for years. Those mouth agape moments in
JP
are replaced by blah dialogue in
JWFK
: "
Do you remember the first time you saw a dinosaur? First time you see them, it's like… a miracle. You read about them in books, you see the bones in museums but you don't really… believe it. They're like myths. And then you see… the first one alive."
The ending of
JWFK
leaves the door open for
JW3
and if it makes enough money,
JW4
and
5
. I will be in the theater if/when those films are released. I am a dinosaur fan. I'll be in the theater next month to see
The Meg
as well. I like shark movies.
Will those films have amazing special effects? Definitely. Will any of them have good, solid storytelling and compelling characters? Probably not. But why not? Does the
Jurassic Park/World
franchise assure big bucks at the box office whether the script is good or not? If a film's budget is $200,000,000, can't some of that be spent on a good script? I'm a writer. I understand writing is difficult. But so is creating incredibly realistic dinosaurs and sharks. If the special effects people can make me believe the impossible, can't the screenwriters make me believe the possible? The script for
Jaws
provided suspense, terror, and memorable dialogue and relationships. Can't I still have that? Do Hollywood suits assume that special effects are enough to satisfy audiences? Judging by
JWFK
's 51% Rotten Tomatoes rating, many of us "wonderful people out there in the dark" want more.
Perhaps I, and people like me, are part of the problem. I keep paying money to see these films, hoping the story will live up to the dinosaurs or sharks. I think I have to lower my expectations because the filmmakers don't seem willing to up their game.
Holly Caster knew in 9th grade she wanted to be a writer after receiving an A+ on a paper about 1930's actress Irene Dunne. That early triumphant high hooked her, and she's been writing ever since. She writes nonfiction (self-help articles), fiction (a novel, Cape May), and edits two continuing medical education journals. She's proud to call Nyack "home," and writes about all things entertainment every other week at NyackNewsAndViews.com.
Illustration by Emma Caster-Dudzick. Find her art at https://www.ecdart.com/. 
Please Be Seated is sponsored by Elmwood Playhouse
and Westchester Broadway Theatre.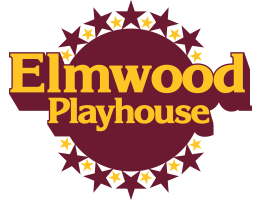 Willy Loman comes to Nyack on July 13 when Arthur Miller's towering masterpiece, Death of a Salesman, opens at Elmwood Playhouse.
And now playing at the Westchester Broadway Theater: Anything Goes (thru Sept 9), one of the greatest Tap Dancing musicals of all time. A brassy nightclub singer, a starry-eyed stowaway and Public Enemy No. 13 are booked on a transatlantic luxury liner bound for romance and laughter.