Mamma Mia!
is a phenomenon. It's the 4
th
highest grossing Broadway musical and enjoyed a 15-year run. The film, released in 2008, earned
$610 million. Now, ten years after the original,
Mamma Mia! Here We Go Again
has hit the movie theaters.
Like most sequels, it's not as good as the original. And while the original wasn't a great movie, it had something special that the sequel lacks, which made it my guilty pleasure—something that doesn't deserve my love and that I'm almost embarrassed to admit I love.
The 5 Reasons Why Mamma Mia! Is My Guilty Pleasure
The cast: Meryl Streep, Amanda Seyfried, Christine Baranski, Julie Walters, Pierce Brosnan, Colin Firth, and Stellan Skarsgård. They are all fine actors, but most are not known for their musical skills. Seyfried's voice is pleasant but thin. Brosnan's voice is for the shower only. But they all throw themselves wholeheartedly into the singing and dancing and merriment, infusing the film with a verve and passion that's delightful.
The story: Not brilliant but good enough. The character of Sophie is getting married. She secretly invites the three men her mother was dating when Sophie was conceived. None of them know who the father is. Misunderstandings ensue. The fun is watching everyone try to figure things out. Will Sophie's mother, Donna, reunite with the love of her life?
The music: I don't own a single ABBA record/cassette/CD, but songs like "Dancing Queen," "Honey Honey," "Voulez Vous," and "Super Trooper" are infectious fun. "Slippin' Through My Fingers" could make any parent cry: "Schoolbag in hand, she leaves home in the early morning/ Waving goodbye with an absent-minded smile/ I watch her go with a surge of that well-known sadness/ And I have to sit down for a while," go the lyrics. Although actors frequently and awkwardly jump into a song with no finesse, the music is enjoyable.
The energy! The all-out lunacy! Handsome young men dancing in flippers on a pier. The workers at the hotel that Donna and Sophie run occasionally comment in the style of a Greek chorus. Although half of the movie takes place in front of a very noticeable green screen, the outdoor scenes by the water are luscious. When Sophie dives off a boat into the pristine crystal blue water, I want to swim with her. At the impossibly sparkly wedding party, when Brosnan "sings" to Streep in his gravelly voice, there's a three second pause and then… another song! I want to sit their drinking ouzo. At one point all the women sing, dance, and run through the countryside singing "Dancing Queen." One villager rips off her apron to join the throng. One woman throws aside her bundle of wood and starts singing. Yes, it's ridiculous and silly, and embarrassing, but I wish I were up there running with them, the young and old, fat and thin. Women having fun.
The relationships:

Mamma Mia

accurately shows female friendships. The characters are not "the wife" or "the girlfriend" of a male character. These women cheer each other up—that's what "Dancing Queen" is all about—wipe away tears, offer financial assistance, even act as a literal step stool for each other! The prime relationship is between mother and daughter. Perhaps that's why my daughter and I love to watch it and joke about starting a

Mamma Mia

Greek Tour Agency for Mothers and Daughters.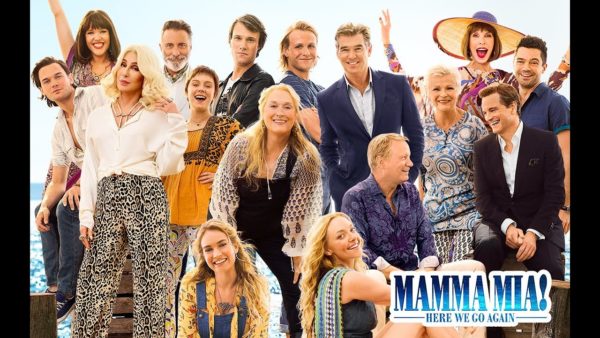 The 5 Reasons Why Mamma Mia! Here We Go Again Isn't My Guilty Pleasure
The cast: Although most of the originals return, the movie rests on the shoulders of Lily James, who plays young Donna (Meryl Streep's character). She doesn't have star quality. She's pretty, but bland. And she's overshadowed by Jessica Keenan Wynn and Alexa Davies who play young versions of Baranski and Walters. They channeled those two characters; Keenan Wynn gets Baranski's Tanya's sophisticated randiness and wit; Davies gets Walter's Rosie's warmth and likability. (If there's a

MM3

, I hope it's all about Tanya and Rosie.) Seyfried's character has become a Debbie Downer in this film, worried about her marriage, worried about opening her hotel. I liked her better as the lively, young fun thing she was in the first movie. And the addition of Grandma Cher isn't compelling. The character is mentioned only in passing in the first film, and the little we are told about her is NOT what Cher brings to the second film.

The story: Kinda lame. It's five years after

Mamma Mia!

Sophie is opening a hotel on her Greek island. Some people come, some people don't—there's a pointless storm. The movie intercuts between Sophie now and Donna when she was Sophie's age. The prequel/sequel combination answers questions no one had, like "Gee, how did Donna acquire her overalls?" Half the movie, the flashback sections, enact a story that is covered in maybe 15 lines of dialogue in the first film. We already know what happened, and they don't make it all that interesting to see. From the minute the film starts I had trouble believing what was going on. The character of Donna Sheridan went to Oxford? Really?

The music. The songs feel like what they are: songs that were rejected from the first film. In fact, when this film does come alive it's because it's reminding you of the original with versions of "Dancing Queen" and "Super Trouper." But all that does is remind you that the first movie was better.
The energy… is just not there. The pacing is sluggish. The songs less bouncy. Towards the end of the film, there's a bit of a spark: The stretchy, shiny costumes are dusted off, the entire cast is together but separated by time—past, present—and for a moment it reaches

Mamma Mia!

joyful. But too little, and too late.

The relationships. That is one thing that worked almost as well in the sequel. Women supporting their friends, mothers and daughters meaning everything to each other. But it's not enough to bump it up to a guilty pleasure.
The audience I saw MMHWGA with on opening day loved it. I arrived early, and the audience flowed in, buzzing with excitement. There was laughter, applause at the arrival of a favorite performer, gasps… joy. No one watches a film in a vacuum. MM/MM2 are the antidote to the violence on TV, in movies, and in the news. Going out to see a tuneful, silly, film where women aren't just "the victim" is a relief. It helps you forget the bad stuff for two hours.
What are your guilty pleasures? What makes you feel better after a hard day? Does watching something silly and entertaining bump up the rating you'd give it? I don't think either Mamma Mia film deserves more than a C+ rating. However, sometimes the feeling a film gives you means more than the quality of the film. Maybe women are so starved for female-driven films—films that depict real feelings and relationships—that they overlook a film's flaws. Sometimes a movie that deserves a C+ rating gets bumped up a grade by a grateful audience member. I am that audience member. And I am singing.
Holly Caster knew in 9th grade she wanted to be a writer after receiving an A+ on a paper about 1930's actress Irene Dunne. That early triumphant high hooked her, and she's been writing ever since. She writes nonfiction (self-help articles), fiction (a novel, Cape May), and edits two continuing medical education journals. She's proud to call Nyack "home," and writes about all things entertainment every other week at NyackNewsAndViews.com.
Illustration by Emma Caster-Dudzick. Find her art at https://www.ecdart.com/. 
Please Be Seated is sponsored by Elmwood Playhouse
and Westchester Broadway Theatre.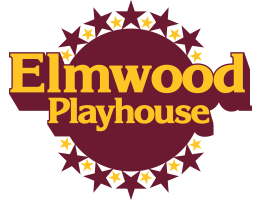 Willy Loman comes to Nyack on July 13 when Arthur Miller's towering masterpiece, Death of a Salesman, opens at Elmwood Playhouse.
And now playing at the Westchester Broadway Theater: Anything Goes (thru Sept 9), one of the greatest Tap Dancing musicals of all time. A brassy nightclub singer, a starry-eyed stowaway and Public Enemy No. 13 are booked on a transatlantic luxury liner bound for romance and laughter.