This week in the villages: South Nyack has received grants for a parking consultant and for a canopy for the children's playground. A second John Green Preservation Coalition board member has resigned. Head to South Nyack as the village kicks off its Summer Concert Series.
Village of Nyack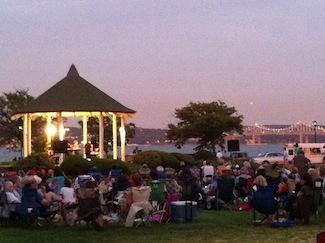 Music on the Hudson
The Jazz Passengers play the outdoor stage in Memorial Park on Tuesday as part of Nyack Parks Conservancy's Music on the Hudson concert series, 7p.
Fall 2018 Recreation Programs
Registration is now open for Fall 2018 Recreation Programs, including Mini Dragons Kung Fu, Beginning Piano, Teen Aerial Yoga, Skateboarding, Self Defense/Kickboxing, Field Games in the Park, and Kids Wrestling Club.
Village of South Nyack
Grants
The village has received a $42,000 grant from the New NY Bridge's Community Benefits Program which will be used to implement a paid parking program and will fund the cost of a parking consultant to assist the village in setting up this program. The village will be going out to bid shortly to find a consultant who can assist with this process.
The village has also received a grant for $163,200 from the New NY Bridge's Waterfront Revitalization Program which will be used to refurbish the Franklin Street Park tennis court and to purchase and install a canopy that will cover the children's playground. The structure that is being considered offers the most shade protection and will allow the Department of Public Works to remove it during the winter months. A picture of this shade structure may be found on southnyack.ny.gov.
Summer Concert Series
Nyack's not the only village bumping groovin' tunes this summer. On Sunday, July 29, 2018 at 6:30p, the South Nyack Summer Concert Series in Franklin Street Park will feature the Catahoula Cajun Band playing the dance music of Southern Louisiana. Franklin St between Cedar Hill Ave & Depot Pl, South Nyack
Town of Clarkstown
Summer Concert Series
The Summer Concert Series continues on Wednesday, July 25, 2018 at 7:30p at Germonds Park, with the contemporary country sounds of Country Fresh.
Edward Hopper House Museum & Study Center
The Jazz in the Garden series continues with the Mark Patterson Quintet on Thursday, July 26, 2018 at 7:30p and on Saturday, July 28, 2018 and Sunday, July 29,2018 at 7:30p with the Next Generation Jazz Weekend. Bring a lawn chair or a blanket. Refreshments are available for purchase prior to the concert and during the intermission. In case of rain, the concerts will be held at Grace Church, 130 First Ave, Nyack.
John Green Preservation Coalition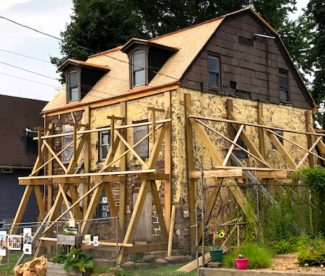 A second board member of the non-profit group overseeing the restoration of one of Nyack's oldest houses has resigned. In the 1800's local businessman John Green revolutionized Rockland County's economy. Now his former home is one of the last remaining houses in the Hudson Valley that represents original Dutch-style architecture. The John Green Preservation Coalition board, under new leadership from Historical Society of the Nyacks President Win Perry, is trying to regain its footing to continue the building's fundraising effort and building restoration. Read all about it in The Rise and Fall of the John Green House.
---
Here are the municipal events in Upper, South and the Village of Nyack for the week of 7/23.
Village of Nyack
Mon 7/23, 8a: Special Village Board Meeting – Memorial Park Permit Applications
5p: Justice Court
6:30p: Nyack Housing Authority
7p: Nyack NAACP Meeting
7p: Architectural Review Board
7p: Parks Commission Meeting
9:30a: Justice Court
6:30p: Village Board Pre-meeting Workshop
7:30p: Village Board Meeting
Nyack Village Hall is located at 9 N. Broadway.
Village of South Nyack
Tue 7/24, 7:30p: Board of Trustees Regular Meeting
Wed 7/25, 7:30p: Planning Board Meeting
South Nyack Village Hall is located at 282 S Broadway.
Village of Upper Nyack
Thurs 7/26, 7p: Board of Trustees Workshop
Upper Nyack Village Hall is located at 328 N Broadway.