by Nyack Mayor Don Hammond and the Nyack Village Board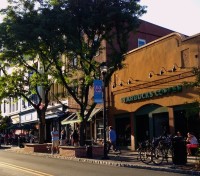 In June we introduced a new design of for Nyack-NY.gov. There is still work to do to update information and ensure the website navigation is operating correctly.  A big thank you to Dave Zornow and Jane Cowles for working on this project. The new design is still using the structure that was developed by former village trustee Doug Foster.
In keeping with the focus on our sustainability efforts, the Village Board supported responses for proposals to purchase trees for replanting and to maintain our current stock of trees throughout the village. Marcy Denker and the Tree Committee have done amazing work on these projects. We are reviewing actions to move forward with major renovation work on our aging water system. The total cost for the repair and renovation project is close to $10 million.
The village is considering moving to replace the current parking kiosks with upgraded versions that use license plates to monitor parking activities.  There will also be an app for payment and for extending time.
Safety for pedestrians and bikers continues to be a focus for the board. We adopted a local law to lower the speed limit in designated school zones. Other safety issues are being implemented including new signage and designs for better traffic control near the senior center and Head Start on Depew Ave.
Upcoming issues:
Your Village Board continues to study parking issues in our community, including a discussion about alternate side of the street parking rules at our July 12th workshop meeting.
Major milling and paving projects are near completion for North Midland and Piermont Avenues.  Thank you to Village Administrator Jim Politi and our DPW crew who coordinated the projects.
Memorial Park has become a center of activity this summer.  The Tuesday night Music in The Park Concert series is well attended. The new Splash Pad is open and already drawing large crowds. Thanks to the excellent work of The Nyack Park Conservancy and Commission.
We will be adding seasonal staff to monitor the activities in the park for the balance of the summer.  An official ribbon cutting and celebration of the Splash Pad will be held later this month.
The marina is open for business for the summer of 2018.  The Nyack Boat Charter provides both private and public sailing excursions from the Marina. Visit www.nyackboatcharters.com to book your evening sail. Kayak rentals are also available with guided trips in the Hudson River. Visit www.hudsonriverexpeditions.com.
Don Hammond is the mayor of the Village of Nyack.