by Ronnie de Pascal
I loved those white hot summer Sundays in the city. Ripples of heat rising from sidewalks and asphalt streets. The year was 1965. Walking from my apartment near Gramercy Park, down the block to Irving Place past Pete's Tavern, and a block over to a deserted Park Avenue South. It was 4pm, but I could still feel the sun's heat on my bare arms and legs. Savoring the warmth to be recalled, when walking these streets in winter.
I arrived at my destination, Max's Kansas City at Park Ave. South and 18th street. Built in 1900, it was a hangout and watering hole for several generations of creative geniuses.
I was going to ask Mickey for a job.
I pulled open the heavy double glass doors that opened into a small vestibule. A dark steep staircase loomed in front of me. A narrow winding staircase off to the left, led to the 3rd floor attic. To the right was another glass door that opened to the bar and first floor dining room.
I climbed the stairs to the second floor, turned right and walked through the swinging wooden doors to the large, unlit second floor dining room. At the far end of the room, sparkling dust drifted and danced in the late afternoon sun that streamed through a row of ceiling high windows. Two men sat with their backs to the windows, were illuminated as they sat at a table discussing the papers scattered in front of them.
As I approached, I saw that one of the men was impeccably and expensively dressed. He was Jean Pierre Radley, son of the fashion designer Pauline Trigere.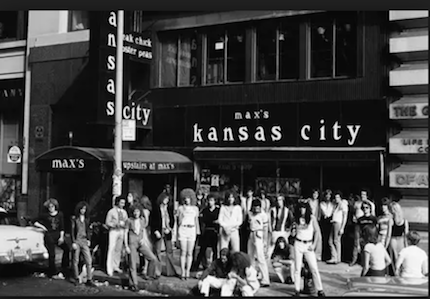 The other man was Mickey Ruskin, the owner of Max's.  He was wearing a white oxford shirt, sleeves rolled to the elbows. His necktie was a work of art. He had dark straight hair that was short for the 60's, but long for a businessman and lawyer.
I thought he looked like he could have been Tiny Tim's younger, conservative brother. A lock of hair fell across his forehead as he looked up at me appraisingly, with the critical eye of a man used to young female job supplicants.
I knew nothing of Mickey's interview style. I didn't know that at best, the interview could be flirtatious. And I didn't know that the at worst the experience could be belittling and humiliating.
So I started speaking. "Ruthie Buxton is moving to the coast tomorrow," I said.
A look passed between the two men that said Ruthie's departure was news to them .
"She showed me how to do her job. When do you want me to start?"
Mickey responded with a slight nod of approval and the hint of a smile and said, "You can start tomorrow." The next morning, I started as day cashier.
Daytimes, the restaurant was mostly filled with the businessmen from the surrounding office buildings. Some celebrities and nighttime regulars would wander in, maybe for lunch, to have a drink, hangout for awhile and then be on their way.
I started working nights, and after a time became Max's bouncer. I watched as daytime Max's Kansas City transitioned into nighttime Max's Kansas City.
Artists would start filling the seats at the bar. Regulars filled the booths and tables. The scene would begin changing in the late afternoon. Then hot trays of free chili and BBQ chicken wings were put in place in front of plate glass window that stretched across the front of restaurant.
And then it would begin. The sculptors and painters; dancers and singers; musicians and groupies and roadies and dealers; studio musicians, broadway musicians; rock and classical musicians; film makers and cinematographers; clothing designers, jewelers and furriers; photographers and models; museum curators; gallery owners; agents and lawyers; writers of books and scripts and songs and poems; directors and producers; superstars; comedians; actresses and actors from the small screen, from the big screen, from Broadway on and off .
The people that worked at Max's were chosen for the presence that they brought to Mickey's world; unique, eccentric, talented, amusing, creative, young. The abundance of such diverse and powerful energies produced an atmosphere of enchantment. I had been given entree into the inner circle of an extraordinary world.
Read Also: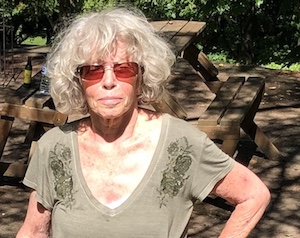 Ronnie de Pascal, mother, yogi, watercolorist, writer, fiber artist.
Words & Images is a column that features the work of students from , Writing Your Truth. This weekly feature is sponsored by River River Writers Circle, which invites you to join writers and scientists in the forest of the central highlands of Vietnam for writing workshops, presentations, and explorations toward transformative ecological thought in January, 2019. Program applications are due by Tuesday, July 31, 2018.