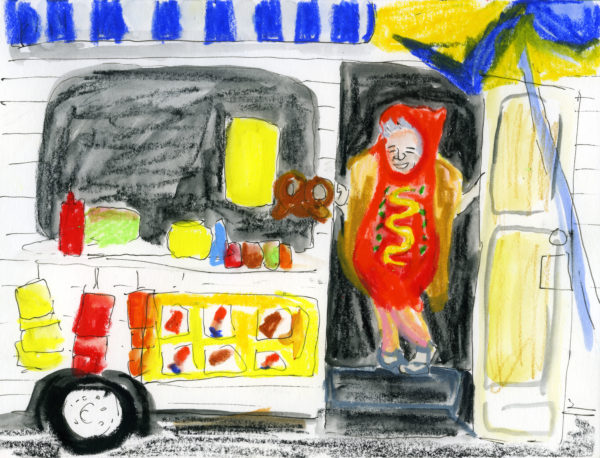 by Emma Caster-Dudzick
Nyack Fireworks 2018: It was a July 4th at once like no other and like many before it. Like no other because it was actually June 30th. Like many before it because of  the sticky air and the sound of kids playing in the fountains down the hill. I hadn't been to Nyack's Independence Day celebration since I was a teen, and it brought on a bittersweet rush of nostalgia.
A hot dog truck was set up in the corner on the large upper lawn, welcoming visitors with sauerkraut and ice cream. Donna Avdoyan has been running Hot Dog Donna for 30 years. She took over the business from her father, who ran a hot dog cart. After spelling out her last name for me, she quickly added, "But my real name's Hot Dog Donna!" She then enthusiastically donned a human-size hot dog costume to pose for a photo at the door of the truck.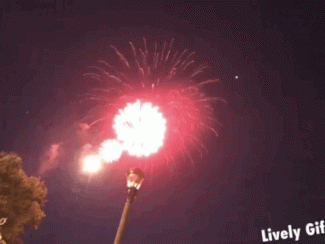 ICYMI: If you come to Nyack on July 4th to see fireworks, don't look up, but look east. Although you missed the village's annual Independence Day fireworks display last Saturday, you can still get a front row seat for Tarrytown's show in Memorial Park or anywhere with a good view across the river. Tarrytown will hold its
Independence Day Celebration
on Wednesday, July 4 in Pierson Park starting at about 9p.
Further down the park, town employees were hanging by the orange and white barricades. After pretending I didn't know I wasn't allowed to pass, they told me that the the fireworks were lined up, ready to blow "just past the skate park."
The Independence Day fireworks are, naturally, usually done on Independence Day. This year, the town scheduled them for the Saturday before. Joe Carlin, who recently ran for Village Trustee, watched the firework display from the marina. "More should have been done to communicate the change," he lamented.  "Normally, the parking lot would have been jammed with people–instead it was very empty. Not everyone is tuned into local social media, and many people, both from the village and outside, are used to attending the fireworks display on the night of the 4th–not the Saturday before."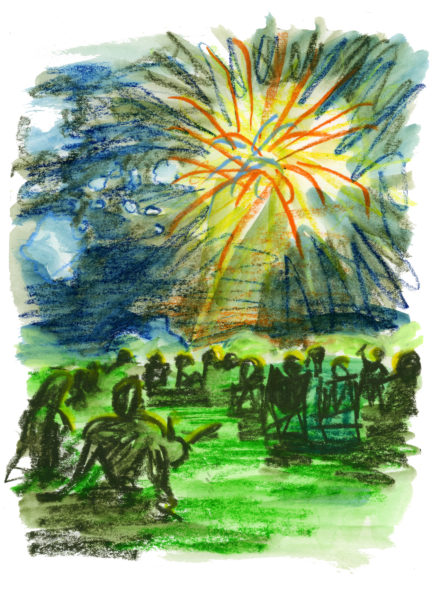 But enough people heard about the change that early birds were claiming spots on the lawn of Memorial Park as early as 6p. As the evening progressed, lawn chair clusters and coolers fit for family reunions were sprouting up, and parents began unleashing clouds of various protective sprays on their children before releasing them to chase fireflies, which were floating like bubbles across the scene.
By the time the sky was cotton candy pink and blue, the crowd was pouring in over the hill, setting up on lawn chairs and blankets, pulling out stereos. As the sky got darker, the crowd got bigger, with people packed on the lawn, the hill, and the stairs, talking excitedly.
Around 9p, when the first firework shot into the sky, the crowd gasped and applauded, and then waited for the next, which took another five minutes to go off. My friend called it the "amuse-bouche." When the fireworks started bursting into the sky at a more rapid clip, the crowd cheered and oo-ed at the sparkling showers, and blue stars. If cheers were any indication, the crowd favorite (next to the finale) was a fantastic set of snake-like gold corkscrews that shot up accompanied by an otherworldly, banshee-like scream that was so startlingly enthralling it made my jaw drop.
When the finale concluded, people gathered their gear and poured back over the hill, dispersing through town under the floodlights, guided by people in orange vests. Moving homeward together, I felt a rush of affection for the people around me, and for the town we came to celebrate together. Even though it was June 30th, it felt like the 4th of July to me.
Illustrations by Emma Caster-Dudzick, a Nyack-native artist and writer. To see more of her work go to ecdart.com