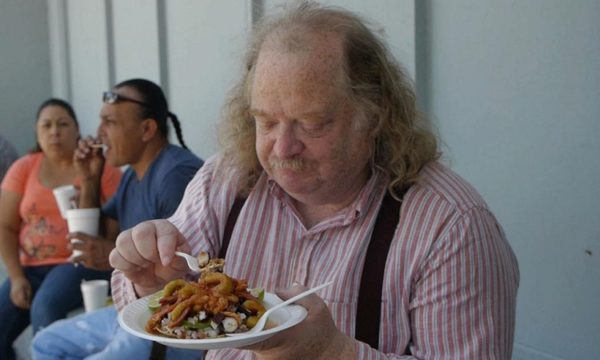 "Cooking is what makes us human," LA Times Food critic Jonathan Gold once wrote. And perhaps no single sentence sums up his life and work more poignantly. Like the late Anthony Bourdain, Jonathan Gold sought to democratize the act of eating, and his death this past Saturday, from Pancreatic cancer, is another monumental loss for the food world.
Gold was the first food critic to win a Pulitzer Prize for his work with the LA Times, which celebrated the bounty and diversity of Los Angeles. Focusing as much on tacos trucks, hole-in-the-wall Thai joints and korean barbecue restaurants as on haute cuisine and Michelin starred tasting menus, Gold recognized the incredible diversity of Los Angeles and the wealth and breadth of food culture that accompanied it. He shunned the crooked and eurocentric symbolism of industry awards like The San Pellegrino World's 50 Best List and the Michelin Guide, and he urged his readers to visit places owned and run by ordinary Angelenos. Like Anthony Bourdain, Gold saw food and the act of eating for what it was: a way to learn about people and places and to perhaps shed a little of our fear and ignorance of the unknown and unfamiliar in the process.
Unlike many who elect to write about food, Gold took the time to meticulously research and learn about the cuisines he was covering, from Sichuan to Northern Thai. He forced himself to understand the base components of these cuisines, their histories, and nuances. In doing so, he also learned a tremendous amount about the people who cook and carry such foods with them, giving his readers insight into the cultures and lives of people from every corner of the globe. In essence, Gold understood the tremendous anthropological power of food, the way it can be used to deconstruct history and culture, how in many instances we can learn so much from a single dish.
And Gold was also unafraid to take issue with the juggernauts of the food world, always, always sticking up for the voiceless and calling out injustice when he saw it. As Gold recently wrote of fellow critic Pete Wells and the NY Times: "The question wasn't how Locol's $5 Fried Chicken Burg might compare to the vastly better $9 fried chicken sandwiches at Night + Market Song or Oakland's own Bakesale Betty. It was why the New York Times was using its main restaurant column to gripe about bland turkey chili in an Oakland burger stand whose mandate was to feed a community with limited access to good, nutritious food."
In the past eight weeks, we have lost two of the most widely renowned figures of the food world. It was not $300 tasting menus or Michelin stars that made Anthony Bourdain and Jonathan Gold monumentally important to the culinary world, it was their unmatched push for the things we eat–in many respects the most mundane of things–to be recognized as something that could connect us, bring us together, and make us all a little less afraid of each other and the world.