by Elijah Reichlin-Melnick
These are scary times for our country. As Trump mocks and demeans our values, explodes the national debt, and destroys our alliances and our position in the world, Republican politicians sit by and enable his abuses. Many voters are furious, and are looking for a way to fight back. Nyack is already represented by Democrats in Congress and the State Legislature, so energized voters looking to take the fight to Republicans have to look elsewhere to make the biggest impact.

Luckily for anyone here who wants to make a difference in an important campaign, there are several key races in nearby districts where strong Democratic candidates are fighting to flip Republican-held seats. Winning the elections in these districts would give a huge boost to Democratic chances of retaking Congress and could deliver the party control of the New York State Senate. If you want to maximize your impact in this year's elections, donating to and/or volunteering for these candidates is the best way to do it!
So here are the seven best elections in our area to get involved in: These are the campaigns where Democrats have the best chance of flipping a Republican Congressional or State Senate seat.
Congress
New Jersey's 11th Congressional District
Where is it?
The 11th District covers a wide area of suburban New Jersey, mostly along the I-287 corridor. It includes Morristown, Parsippany, and Wayne, and the northern border of the district is just a few miles south of Rockland.
Who's the Democratic candidate?
Mikkie Sherrill, a former federal prosecutor and Navy fighter pilot.
Why get involved?
This is one of Democrats' best pick-up chances in the country. Veteran Republican Congressman Rod Frelinghuysen is retiring, creating an open seat race in a district that Trump won by only 1% in 2016. Sherrill is a first-time candidate, but she has proved to be an excellent fundraiser and has held narrow leads in recent polls. In a year when women are running and winning elections in record numbers, Sherrill is well positioned as the Democratic nominee. Amazingly, if she wins she would be only the second woman in New Jersey's 14-member Congressional delegation. Of the four key congressional races, this one is nearest to Rockland.
New Jersey's 7th Congressional District
Where is it?
The 7th district stretches from affluent suburbs near Newark and New Brunswick, out through rural areas in western NJ, all the way to the Delaware River. The northern parts of the district are about a 45-60 minute drive from Rockland.
Who's the Democratic candidate?
Tom Malinowski, who served as Obama's Assistant Secretary of State for Democracy, Human Rights, and Labor.
Why get involved?
Republican Congressman Leonard Lance is widely considered to be one of the most vulnerable incumbents in the country and he is one of just a handful who represent districts that Hillary Clinton carried in 2016. Lance won re-election with only 54% in 2016, and Hillary carried the district by 1.5%. Like New York, New Jersey will be hit hard by the Republican tax bill, and even though Lance voted against it, voters in his district are apparently furious that he couldn't stop his party from ramming the unpopular bill through Congress.
New York's 19th Congressional District
Where is it?
The 19th District includes Ulster County, parts of Dutchess County, and many other areas in the Catskills and upper Hudson Valley. This is a big district that includes all or part of 11 counties. The southern parts of the district in Ulster, Dutchess, and Sullivan Counties are about 50-60 minutes from Rockland.
Who's the Democratic candidate?
Antonio Delgado, a 41-year old lawyer and former Rhodes Scholar who just won a seven-way Democratic primary on June 26.
Why get involved?
The Republican incumbent, John Faso, was just elected for the first time in 2016 and apparently hasn't done much to impress his new constituents. He joined the Republican majority in voting to repeal Obamacare, a very unpopular stance in this swing district (which Trump carried with only 51% of the vote). National political observers have rated this as one of the most competitive districts in the country.
New York's 11th Congressional District
Where is it?
The 11th District includes all of Staten Island and parts of south Brooklyn.
Who's the Democratic candidate?
Max Rose, an Iraq and Afghanistan veteran in his 30s, making his first run for office.
Why get involved?
This seat will be tougher to flip than the other three on this list, but it is very much in play given the current political environment. Trump won it by 10%, and Staten Island has usually sent Republicans to Congress, but the incumbent Congressman, Dan Donovan, just faced a bruising Republican primary which may reduce Republican turnout in November. The Democratic nominee has a compelling biography. In a year when voters are hungry for change, there's no question that Democrats have a chance to flip the only GOP-held seat in New York City.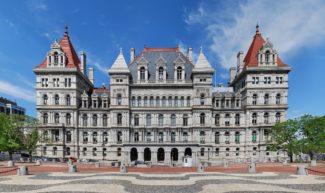 New York State Senate
Democrats only need to flip one seat to take control of the state senate. Any of these three districts in the Hudson Valley could give them that win.
39th District
Where is it?
The 39th District covers part of Rockland (the towns of Haverstraw and Stony Point), then stretches up the river through eastern Orange County and into southern Ulster County.
Who's the Democratic candidate?
State Assemblyman James Skoufis, who currently represents an Assembly district covering Stony Point and a chunk of Orange County that overlaps significantly with this State Senate seat.
Why get involved?
The Republican incumbent Bill Larkin is retiring after serving in the State Senate since 1990, leaving an open seat in a swing district that voted for Obama in 2012 before flipping very narrowly to Trump in 2016. Skoufis was elected to the State Assembly in 2012 at just 25 years old and has since won twice more in a challenging district with lots of Republican voters. He's built a reputation as a young progressive leader with an impressive record of policy accomplishments and constituent service. If you're in Nyack, this is one of the closest swing districts on this list—you only have to go to Haverstraw to get involved.
42nd District
Where is it?
The 42nd District is enormous. The southern border of the district touches Rockland, just west of Ramapo, before sprawling through the western half of Orange County, all of Sullivan County, parts of Ulster County, and into the Catskills. It's the kind of crazy gerrymandered district that the Republican State Senate majority delivered to protect their incumbent members.
Who's the Democratic candidate?
Probably Jen Metzger, a Town Councilwoman in the Town of Rosendale in Ulster County. Metzger is facing a Democratic primary against an environmental activist from Orange County, but she has endorsements from key elected officials in the district, as well as support from the labor-focused Working Families Party, and an endorsement from liberal hero Zephyr Teachout. So she seems likely to prevail in the primary.
Why get involved?
The Republican incumbent John Bonacic announced his retirement earlier this year. Obama won the district in 2012 by 9%, but the district flipped to Trump by 5% in 2016. The district includes heavily Democratic Middletown and New Paltz. Without an incumbent Republican, this open seat could flip Democratic. From Rockland, it's an easy drive to this district in Orange County.
40th District
Where is it?
The 40th District includes Westchester communities, such as Sleepy Hollow, Chappaqua, Peekskill, Yorktown, and Croton, along with about half of Putnam County and two towns in Dutchess County.
Who's the Democratic candidate?
Pete Harckham, who formerly represented parts of the district in the Westchester County Legislature, is running in a primary against Robert Kesten, a former campaign operative for former U.S. Senator Tom Daschle and others who has been endorsed by a number of local Democratic Committees. The winner of their primary on September 13th will face Republican Terrence Murphy in November.
Why get involved?
This is a great pickup opportunity for Democrats. Hillary won the district by 7% in 2016 and Obama won in it in 2012. More than half of the district is in Westchester, which swung hard towards Democrats in 2017. The Republican incumbent Terrence Murphy was first elected in 2014 so hasn't necessarily had time to build up a big advantage from his incumbency. Parts of the district are just across the Tappan Zee Bridge from Nyack, so this is an easy one to get involved in.
Elijah Reichlin-Melnick is a Trustee for the Village of Nyack.