by Anne Pinzow
Summer days and nights have been either too hot or too wet to spend time outdoors with family and friends. So instead of grumbling about the good times that are being spoiled by the weather, head for one of the dozen or so local playhouses, galleries or museums and soak up some culture and air conditioning.
Elmwood Playhouse
Death of a Salesman
, written by Arthur Miller and directed by Alan Demovsky, continues at Elwood Playhouse (10 Park Street, Nyack) until August 4. Living in the past when he was the proud father of the local high school's football hero, Willie Loman avoids the present, steeped in what he perceives to be his own failures and those of his sons, unwilling to enjoy the success he has achieved.
"Death of a Salesman" features Andrew Lionetti (of Westwood, NJ), Robin Peck (of River Edge, NJ), Michael Metta (of North Arlington, NJ), Aaron Newcome (of Nyack, NY), Arthur Chill (of Hawthorne, NJ), Bernie Garzia (of Orangeburg, NY), Andrew Greenway (of Piermont, NY), Sam Ruck (of Tappan, NY), Mimi Leahey (of West Nyack, NY), Russell Holland (of Teaneck, NJ), Elizabeth Mayer (of Tappan, NY), Linda Garzia (of Orangeburg, NY), Rich Ciero (of Oradell, NJ).
Tickets – Single Adult tickets, $26; Seniors — $23. Sundays, $15. There are differing subscription prices available.
See also:
Broadway World Review: DEATH OF A SALESMAN at Elmwood Playhouse
, 7/28/2018 by Peter Danish
Penguin Rep Theater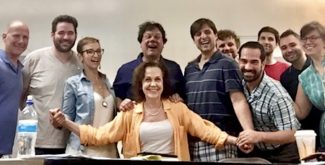 "What matters most is the music you hear in your head," said Florence Foster Jenkins, wealthy socialite and real-life figure who became famous for her singing. Told through the eyes of her accompanist, Souvenir, is a comedy about two matched but mismatched performers, Florence Foster Jenkins and Cosme McMoon, the burnt toast of private recitals for the wealthy and famous, who proved that it took more guts than talent to make it big as an entertainer. Written by Stephen Temperley, opening Aug 10 at Penguin Rep.
Next up is After which examines parenting, bullying, and the fallout from a school incident. Provocative and moving, the play follows the journey of two families, before and after, as they pick up the pieces once the news cameras have gone home. Written by Michael McKeever,  After is winner of the Carbonell Award for Best Play, and this will be its New York premiere. Opening September 21.
Penguin Rep is located at 7 Crickettown Rd in Stony Point NY. Call (845) 786-2873 for reservations. Tickets – $46 for a single ticket. There are subscription and special rate prices.
Westchester Broadway Theater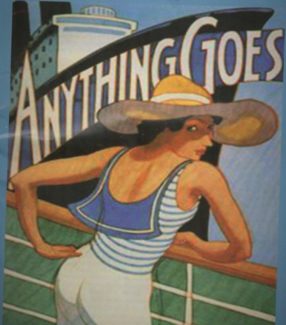 Anything Goes for late morning matinees and evening performances Thursdays, Fridays and Sunday's through August. "on voyage!  Anything Goes is the winner of three 2011 Tony Awards including Best Musical Revival and considered one of the greatest Tap Dancing musicals of all time. A brassy nightclub singer, a starry-eyed stowaway and Public Enemy No. 13 are booked on a transatlantic luxury liner bound for romance and laughter.
Cole Porter's delightful, delicious, De-Lovely first-class score includes some of musical theatre's most memorable standards, including "I Get a Kick Out of You," "You're the Top," "It's De-Lovely," "Blow, Gabriel, Blow" "Friendship," and "All Through The Night."
On Saturdays, the theater presents different musical presentations.
August 4 – Let's Hang On, The Frankie Valli & Four Seasons Tribute – 6:15p
August 11 – The Sixties Show – 6:15p
August 18 – Dancing Dream- ABBA Tribute – 6:15p
August 25 – The Piano Men Hits of Billy Joel & Elton John – 6:15p
Tickets for diner and show range between $59 to $89 plus tax depending on the performance chosen. Lower prices are for the show only and prices vary for days and times. Westchester Broadway Theatre is located at One Broadway Plaza, Elmsford, NY.
Please Be Seated.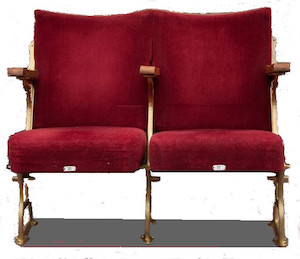 Local author Holly Caster writes about all things entertainment in Please Be Seated, on Nyack News And Views. Whether you cue up to watch it in line or online, Holly has entertainment recommendations and insights about what is new and what you might want to rediscover.
Antrim Playhouse
September means more than back to school for the kids; it's also back to plays at Antrim Playhouse, at 15 Spook Rock Road, Suffern. The playhouse is beginning its 82nd season of subscriptions, with eight plays for $80.
Later Life, a romantic comedy about a proper Bostonian who tries to revive a 30-year-old love affair with a free-spirited woman during a stuffy dinner party, written by A.R. Gurney and directed by Susan Binder, will be presented as a performance reading, September 14-15. Tickets for all seats – $15.
Also, Hunchback is to be performed as a staged reading from September 29-30. It is an original musical with music by Michael Shapiro, books and Lyrics by P.J. Mouquin, adapted from Victor Hugo's novel, The Hunchback of Notra Dame de Paris.  Tickets for all seats – $20. Email info@antrimplayhouse.com.
Bridge Music Festival
The Union Arts Center and BridgeMusik are announcing a new collaboration featuring world-class performers and young up-and-coming student musicians in concert together. The inaugural BridgeMusik Festival concert will be on August 6th, at 7:30p, at the Union Arts Center in Sparkill, NY. The program will include solo and chamber pieces by Bach, Corelli, Mozart, and Mendelssohn, featuring Festival students and faculty.
The concert is part of a larger Festival drawing ambitious, talented young instrumentalists from Rockland County, New Jersey, and Connecticut to study and perform with several of New York City's top professional orchestral musicians and master teachers. Students participating in this inaugural program range in age from nine to 16, and were invited based on teacher nomination. The Festival's founders are Juilliard-trained musicians who perform on Broadway and in Lincoln Center's Mostly Mozart Festival Orchestra in New York City, as well as with the Metropolitan Opera and the New York City Ballet. Monday, August 6, 2018 at 7:30p, Quincy Hall, Union Arts Center, 2 Union Street, Sparkill, NY 10976. Program to include solo and chamber works by J.S. Bach, Bartok, Corelli, Mozart, Mendelssohn and Myslivecek. Tickets – $12 for adults, $8 for students.
Rockland Center for the Arts
Third Annual Full Moon Party will be playing on September 22, from 5p to 9p. An evening of food, fun, and performance art. This will be a fundraiser to benefit RoCA's exhibitions and educational programs. Ticket prices TBA. 27 South Greenbush Road, West Nyack; Tel: 845-358-0877
Museum of the Historical Society of the Nyacks
Walking Tour: Hopper's Nyack: Edward Hopper once said that "in every artist's development, the gem of the later work is always found in the earlier. What he one was, he always is." See Nyack through his eyes. This tour highlights the influence of light, water, and architecture. September 16th at 2p in front of the Edward Hopper House, at 82 N. Broadway.
Walking Tour: Downtown Nyack: Trace Nyack's growth from a small river village to a major commercial and manufacturing center during the Gilded Age, when Nyack was called the "Gem of the Hudson." See many of the same buildings that were present at the turn of the century when Nyack was the center of Rockland County life. Meet September 23rd, at 2p at the foot of Main Street (near where Gedney Street meets Main). September 23, 2p.
Orangetown Museum
Early American Tea Party presents early American and colonial crafts. Make a mob cap or a tricorner hat, learn to weave, and enjoy some iced tea, lemonade, and cookies. Recommended Ages 5-9. Admission is free, donations accepted. Sayler House, 213 Blue Hill Rd., Pearl River, Saturday, August 11, 11a.