This week in the villages: Nyack will begin July 4th festivities on June 30 with its fireworks spectacular on Saturday. Also, expect delays due to planned milling on Midland Avenue from High Avenue to the Upper Nyack line and on Sixth Avenue from Midland Avenue to Route 9w, also, Piermont Avenue from Cedar Hill Avenue to Main Street. Paving follows during the week of July 2.
Also: Parks and Trails New York will present its final report for the Orangetown Bike Study on Tuesday, and the public is invited to attend.

Village of Nyack
Music on the Hudson
The Music on the Hudson concert series continues on Tuesday, June 26 at 7p in Memorial Park with the Steev Richter Trio with Shlomo Franklin. Sponsored by the Nyack Parks Conservancy,
Fourth of July Fireworks
The Village of Nyack's  annual Fourth of July Fireworks Celebration will be held Saturday, June 30 in Memorial Park at 9p. The rain date is Sunday, July 1.
Town of Orangetown
Orangetown Bike Study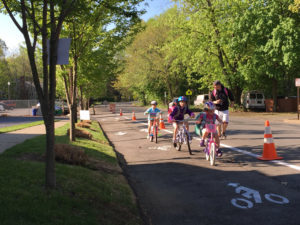 The public is invited as Parks and Trails New York (PTNY) presents its final report on the Orangetown Bike Study to the town board on Tuesday, June 26 at 8p at Orangetown Town Hall. For those who are unable to attend the meeting, it will also be aired on Cablevision (channel 78) and Fios (channel 30).
The final report includes recommendations for cycling infrastructure, such as bike lanes to connect Orangetown residents with important community destinations and neighboring communities, as well as policies and programming that will improve the cycling environment and address safety concerns. It will provide the town with a roadmap to improving safety and accessibility of the cycling network over the next decade and beyond.
More information about the Orangetown Bike Study can be found at www.Orangetown.com/bikestudy. The final report and recommended facilities map will be posted after the town board meeting.
Save the Date – Slide the City Part 2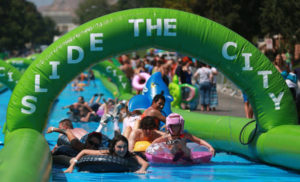 In case you missed it last time, Slide the City returns to Rockland County on Saturday, August 11 from 12-6p with a slide down E Central Ave in Pearl River. This family friendly giant slip-and-slide party will include music, food, drinks, water, and, of course, the biggest slip-and-slide ever to hit asphalt. Tickets may be purchased online.
Tappan Zee Bridge News
Tappan Zee Constructors (TZC) is scheduled to continue work on the eastbound span roadway next week. Operations include setting precast concrete deck panels, installing rebar, pouring concrete and preparing the driving surface. The work requires a single-lane closure on the southbound New York State Thruway (I-87/I-287) beginning near exit 11 (Nyack – South Nyack – US Route 9W) and extending across the new bridge from 10a to 3p on Wednesday, June 27.
TZC is also  scheduled to continue removing large steel truss sections of the old bridge next week with the assistance of the project's largest crane, dubbed I Lift NY. The truss sections, weighing up to 1,300 tons, will be placed on barges and transported to ancillary project facilities.
---
Here are the municipal events in Upper, South and the Village of Nyack for the week of 6/25.
Village of Nyack
Mon 6/25, 7p: Zoning Board of Appeals
5p: Justice Court
6:30p: Nyack Housing Authority
7p: Nyack NAACP Meeting
7p: Parks Commission Meeting
9:30a: Justice Court
6:30p: Village Board Pre-meeting Workshop
7:30p: Village Board Meeting
Nyack Village Hall is located at 9 N. Broadway.
Village of South Nyack
Tue 6/26, 7p: Board of Trustees Regular Meeting
South Nyack Village Hall is located at 282 S Broadway.
Village of Upper Nyack
Thurs 6/28, 7p: Board of Trustees Workshop
Upper Nyack Village Hall is located at 328 N Broadway.