This week in the villages: Work on a new bus shelter will change the traffic pattern in the Artopee Way downtown parking lot to make way for a new bus system to replace the Tappan Zee Express (TZx). On Tuesday, the Greater Nyack Bike/Walk Plan presents its recommendations at Nyack HS at 7p; the public is encouraged to attend.
Village of Nyack
Traffic Changes on Artopee Way
The Lower Hudson Transit Link (LHTL) bus shelter replacement project at South Franklin and Artopee Way will begin on Monday, June 11, 2018 at 8a. In order to keep the bus routes from detouring during this work, Artopee Way will be one-way going westbound (from Cedar St to S Franklin) for four weeks. This new traffic pattern will provide access to Nyack's municipal parking lots during construction.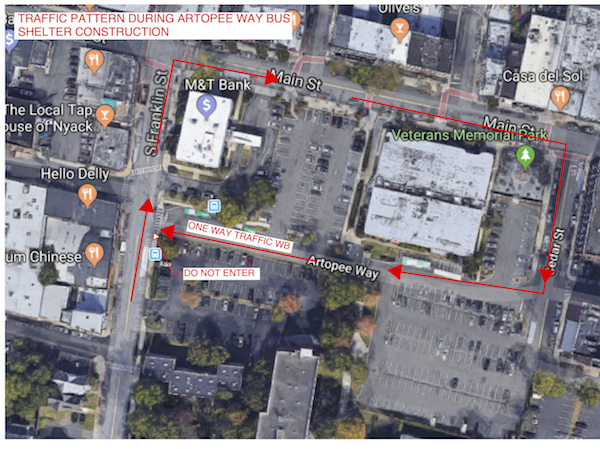 Walk or Bike? Save This Date:
Tues June 12 at Nyack High School
The Nyack area has a reputation as walk-able and bike-friendly community. But it can still be a challenging place to walk or ride a bicycle.
[URIS id=91570]
There were 52 vehicular crashes that involved pedestrians or cyclists in the Nyack School District from 2015-2017. That count doesn't include two fatalities in the last four months–including one just last week at the intersection of Broadway and Main Street in Nyack.
The Greater Nyack Bike/Walk Master Plan, a six month study of the streets, sidewalks, bike lanes, and cross walks in the Nyack river villages and Valley Cottage, will present its findings and recommendations on Tuesday, June 12 at 7p in the Nyack High School auditorium.
Please join us at this public event. What you will hear affects all of us!
Village of South Nyack
There will be a children's concert on Saturday, June 16 at 1p at the gazebo in South Nyack. The concert features the parents' choice award-winning, Bossy Frog Band, with Jeffrey on banjo and guitar, and the dancing Bossy Frog costume character. Bring a chair, blanket, refreshments and your friends and family. Franklin Street Park on Franklin Street, between Cedar Hill Ave and Depot Pl.
Village of Upper Nyack
June 11, 2018 Public Input Session #6
There's a public input session for Upper Nyack's Comprehensive Plan Update on Monday, June 11, 2018 from 7-9p. The session will take place at the Old Stone Church, 347 N Broadway. Topics for discussion include preservation, parks & recreation, and wildlife.
You can also have your voice heard by filling out a "My Vision for Upper Nyack" form. Print and drop off at the Village Hall or email your answers to CompPlanReview@uppernyack-ny.us.
Town of Clarkstown
Serendipity Saturday
Opening day of Germonds Pool in West Nyack is Saturday, June 16 from 12-6p. It is free for all residents.
---
Here are the municipal events in Upper, South and the Village of Nyack for the week of 6/11.
Village of Nyack
Tue 6/12, 5p: Justice Court
9:30a: Justice Court
4:30p: Board of Water Commissioners
6:30p: Village Board Pre-meeting Workshop
7:30p: Village Board Meeting
Nyack Village Hall is located at 9 N. Broadway.
Village of South Nyack
Mon 6/11, 5:30p: Justice Court
Tue 6/12, 7:30p: Board of Trustees Regular Meeting
South Nyack Village Hall is located at 282 S Broadway.
Village of Upper Nyack
6p: Architectural Review Board
7p: Public Input Session #6 – Preservation; Parks & Recreation; Wildlife (held at Old Stone Meeting House)
Thurs 6/14, 7p: Board of Trustees Workshop
Upper Nyack Village Hall is located at 328 N Broadway.