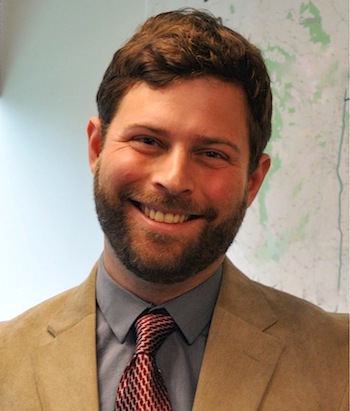 by Elijah Reichlin-Melnick
There are some big and exciting changes happening in Nyack this month, and there are a lot of upcoming events.
There's never a dull moment in Nyack. Last week I joined Trustee Louise Parker at the Eagle Scout Court of Honor for Lawrence Kiesel, a young man from Nyack who completed his Eagle Scout project by painting the metal grates of the stormwater drainage catchbasins in downtown Nyack. This project is going to help the village comply with the state's new MS4 (don't ask) requirements. Thank you Lawrence, and congratulations!
On Saturday June 2 I had the privilege of marching in the annual African-American Day parade with other elected officials. Thank you to Trustee Louise Parker and everyone else on the parade committee who organized this wonderful community event! I loved seeing so many groups marching (even though I wish more people had showed up to watch the parade) and I especially loved the two marching bands from Nyack HS and East Ramapo. These kids were having so much fun, it was infectious! Kudos to the East Ramapo band for persevering in the face of the severe budget cuts that have been inflicted on them by the school board there.
I also stopped by the opening of a new exhibit at the Historical Society of the Nyacks, "The Many Hats of Frances Pratt," which honors the life, career, and one-of-a-kind fashion sense of the iconic Frances Pratt. The exhibit is open from 1-4p on Saturdays in June and July. And if you've ever admired one of Frances' magnificent hats at an event in Nyack, you should stop by the exhibit before it closes.
Now for some big Nyack news:
Starting June 7, recycling will be picked up every week on Thursdays. Please see the village website for details here. People have been asking for this change for years and it's exciting that the village has finally been able to make it happen.
No one enjoys paying taxes, but in an effort to make payment a bit easier, you can now pay your taxes online if you choose. Thanks to Village Clerk/Treasurer Jennifer Hetling for working to bring tax collection into the 21st century.
If you've been down to Memorial Park recently, you may have noticed the construction on the brand new splash pad next to the playground. This water feature will be a great addition to the park for kids to cool off this summer. We're expecting an opening date in the next few weeks. The splash pad was paid for by a $200,000 grant from New York State secured by the Nyack Parks Conservancy last year. If you're curious, take a look at this Journal News article from last year about the grant.
June is absolutely full of events that highlight the artistic, musical, and civic side of Nyack.
Our Village Board meetings this month are on June 14 and June 28.
Want to get more details on these or any other Nyack topics? I'm holding my monthly "Meet Your Trustee" event on Monday, June 18 from 7-8p at Didier Dumas on Main Street. Stop by for a casual conversation, and one of their fantastic deserts.