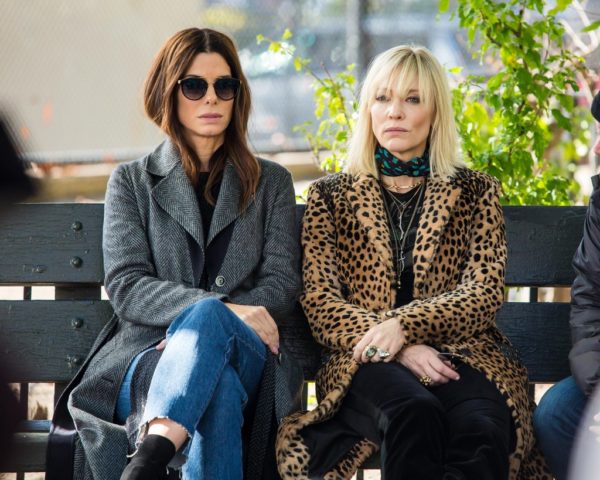 Women are taking over your multiplex. Book Club opened recently, introducing the characters played by  Diane Keaton, Jane Fonda, Candice Bergen, and Mary Steenburgen to Fifty Shades of Grey, which revs up their engines. Next month brings a sequel to the estrogen-packed Mamma Mia!, adding Cher to original cast members including Amanda Seyfried, Meryl Streep, Julie Walters, and Christine Baranski. I try to see these usually few and far between female-centric films opening weekend to add to the all important box office take. Therefore I saw the new Ocean's 8, a female "spin" on the old heist franchise, the day it opened.
Like its antecedents—Ocean's 11 (1960), Ocean's Eleven (2001), Ocean's Twelve (2004), and Ocean's Thirteen (2007)—Ocean's 8 gathers a group of interesting performers to enact a heist that never in a billion years could happen. This newest Ocean offspring manages to skate over some jet-plane-sized plot holes with quick, sometimes unintelligible dialogue. My brain seesawed from "What'd she say?" to "Oh yeah, right, it only takes 15 seconds to hack into the MET's security system!"
Plot holes in blockbusters are nothing new. No Bourne caper or Mission: Impossible assignment could ever hold up to a Realism Detector Test. Every bone in Jason Bourne's body would be broken after the first fight, And could Tom Cruise's Ethan Hunt really hold his breath under water for, like, 10 minutes while swimming fast and doing intricate lock-picking? Nope!
All things considered, though, I wasn't terribly bothered by the lack of logic or realism in Ocean's 8. I was, however, troubled by the total lack of suspense, spark, and originality. The plot is rote: Protagonist has heist idea. Check. Recruiting of participants. Yup. They all sit down and go over the perfect version of the heist. In this iteration, there is never a moment's doubt that the heist will be pulled off without a hiccup. Crime films ask a lot of an audience: we are essentially siding with the bad guy, or gal in this case. But what's a heist movie without the audience gasping, worried for the characters they've come to love? Blah.
Why bother remaking famous films with actresses taking over the roles if you don't custom fit those roles to a female character? In Ocean's 8, if all the actresses suddenly turned into men, not a single plot point would need to be changed.
The cast is uniformly good. Sandra Bullock is sly, steely, and believable as Danny Ocean's sister, newly released from jail with a foolproof plan honed during her incarceration. (However, it's so foolproof that a simple "No" from a would-be-participant would've spoiled everything.) Blanchett is an excellent actress but I usually find her cold. Here, she was funky and warm, parading around with choppy blonde hair and attitude for days. Hathaway seemed to be having fun in her spoiled celebrity role. Rihanna, who is ridiculously gorgeous, acquitted herself nicely, as opposed to her lackluster performance in Bates Motel. The other women were fine though underutilized.
There are 10 reasons to see Ocean's 8: the eight actresses, the cameos, and Manhattan–especially the Metropolitan Museum of Art, the site of the heist. So if you can ignore a by-the-numbers plot, standard heist music and editing—quick cuts, fast-motion zooms—by all means go see Ocean's 8. It was a pleasant way to spend 110 minutes. But I wished it were unique, and gave those actresses a script they actually deserve.
Holly Caster knew in 9th grade she wanted to be a writer after receiving an A+ on a paper about 1930's actress Irene Dunne. That early triumphant high hooked her, and she's been writing ever since. She writes nonfiction (self-help articles), fiction (a novel, Cape May), and edits two continuing medical education journals. She's proud to call Nyack "home," and writes about all things entertainment every other week at NyackNewsAndViews.com.
Please Be Seated is sponsored by Elmwood Playhouse
and Westchester Broadway Theatre.
Sister Act, now on stage at Westchester Broadway Theatre in Elmsford through July 1, is the funniest, funkiest musical around, a tribute to the universal power of friendship, sisterhood, and music.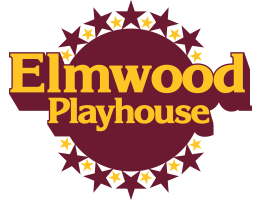 Willy Loman comes to Nyack on July 13 when Arthur Miller's towering masterpiece, Death of a Salesman, opens at Elmwood Playhouse.