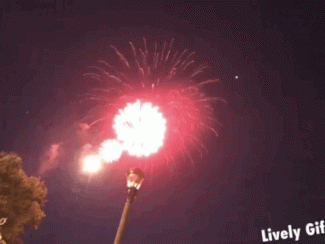 ICYMI
: If you come to Nyack on July 4th to see fireworks, don't look up, but look east. Although you missed the village's annual Independence Day fireworks display on June 30th, you can still get a front row seat for Tarrytown's show in Memorial Park or anywhere with a good view across the river. Tarrytown will hold its
Independence Day Celebration
on Wednesday, July 4 in Pierson Park starting at about 9p.
On June 30, Nyack will celebrate America's independence a few days early with fireworks over the Hudson River. The Village of Nyack will launch its aerial show from the west bank shortly before 9p.

The Nyack display, which will be launched from Memorial Park on the Hudson River, can be seen from any place in the village where there is a clear view of the southeast sky. There will likely be a big crowd at Memorial Park, so we found nine other places to catch the show and celebrate–or
mourn
–America.
The landing at the top of Hook Mountain for a view from above.
At Nyack Beach State Park you'll be able to put your feet in the sand and grill up some burgers.
The Nyack Pier at the foot of Main Street adjacent to the Clermont Condos.
A Nyack Boat Charter cruise. Or, that kayak you portaged from Quincy to Nyack to just get away from it all.
The storied view from Gedney Street.
Piermont's pier, because the town is called Piermont for a reason.
In a car, driving across the Mario M Cuomo Tappan Zee Bridge, if you like to live dangerously.
We would NOT encourage anyone to sneak onto the BOCES roof. (Seriously, don't do that.)
??
To get you in the mood for the July 4th celebrations, here's a :70 montage of the 2010 Nyack fireworks, set to Stars And Stripes Forever played by the Orangetown Concert Band on July 3, 2012.
New Here? These Are a Few of Our Favorite Things.
When the big event is over, you might be wondering what else there is to do in Nyack. We've got you covered — seven days a week.
Photo Credit: Arnold Roufa
Video Montage: Dave Zornow