by Dave Zornow
Here's a hi-tech solution to two big obstacles for getting around Nyack: parking and hills. Even though the 10,000 adults in the three Nyack river villages live within two miles of downtown Nyack, they are more likely than not to drive downtown — especially if their trip includes a few hills on the way home.
Even though they are a total of 1400 available parking spots in the village, locals and visitors say they can never find parking. Which translates as: "I can't find parking next to my destination."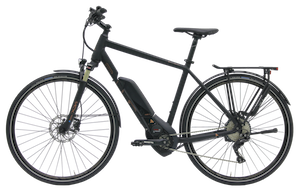 Now there's a solution that's good for your health, your wallet and the planet, too. Situated at the intersection of computer technology and bicycling, E-Bikes let you pedal when you wish while providing some extra woosh! when you climb hills.
Who buys E-Bikes?
"People who want to zip around towns while getting a little exercise and not be hassled by parking are typical E-Bike customers," says Ed Busk, owner of Sleek eBikes. "E-Bikes are for everyone who has a dusty bike sitting in a garage but doesn't use it because Westchester/Rockland hills are too hard for all but the most committed cyclists," he adds.
Traditional bicycle shops like 9W Bikes in Upper Nyack and the Piermont Bicycle Connection are beginning to sell E-Bikes. Busk's Sleek eBikes store in Tarrytown, which specialized in E-Bikes, sells models that range in price from $1500-$4600.
The AARP is among the groups that is on board the E-Bike train. "For older people, e-bikes are the way to go," says 75 year old Minnesota attorney Skip Humphrey. "I believe it will give me another 10 years of biking. I still get a good work-out, but it's smoother, which is important now since I got the pacemaker. And it doesn't beat up my joints." Humphrey, an AARP volunteer, said if he didn't have that extra e-boost he wouldn't be riding a bicycle as often.

"Riding the e-bike is just more fun for me. I can turn off the pedal assist, and just ride it like a regular bike, and I often do. I can work as much or as little as I want," says Nyack resident Denise Leslie, who along with her husband Bob Tash use their his and hers e-bikes to do errands in town and take on some destinations they would not have considered without the electric motor assist. "After Bob bought his e-bike, he rides at least three times a week, weather permitting, and has explored some areas neither of us biked before." Leslie says they were motivated by where they can ride today and the promise of what the future will bring, too: they are both looking forward to using their e-bikes to ride to Tarrytown on the Shared Use Path of the Mario M. Cuomo Tappan Zee Bridge when it opens in 2019.
Why an E-Bike makes sense for Nyack, Piermont or Palisades Center commuters
According to the 2007 Nyack Parking Study conducted by BFJ Planning, one in four of the 4700 people who work in the Village of Nyack live in one of the three Nyack river villages. In 2007, 80% of Nyack employees drove to work. The farthest trip any of those 1300 plus employees made was only two miles — a distance that could be cycled in about 15 minutes. That's also about as long as it takes to drive to downtown Nyack, find a parking spot and then walk to your destination.
The BFJ study also noted that despite the perception of limited parking, with rare exceptions, there's ample parking available nearby. "Overall the results indicate that while there are spot shortages, in looking at the village as a whole, there are a large number of empty spaces, even during peak periods. The problem is not one of total capacity, but of too many people trying to park in the same place at the same time."
Leslie agrees with Humphrey that with a little help from low cost / high tech solution, you can ride around some of the aches and pains that riding a traditional bicycle might aggravate.  "Now I ride more often than before, sometimes just to take a ride, sometimes to do errands. I go farther and ride longer, and can ride up hills that I previously had to get off and walk. This opens up routes to me that I wouldn't have taken in the past," she says. If you aren't sold on the health benefits, there's the upside of never having to pay parking tickets or wasting gas searching for a spot in front of Koblins' Pharmacy on Main Stret. "I often take the bike to do errands around Nyack, the kind I would have driven to in the past. It's actually faster than driving because I don't have to park."
Are they really legal?
Class 1 E-Bikes — bicycles with pedals and a small motor that averages 8-9 mph with a maximum speed of 20 mph — have just received a green light from New York City. Legislation is now winding its way through Albany to resolve any questions about their being "street legal" in New York State. E-Bikes typically have a range of 30-70 miles depending on the model and the terrain on which it is ridden.
"Based on federal guidelines, E-Bikes are legal to sell in NYS," says Leah Golby, board president of the NY Bicycling Coalition.  She says that they are not currently defined as bicycles in state law and they exist in a gray area between traditional bicycles and mopeds. "Some attorneys will argue that they are still bicycles, others will say that because they have a motor NYS requires operators be licensed," she says. The NYBC is currently lobbying  Albany to pass E-Bike affirming legislation.
The confusion exists because New York State is scrambling to catch up with federal guidelines that have been on the books for years. "A low-speed electric bicycle (as defined in section 38(b) of the Consumer Product Safety Act) shall not be considered a motor vehicle," as defined by section 30102(6) of title 49, United States Code. Which would imply that there's no issue here, except of course for the confusion that exists when state laws contradict federal regulations. Busk says he's been speaking with local law enforcement about these issues and they are OK with E-bikes and long as they are operated legally and safely.
There are two other definitions of E-Bikes which are not covered by the proposed legislation. Class 2 E-Bikes come with a throttle and are pedal optional: you don't have to pedal to get it to move. Class 3 E-bikes are limited to 28 mph and require registration with the NYS Division of Motor Vehicles. Anything faster than 28 mph is considered a Moped.
Are E-Bikes Really Green?
Busk says E-Bikes are a slam dunk for commuters who realize that you can travel 50 miles on 5 cents of electricity. "Environmentally conscious people who realize that an E-Bike requires 1% of the raw material a Tesla requires to manufacture and does 2000 MPGe."
"Although this sustainable form of human powered transportation is green, their legal status is still grey," says Paul Winkeller, the NYBC's Executive director. However, Winkeller thinks they will be big, especially as communities build out infrastructure that encourages more recreational cycling and active transportation. "E-Bikes expand the number of folks who can ride bikes – for fun, recreation, fitness, expanding bikeshare programs around the state and tourism. In a hilly destination bike community like Nyack a Class 1 E-Bike is an absolute no brainer!"
See also: