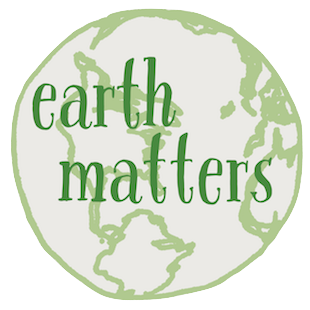 Earth Matters
 focuses on conservation, sustainability, recycling and healthy living. This weekly series is brought to you
2018.
by 
Maria Luisa Boutique,
Strawtown Studio
and
Dying To Bloom
, a natural burial boutique for humans and pets.
If 
Earth Matters
 to you, 
sign up for our mailing list
 and get the next installment delivered right to your inbox.
by Susan Hellauer
Environmental groups are pushing hard right now to get bills banning single-use plastic bags out of committee, through the NY State Assembly and Senate, to Governor Andrew Cuomo's desk before the looming end-of-session buzzer goes off.
It won't be easy: The senate is locked in a partisan standoff, the result of a byzantine set of circumstances that won't resolve before everyone goes home on June 20. 
So why  make noise about this plastic bag-ban bill now? What are its chances? And what happens if it doesn't beat the deadline? We have answers, and action.
Where did this proposed state bag-ban bill come from?
When Governor Andrew Cuomo signed the bill that killed the NYC single-use bag ban (with 5-cent fee per reusable alternative bag) in February 2017, he called for a commission to study the issue and suggest solutions for the entire state. That task force convened, surveyed data from around the world, and, on Jan. 13, 2018, released an alarming, statistic-laden final report.
Supporters hoped that the report would encourage action on single-use plastic bags as part of the state "omnibus" budget bill hammered into existence this past spring. But that did not happen. Cuomo proposed his own bill on Earth Day (April 23) to ban most single-use plastic bags without a specific fee for a paper or multi-use plastic replacement. The recommendation ran counter to that of the governor's own task force, which favored a ban-plus-fee-for-replacement. 
What's in the bills favored by environmental groups?
Currently, there are two other bills in the Assembly (A9953) and Senate (S7760) that follow the suggestions of the task force report closely.
The essentials: Single-use plastic bags would no longer be available at checkout in most stores. Shoppers who do not bring their own bags could buy reusable plastic bags, or paper bags of at least 40% recycled content, for 10 cents each. There is an exception for low-income food shoppers who receive supplemental nutrition benefits, like SNAP or WIC, or who are Medicaid recipients. They'd get their checkout bags for free. And there are exemptions for plastic bags for loose produce, raw meat and deli items, and the like. Of the fees collected for replacement bags, 20% would be kept by the merchant in order to defray costs of bags and bookkeeping. The remaining 80% would go to go to the New York State Environmental Protection Fund.
Who's for and against these bills?
In addition to Democratic state representatives, including Nyack Assembly member Ellen Jaffee (D-97), the bills are supported by state environmental activist groups like the Sierra Club Atlantic Chapter and Riverkeeper. (Rockland County Assemblymember Ken Zebrowski (D-96) did not respond to a request for comment. Rockland State senator David Carlucci (D-38) is "currently studying this bill," according to a member of his staff.)
Arrayed against them are plastic bag manufacturers, represented across the U.S. by the American Plastic Bag Alliance (APBA) and their "Bag the Ban" initiative. Polyethylene bags are made from petroleum, and lawmakers who align with that industry can be expected to oppose bag bans as well.
The plastic bag lobby points out, as environmentalists themselves often do, that paper bags also take considerable water, energy and money to produce—more even than plastic bags. But the point of the fee-for-alternatives is not to increase the use of paper bags, but to encourage consumers to get into the habit of bringing their own reusable bags to the store.
As a member of the Assembly Committee on Environmental Conservation, I have sponsored and co-sponsored many bills, including bill# A9953 which will reduce plastic waste and pollution by banning the provision of plastic carryout bags and placing a minimum ten-cent fee on paper carryout bags and reusable grocery bags.
I have been very vocal about eliminating single-use carry out plastic bags which are harmful to our water resources, ecosystems and wildlife. New York needs to take action now to eliminate these bags, and, increase consumer education and awareness about the long-term impact that this short-term convenience has on our environment.  — Assemblywoman Ellen Jaffee
Why the big push now, at the end of the legislative session?
Environmental groups see the problem of plastic in our environment, and especially in our waterways, as apocalyptic. "Every month that we wait, around 2 billion bags are used for less than 12 minutes at a time and find their way into storm drains and ultimately into cherished water bodies like those in New York State," Riverkeeper Advocacy Coordinator Jeremy Cherson told Earth Matters. "People should demand action on this ASAP. The governor needs to see it through."
But the efforts by Riverkeeper and the regional Sierra Club Atlantic Chapter to boost these bills—including a June 6 day of Albany activism—won't be wasted even if the Krueger/Englebright bills don't emerge from committee in this session: "Ideally, we want to get these bills to the floor now," said Caitlin Ferrante, Chapter Coordinator of the Sierra Club Atlantic Chapter. "But whether or not that happens, we need to raise awareness, and get these bills teed up and in place for next year's budget negotiations, and build a consensus around the ban-plus-fee mix." 
Who else has laws like this, and are they working?
Suffolk County's ban-with-fee went into effect January 1, 2017, and the Westchester County Legislature is considering a similar ban right now. Smaller jurisdictions, like Southampton and East Hampton in Suffolk County, already had single-use bag bans in effect.
California implemented a ban-with-fee law more than a year ago, the first state to do so. Despite weeping, wailing, and intense opposition from a free-spending plastic bag lobby, ". . . this momentous change was not a big deal. Shoppers did not revolt or launch recall campaigns against state lawmakers. Food still gets to people's houses," the LA Times reported. A number of American cities, like Washington, D.C., Seattle, Wash. and Coral Gables, Fla. among them, have some sort of single-use plastic ban in place.
And a UN report issued last week pointed to more than 50 nations now taking action to reduce plastic pollution. Ireland has cut the number of single-use bags in circulation by 90% with such a ban-with-fee program. And the prime minister of India has just vowed to abolish all single-use plastics by 2022.
Why put the burden on consumers?
Bring your own bags to the store, and it won't cost you a cent. If you need to buy a reusable bag at the store, paper or plastic, they will cost you a dime each. Forget your bags once or twice, and you'll likely figure out a strategy for remembering them in perpetuity.
Dog owners: Don't despair. Your own town or village (like Nyack and South Nyack, for example), may already provide doggie bags in street dispensers. And biodegradable pet waste bags are available in bulk for just a few cents each.
Single-use plastic is already hitting you in the pocketbook, whether you know it or not. Even where merchant takeback programs exist, as in Rockland County, it's estimated that a paltry 14% of plastic bags actually get recycled. After a bag's average 12-minute useful life, it gets hauled with other trash to a far-away landfill, which is no free ride. Somewhere around 91,000 tons of plastic and paper single-use bags in landfills costs New York City about $12.5 million each year. And a 2016 report estimated that purchasing single-use plastic bags costs American businesses about $4 billion a year—money that could be better used to add jobs and enhance compensation.
How would a ban impact the environment?
Or maybe the question should be: How does NOT having a ban impact the environment?
If you want to keep petroleum in the ground, single-use plastic bags are not your friend. The petroleum in 14 plastic bags alone supplies enough fuel to drive the average car one mile. Americans can use and dispose of an estimated 100 billion plastic bags each year, and this many bags use at least 12 million barrels of oil in their manufacture.
The growing problem of plastic in earth's oceans is getting more dire by the day. The burgeoning Pacific "garbage gyre" is already old news. With one truckload of plastic trash entering our oceans every minute, scientists predict that by 2050 there will be more pounds of plastic than fish in the seas. Plastic pollution has been found everywhere, from the depths of the Mariana Trench to formerly-pristine beaches, from Antarctica to the Hudson River.
Ingesting plastic mistaken for food kills fish, other sea creatures, and aquatic birds. But it's the plastic you can't see that may be the most dangerous. Those single-use bags never biodegrade, but they do break down into tiny particles, called microplastics. They enter the food chain in waterways, like the Hudson River, where chemicals and industrial contaminants like PCBs glom onto them. They then work their way up to larger animals, right into the tuna sandwich in your lunchbox or the fish dinner on your plate.
What can I do?
Both Riverkeeper and The Sierra Club Atlantic Chapter urge members to call and write their Albany legislators—especially those who are opposed to or undecided about the Krueger/Englebright bills. They also want you to call Governor Cuomo's office—it's not too late!—and let him know that you support A9953/S7760 and want him to sign it immediately when passed, or include it in his budget package for next year (if he is still governor then).
Let your elected state lawmakers and the governor know that you support the "Bring Your Own Bag" bills in the Assembly (A9953) and Senate (S7760).
Sen. David Carlucci (D) 38th Senate District: 518-455-2991; 845-623-3627; carlucci@nysenate.gov
Assemblymember Ellen Jaffee (D) Assembly District 97: 518-455-5118; 845-624-4601; JaffeeE@nyassembly.gov
Assemblymember Kenneth Zebrowski (D) Assembly District 96: 518-455-5735; 845-634-9791; ZebrowskiK@nyassembly.gov
Governor Andrew Cuomo: 518-474-8390; gov.cuomo@chamber.state.ny.us
Learn more:
Email Earth Matters



Read Earth Matters every Wednesday in Nyack News And Views, or sign up for the Earth Matters mailing list.
Earth Matters  focuses on conservation, sustainability, recycling and healthy living. This weekly series is brought to you by Maria Luisa Boutique, Strawtown Studio, and Dying To Bloom, a natural burial boutique for humans and pets.