by Susan Hellauer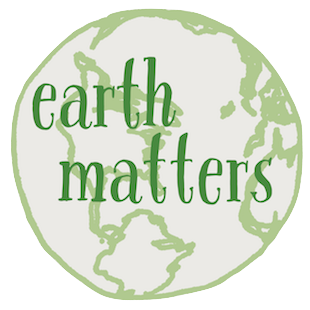 Earth Matters focuses on conservation, sustainability, recycling and healthy living. This weekly series is brought to you by Maria Luisa Boutique, Dying To Bloom, and Strawtown Studio.
If Earth Matters to you, sign up for our mailing list and get 
the next installment delivered right to your inbox.
I was counting the weeks—the days even—until my share of Orange and Rockland Utilities' (O&R) electric supply would be clean and green, fed straight to the grid by a new community solar farm in Orange County. But . . . not so fast.
Subscribers to the community solar farm headed to our O&R service area learned from a recent email that construction of the project, which should have been well underway already, has been postponed until the fall.
The solar array is slated to be built in the Orange County town of Wawayanda NY to serve O&R electric customers who sign on as participants. Why the delay? It's to "ensure that all stakeholders, including both local and state agencies, have had sufficient time to review and provide feedback on the project," according to the June 7 email from Nexamp, Inc., the project's Massachusetts-based constructor and operator.
Where's my solar power!?
The new schedule means that the 1-megawatt solar array would be connected to the O&R grid by the "end of winter" in 2019, and signed-up subscribers would begin receiving discounted credits for their electrical supply at that time—a guaranteed 10% below O&R's own rate—for at least the first 20 of the 25-year life of the project. Nexamp's email told O&R customers who've already reserved a share of the solar farm that those shares are assured, and that they and the Town of Wawayanda "remain absolutely committed to this project and to bringing our community solar program to the Hudson Valley."
It's no surprise that the wheels of government bureaucracy grind slowly, or get a little stuck now and then. So, for some reassurance, Earth Matters reached out to Nexamp's Community Solar Project Manager Eric Misbach about the O&R project delay. Misbach pointed out that Nexamp, which has 25 community solar projects up and running in New England and New York, is now finishing a project outside Ithaca, N.Y., and is completely confident that the O&R solar farm will be completed as well: "The timing is a little off, but this one is happening, and there will be community solar available throughout Orange and Rockland counties. The Nexamp subscription model, with no upfront costs, is here to stay," Misbach said.
Community Solar: Are you in?
Up until now, New Yorkers who wanted clean-energy electric power had few options. If you have a sunny roof at the right angle, solar panels are the solution; they even have no-up-front-cost options for tight budgets.
No sunny roof, or no house of your own? If you pay for electricity—residential, business or nonprofit—you can now participate in community solar. It  supports New York State's Reforming the Energy Vision (REV) initiative, and will, in fact, reduce your electric bill by 10% without any scary contract clauses or equipment to install.
But the local community solar "farm" being built in Orange County by alternative-energy provider Nexamp, has just so much green energy to go around, and not many shares left, so if you want in, you'll want to join right now.
Some green-inclined electric customers already buy Renewable Energy Credits (RECs) from companies like Green Mountain or Arcadia that, in turn, buy these credits from wind farms anywhere in the nation. But most of their power sources—and the grids they serve—are far from our neighborhood, so they don't replace the fossil fuel used to create the electricity that you actually use, on your own grid. And wind farms in the West don't contribute to New York State's ambitious clean energy goal of 50% renewable power sources by 2030.
Nexamp's community solar: How it works for you
The Nexamp/O&R community solar farm is a subscription model for up to 300 participants or "members." A federal tax credit—locked in for the 25-year life of the project (regardless of Oval Office occupant)—plus a NYSERDA program and other incentives from New York State—allows Nexamp to build the project, and share it with individual participants at a discount, while still recouping their upfront investment in the project over time.
Community solar projects provide participants with clean solar energy delivered directly to their local power grid. Nexamp's projects offer a guaranteed 10% discount for 20 years.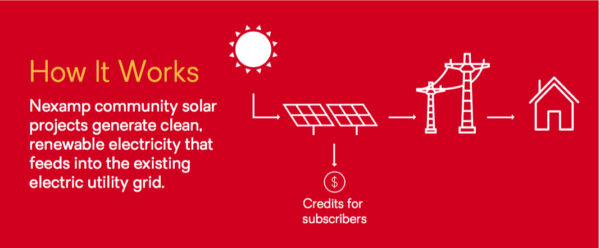 What they don't offer is also significant: no sign-up fee, no income requirement, no credit check, no "escalator" clauses. And members can leave the program with a 90-day no-questions-asked notice to the supplier.
Sign up now: Snag your place in the sun
You can find out more about participating in Nexamp's O&R community solar program, and sign up for your first-come, first-served share on their website.
Learn more:
Read last December's

Earth Matters interview

with the Community Solar folks at Nexamp, for all the details about the O&R solar farm, and about community solar in general—how it works, where it's headed, and how they can offer a 10% discount on your clean and green electricity.
Nexamp Solar Energy Solutions

website
Email Earth Matters
Read Earth Matters every Saturday on Nyack News And Views, or sign up for the Earth Matters mailing list.
Earth Matters, a weekly feature that focuses on conservation, sustainability, recycling and healthy living, is sponsored by Maria Luisa Boutique, Dying to Bloom, and Strawtown Studio.