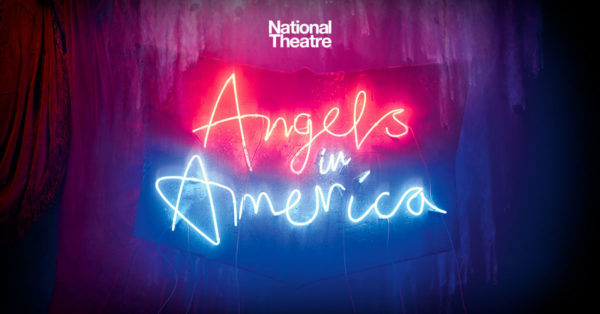 Tony Kushner's Angels in America, now on Broadway at the Neil Simon Theater, won Tony awards (1993/1994) and a Pulitzer for the original production, 11 Emmy awards for the 2003 HBO version, and will probably win another Tony for Best Revival on June 10. It's an American theater treasure up there with A Streetcar Named Desire or Death of a Salesman. And for me, it was one long but remarkable day.
Angels in America: A Gay Fantasia on National Themes is in two parts: Millennium Approaches, which is three and a half hours, and Perestroika, coming in at four hours. You can see the two parts on different days, but I elected to see it in one. Part I started at 1p. By 1:15p, I wanted to leave. The play starts in a funeral home, with a Rabbi delivering a eulogy and talking and talking… and talking. I didn't understand most of his monologue due to the character's heavy Jewish accent. What I could understand, I didn't get. Also–and this isn't the fault of the play–the man sitting in front of me had a big head that blocked much of the stage. Despite these obstacles, by the first intermission I loved the play. By 11p, when the curtain came down, I was in awe, and I leapt to my feet.
Why? Kushner's masterful production filters the horror of the AIDS epidemic into a few deeply flawed, totally real characters we come to know well over the course of the long play. We jump from brutally realistic hospital scenes involving AIDS patients to hallucinations where characters who don't even know of each other's existences are commenting on each other's lives and the world(s) around them. The play seesaws from bare stage to highly theatrical: It snows! It rains! We're in heaven… or is it hell?… or is it just someone's imagination? Yet the most powerful moments are quiet, with two people connecting and laughing, despite the chasms between them: lawyer Roy Cohn and the ghost of executed Ethel Rosenberg, whom he prosecuted, and an AIDS patient and the Mormon mother of his ex-boyfriend's new boyfriend.
A lot of the play was too smart for me. I'm (semi-) intelligent, but I knew I was missing deeper meanings, political statements, connections in history. Was America's reaction to AIDS patients a metaphor for communist witch hunts? Why does one character see snow and igloos when she takes too many Valium? What the heck was that Rabbi going on about? But I didn't mind not comprehending everything because, well, just wow. WOW. What an event to be a part of. There were moments I felt like my heart was beating in time with 1300 strangers. We were collective organisms, the audience facing the actors.
Was this a perfect theater going experience? No. During the first act, the audience laughed inappropriately too much, as if they were nervous. Thankfully, they calmed down in the second act, and there were moments where, to be cliché but accurate, you could've heard a pin drop. One actor had questionable diction. I didn't like some of the English actors' American accents. These are minor complaints, though. I was frequently moved to tears and, other than the first 15 minutes, wasn't bored at all.
One surreal scene was Shakespearean in scope, with berobed people–royalty? Gods? Or merely projections of a medicated mind?–deciding on the fate of an ill character.  I suddenly felt pulled back hundreds of years to what theater was probably like then. Angels in America is a reminder that the magical connection between audience and actors is timeless and eternal. I am a person who believes the creation of a book/play/movie can be every bit as impressive as the invention of a space shuttle. What I saw on stage that day altered my molecules. I'll never forget Cohn and Rosenberg sharing a laugh, people forgiving themselves and each other for their frailty, the strength of the human spirit surviving horrible illness and persecution. And it's all tied up in an exquisitely written play that refuses to have "a bad guy." As the characters on stage evolved, so did I. That's what art can do. Well, that's what brilliant art can do.
Holly Caster knew in 9th grade she wanted to be a writer after receiving an A+ on a paper about 1930's actress Irene Dunne. That early triumphant high hooked her, and she's been writing ever since. She writes nonfiction (self-help articles), fiction (a novel, Cape May), and edits two continuing medical education journals. She's proud to call Nyack "home," and writes about all things entertainment every other week at NyackNewsAndViews.com.
Please Be Seated is sponsored by Elmwood Playhouse
and Westchester Broadway Theatre.
Sister Act, now on stage at Westchester Broadway Theatre in Elmsford through July 1, is the funniest, funkiest musical around, a tribute to the universal power of friendship, sisterhood, and music.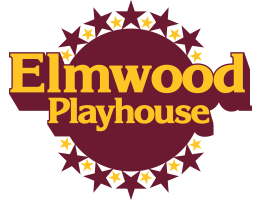 This weekend is your last chance to see The Fox On The Fairway at Elmwood Playhouse, a play about zany country club arch-rivals who will do whatever it takes to save face, win their bets and get their lives in order. On stage through June 2, 2018.