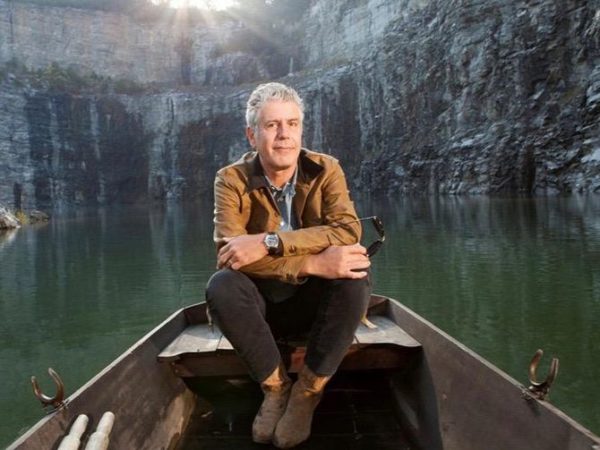 by Ben McCarthy
The first time I saw Anthony Bourdain on a screen, I was 30,000 feet in the air, my plane about to descend into Bangkok's Suvarnabhumi Airport. Bourdain was in Baja, Mexico, eating and marveling at the region's incredibly diverse food culture. Yet what struck me most about Bourdain, who died earlier this month, was not what he was eating or where he was eating it but his ability to render the places he visited in such honest and empathetic detail.
It's easy to miss this when you watch Bourdain on television. It's easy to get lost in his grandiose persona, his penchant for crude humor and dark irony. But one of Bourdain's most powerful, and often overlooked, virtues was his ability to use food–a bowl of Bun Cha in Hanoi, hot pot in Chengdu–as a means to deconstruct, and delve into, the personal and the political.
I grew up in a family where food mattered. We sat down every night to eat together. Cooking and sharing food was deeply important to my parents and I am forever grateful for that. And it was food that made me first fall in love with Anthony Bourdain. His undying love of eating, cooking, and sharing meals was exciting to me. He brushed aside prejudice and fear of the unknown and seemed to equally enjoy Michelin starred tasting menus and the simplest of street food. Bourdain's utterly democratic approach to cuisine was eye opening–that food could be a means of connection, a bridge, a common ground, something that brought people, no matter their class, race, gender or nationality, together moved me.
From his early days as a cook and budding author to his later years hosting No Reservations and Parts Unknown, Bourdain always championed the 99%, the voiceless and the oppressed. He advocated for traveling and eating and experiencing the unfamiliar and the seemingly uncomfortable, urging us to leave our houses and communities, to get outside of our countries and nationalities, to meet and talk with other human beings, or at the very least sit down and eat their food. Bourdain did what so many cannot: He saw the humanity in all of us and he celebrated it.
Bourdain's penchant for listening, for observing, for attempting to learn and understand and empathize with people and cultures the world over, made him stand out from other television hosts, food writers, and chefs. Bourdain never choose to exoticize cultures or cuisines. He always came to the places he visited with an open mind and a willingness to learn. Unlike most travel writers, Bourdain never spoke with an air of authority or paternalism about the places he was visiting, he never lectured. Perhaps his greatest gift to us was his humbleness, his incessant urge to learn and experience everything, the good and the bad, the beautiful and the painful, and to take us all along with him.
In a time when many are focused on turning inward, building walls and closing borders, we need more Bourdains, ambassadors of the world. He taught us that while this earth is unimaginably large, it is also unimaginably beautiful, that most of our fears and prejudices are simply based in what we have never tried to understand or know. I, like so many, will miss him.
Nyack's Ben McCarthy is the lead guitarist in the alternative rock band Regret the Hour and the chief culinary correspondent for Nyack News and Views.