Last fall, volunteers helped the Orangetown Bicycle Study count bikes in the town's first organized bicycle count.

But that was then — and to learn how things have changed since September, the bike study team is organizing a follow up count during the last week of May and first weekend in June
 (from 

Tuesday May 29 to June 3

).
If you can handle a clipboard, have some time to donate, and can spend a few minutes watching a 
training video, you are qualified to help
.
You might be wondering what's the value in counting people riding bicycles. Town planners, transportation engineers, public health professionals and elected officials need this information to create future infrastructure which supports the changing needs of our community. Locals who ride bicycles represent a means to an end: sometimes it's a destination like work, shopping or school; sometimes it's a means to get exercise; and for many millennials and those of modest means, it's their main way to get around. Collecting this info helps communities get grants to create
complete streets
that work for all users (including seniors, kids and people with disabilities) and all modalities (walking, driving, cycling and mass transit).
The Orangetown spring cycling count will complement the September 2017 tally to give Orangetown's bicycle consultant,
Parks & Trails NY
, a better understanding of cycling behavior by season.
If you can spare
a two-hour weekday period AND a two-hour weekend observation period, contact Maggie Pugliano at MPugliano@ptny.org or at 518-434-1583
to sign up to help and contribute to the success of this effort. Please register by May 25 to help the planners plan this count!
About the Orangetown Bike Study
The Orangetown Bike Study is a collaborative community planning process led by the Town of Orangetown and Parks & Trails New York to further develop Orangetown's cycling network.Last fall, Orangetown residents and other users of the cycling network were invited to provide their feedback through a community survey and an interactive feedback map. There was a tremendous response, with nearly 500 surveys completed, and lots of great feedback at local events. PTNY used this feedback, along with site visits, stakeholder interviews, and existing conditions research to make recommendations for the local cycling network.These recommendations include cycling facilities such as bike lanes and bike boulevards that will connect Orangetown residents with important community facilities, as well as with neighboring communities. PTNY will present the final Bike Plan to the Town Board in June.
Save This Date: Bike/Walk Plans Revealed
Tues June 12 at 7p at Nyack High School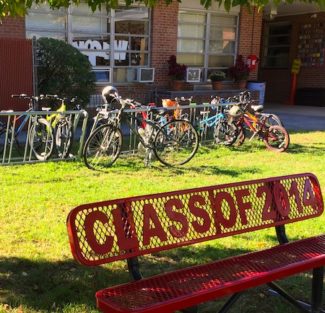 Fitzgerald & Halliday, the transportation consultant for the Greater Nyack Bike Walk Master Plan (GNBWMP), invites everyone who walks, bikes, or drives to a June 12 meeting at 7p in the Nyack High School auditorium to hear their preliminary bike/ped master plan recommendations. The six month study of the communities in the Nyack School district includes input from existing comprehensive plans, interviews with planners, public health and law enforcement officials, and 400 crowdsourced observations of streets, sidewalks, bike lanes and intersections which need attention.
The Nyack bike / walk study area included the three Nyack river villages, Valley Cottage and Upper Grandview, complementing the work of the Orangetown Bike Study which looked at a different geography.
See also: