This week in the villages: Happy Memorial Day. Enjoy your day off. And give thanks to Americans who lost their lives serving in the armed forces. It will be a quiet day at village and town halls near Nyack, and the holiday will be commemorated by 14 events countywide. As Memorial Day is a federal holiday, government offices, banks, post offices, and public schools will be closed. The Tappan Zee Express will run on a weekend schedule on Mon 5/28.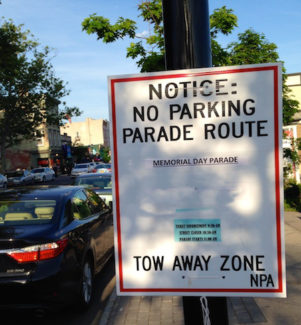 Here's a list of Memorial Day events across Rockland County:
Nyack – Parade begins at 11a  on Artopee Way, continues east on Main Street, south on Broadway, ending at Memorial Park, where a ceremony will be held.
New City – Parade begins at 10a on Collyer Avenue, continues south on Main Street and ends at the County Court House.
Pearl River – The John H. Secor American Legion Post 329 hosts the annual parade. It starts at 10:15a May 28 on North Middletown Road and ends at Braunsdorf Park. The guest speaker will be Kevin Whelan, a U.S. Army Combat Veteran who served in Operation Iraqi Freedom II/III.
Haverstraw – Ceremonies at 9a at Haverstraw Town Hall, One Rosman Road, Garnerville; 9:30a at Calico Hill Veteran's Memorial at Railroad Avenue, Garnerville; 10a at Civil War Monument, Hudson Avenue, Haverstraw; 10:30a at World War II Monument, Maple Avenue, Haverstraw; 11a at World War I Monument, Mt. Repose Cemetery, Haverstraw. Finally, a Medal of Honor Monument dedication will be held at 12:30p at Haverstraw Town Hall, One Rosman Road, Garnerville.
Stony Point – Service at 8:30a at Mt. Rest Cemetery on West Main Street. Parade kicks off at 9:30a on TenEyck Street and includes a service at the Spring Memorial. Parade ends on East Main Street at Town Hall where a memorial service will be held at at 10:30a.
Suffern – Parade begins at 11a from Parking Lot A (across from Ole Ole) and proceeds up Lafayette Avenue to the Soldiers Monument on Washington Avenue. Ceremony to follow parade, including a free barbecue at the Suffern gazebo.
Tappan – Parade begins at 11a on the Masonic Fair Grounds on Western Highway, Tappan. A memorial service will follow at the Village Green, Old Tappan Road and Main Street. Parade sponsored by the Carl A. Schelin, American Legion Post 1271, in conjunction with the Volunteer Fire Association of Tappan. Following the ceremonies, refreshments will be served at the Tappan Fire House, 123 Washington St., Tappan.
Hillburn – Parade begins at 9a at the Ramapo Central School District administration building and will proceed to the World War I monument, corner of Lake Avenue and 4th street, for the ceremony.
Sloatsburg – Ceremony begins at 10a at the municipal building, 96 Orange Turnpike. A parade will follow at 10:30a, from Route 17, stops at library and concludes at Sloatsburg Cemetery.
Piermont – Parade at 9a from firehouse, down Piermont Avenue to Kennedy Park, ending at the pier where a ceremony will be held. Watchfires for the troops who didn't return from war will be lit at midnight, May 29, at the end of the Piermont Pier, and will burn for 24 hours at four locations: Bowline Point Park in Haverstraw, Eugene Levy Memorial Park on Route 45 in Pomona, the top of Clausland Mountain in Orangeburg, and the east end of the Piermont Pier.
Blauvelt – Ceremony begins at noon at Lions Park near the Blauvelt Firehouse, Blauvelt Road.
Nanuet – Service begins at 11a at the Veterans Monument at the Nanuet Train Station (Prospect Street). Sponsored by American Legion Naurashan Post 794, Jewish War Veterans, and the Nanuet Fire Department.
Spring Valley – American Legion Post 199 will hold a service at 1p at the Spring Valley Memorial Park.
West Nyack – Parade begins at 11a at 107 Strawtown Road, proceeds along Strawtown Road to West Nyack Hamlet Green (on West Nyack Road). Sponsored by Nanuet-West Nyack Rotary.
Village of Nyack
Memorial Day Observance Closures

In addition to the village hall office, Nyack's Department of Public Works will be closed on Monday. Trash will be picked up on Tues May 29.
As for transport options: 
TZx
 buses will operate on a weekend schedule; Transport of Rockland (TOR) buses 59, 91, 92, 93, 94 and Loop 3 will operate on a Saturday schedule; Loop 1 and Loop 2 will operate on a weekday schedule; there will be no service on TOR 95 and 97; and Metro-North will operate on a  Sunday schedule. Some routes will be temporarily detoured due to Memorial Day parades in Nyack, Suffern, Pearl River and Tarrytown.
African American Day Parade and Festival
Nyack celebrates its 10th African American Day with a parade and multicultural festival with music, food and a job fair. Saturday, June 2, 11a-5p at Nyack Memorial Park, Piermont Ave. The parade steps off at the village's municipal lot (Artopee Way). at 11a and then proceeds towards Memorial Park.
If you Walk or Bike, please Save This Date:
Tues June 12 at Nyack High School
The Nyack area has a reputation as walk-able and bike-friendly community. But it can still be a challenging place to walk or ride a bicycle.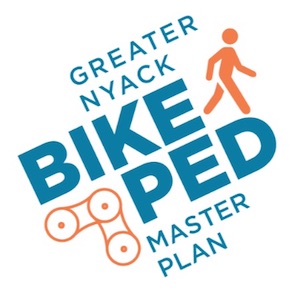 There were 52 vehicular crashes that involved pedestrians or cyclists in the Nyack School District from 2015-2017. That count doesn't include two fatalities in the last four months – including one just last week at the intersection of Broadway and Main Street in Nyack.
The Greater Nyack Bike/Walk Master Plan, a six month study of the streets, sidewalks, bike lanes, and cross walks in the Nyack river villages and Valley Cottage, will present its findings and recommendations on Tuesday, June 12 at 7p in the Nyack High School auditorium.
Please join us at this public event. What you will hear affects all of us!
Village of South Nyack
There will be a children's concert on Saturday, June 2 at 1p at the gazebo in South Nyack Franklin Street Park on Franklin Street, between Cedar Hill Ave and Depot Pl. The concert features the parents' choice award winning, Bossy Frog Band, with Jeffrey on banjo and guitar and the dancing Bossy Frog costume character. Bring a chair, blanket, refreshments and your friends and family.
Tappan Zee Bridge News
In observance of the Memorial Day holiday and in accordance with Governor Andrew M. Cuomo's 'Drivers First' initiative, Tappan Zee Constructors, LLC (TZC) will suspend construction-related lane closures on or near the New NY Bridge project site until Tuesday night, May 29.
Deck Panel Installation over River Road
TZC is scheduled to continue installing road deck panels for the new bridge's eastbound span over River Road at the Rockland landing. The work follows the successful installation of steel girders in the area. The work is scheduled to occur during weekdays, requiring daily periodic 5-minute traffic stops on River Road between 7a and 5:30p. Flag persons will be on site to facilitate the lane closings and maintain traffic safety. The work is scheduled to conclude by Wednesday, May 30.
Roadway Improvements
TZC is scheduled to continue work on the eastbound span's roadway. The work will involve moving material and equipment near the Rockland landing, requiring overnight lane closures on the southbound New York State Thruway (I-87/I-287) beginning near exit 11 (Nyack – South Nyack – US Route 9W) and extending across the new bridge.
Work on the median barrier in Tarrytown will also require single lane closures on the northbound Thruway near exit 9 (Tarrytown – Sleepy Hollow – US Route 9).
Specific lane closure times are listed in the chart below.
Lane Closures Near the Bridge
DATE:
CLOSURES BEGIN:
CLOSURES END:
LOCATION:

Tue., 5/29

7 p.m.

 – One right lane


8 p.m.

 – Two right lanes

6 a.m.

 – 

Wed., 5/30

Southbound (I-87/I-287)
from exit 11 to exit 9

Wed., 5/30

7 p.m.

 – One right lane


8 p.m.

 – Two right lanes

6 a.m.

 – 

Thur., 5/31

Southbound
from exit 11 to exit 9

Thur., 5/31

5 a.m.

 – One left lane

3 p.m.

Northbound
near exit 9

Thur., 5/31

7 p.m.

 – One right lane


8 p.m.

 – Two right lanes

6 a.m.

 – 

Fri., 6/1

Southbound
from exit 11 to exit 9

Fri., 6/1

5 a.m.

 – One left lane

1 p.m.

Northbound
near exit 9

Fri., 6/1

7 p.m.

 – One right lane


8 p.m.

 – Two right lanes

6 a.m.

 – 

Sat., 6/2

Southbound
from exit 11 to exit 9
TZC is also scheduled to pour concrete near the eastbound span's Westchester landing next week, weather permitting. The work will not require the closure of any Thruway traffic lanes.
---
Here are the municipal events in South Nyack and the Village of Nyack for the week of 5/28. There are no meetings scheduled in Upper Nyack this week.
Village of Nyack
Tue 5/29, 5p: Justice Court
Thurs 5/31, 9:30a: Justice Court
Nyack Village Hall is located at 9 N. Broadway.
Village of South Nyack
Wed 5/30, 7:30p: Planning Board Meeting
South Nyack Village Hall is located at 282 S Broadway.