This week in the villages
: Flush, stop, volunteer. No, it's not a new board game. It's what's going on in the villages this week. Water main flushing will continue in Nyack. Traffic stops will continue on River Road. And the Town of Orangetown is looking for volunteers to count bicycles as part of the Orangetown Bike Study and the Nyack Village Board has an update on its accomplishments over the last two months
Village of Nyack
Water Main Flushing
The Village of Nyack Water Department will be flushing water mains in Nyack and South Nyack between 9p and 6a from Mon-Thurs (5/21-24). As a result of the flushing, water may be temporarily discolored and there may be a temporary reduction in water pressure.
A new budget, new pilot program for parking meters, a new transportation committee, Broadway improvements, a planned parking review and a bike/walk study that's underway. Those are a few of the highlights in the Nyack Village Board Update for March-April, 2018 from Mayor Don Hammond and the village trustees.
Nyack Public Schools
Budget Vote and School Board Trustee Election
Nyack voters overwhelmingly approved the 2018-19 school budget on Tuesday May 15. Incumbent trustees Karen Hughes and Damon Bender won re-election to the Nyack Schools Board of Education. Read more about the results of the school board and budget vote in Nyack Schools Results: New Budget, Old Board.
Volunteers Needed for Spring Bike Count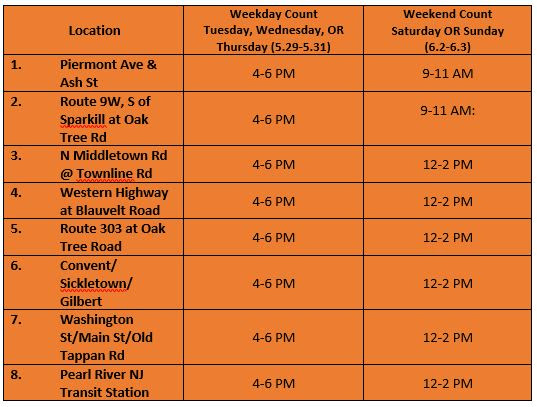 Last September, there was a great turn-out from volunteers to help with Orangetown's first organized bike count. In order to learn more about local cycling patterns, the bike study team is organizing a follow-up count during the last week of May and first weekend in June (from Tuesday May 29 to June 3). You don't need any specific skills, but there is a training presentation available.
Each location requires a volunteer to count the same spot for one two-hour weekday period AND one two-hour weekend observation period. Consult the grid below for specific times and locations. If you volunteer, Parks & Trails New York will contact you to verify your count location as well as send necessary forms. If you would like to participate but are unable to do both bike counts as requested, or have other questions, please contact Maggie Pugliano (mpugliano@ptny.org; 518-434-1583). Please register by Friday, May 25.
Tappan Zee Bridge News
Installation of Road Deck Panels Above River Road
Tappan Zee Constructors (TZC) is scheduled to proceed with the installation of road deck panels for the new bridge's eastbound span over River Road at the Rockland landing. The work follows the successful installation of steel girders in the area.
The work is scheduled to occur during weekdays, from May 23-30, requiring daily periodic five-minute traffic stops on River Road between 7a and 5:30p. Flag persons will be on site to facilitate the lane closings and maintain traffic safety.
---
Here are the municipal events in Upper, South and the Village of Nyack for the week of 5/21.
Village of Nyack
5p: Justice Court
6:30p: Nyack Housing Authority
7p: Nyack NAACP Meeting
7p: Parks Commission Meeting
9:30a: Justice Court
6:30p: Village Board Pre-meeting Workshop
7:30p: Village Board Meeting
Nyack Village Hall is located at 9 N. Broadway.
Village of South Nyack
Tue 5/22
6:45p: Police Board Meeting
7:30p: Board of Trustees Regular Meeting
South Nyack Village Hall is located at 282 S Broadway.
Village of Upper Nyack
Thurs 5/24, 7p: Board of Trustees Workshop
Upper Nyack Village Hall is located at 328 N Broadway.