by Nyack Mayor Don Hammond and the Nyack Village Board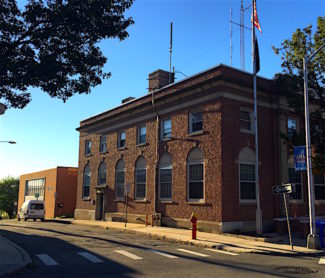 The village board remains committed to what we see as the priority issues for our community. "Focus and Finish" continues to be our theme and with that in mind, here are some things that have happened in the village in the last two months.
The Nyack Point Apartments on upper Main Street ribbon-cutting took place on April 27. This project exemplifies the values and priorities of our village, 33 low income units in the heart of downtown. These beautiful new apartments, some fully handicapped accessible, ensure that our community continues to be the diverse place we all love. Thank you Gerri Levy, Bert Hughes, all of the good people at Rockland Community Action Housing, Rockland County and NY State who made this possible.
Memorial Park will be a hub of activity this spring and summer. A new splash pad is being installed, the park will host youth football practices, the gazebo construction is almost complete, there will be Little League games, music in the park (thank you Nyack Park Conservancy), and the second annual Great Nyack Get-Together—all coming to our park this season!
Village parking continues to be an area of focus:
The possibility of new parking meters with mobile apps and a pay-by-plate system would eliminate the need for parking slips. An updated parking meter is being piloted in the Nyack Library parking lot. The mobile app is not part of the pilot, but try it out and tell us what you think! We know that folks are interested in a mobile app and we are exploring that as well.
The village board is working on a complete study of parking throughout the village. We are looking at hours of operation, alternate side of the street parking, additional parking structures and use of private lots.
The marina should be very busy this season. We are delighted that it now includes slip rentals, a vendor for sailboat charters and will soon include paddle boats and a kayak club. We are working on completing a footbridge from the marina to the park which will increase available parking options and finally create the access to the river from the north to the south end of the village that the community has desired. This work will be completed through a grant from the New NY Bridge authority and we are grateful for all they have contributed to the village over their period of bridge construction.
We named two task forces this week to explore important issues.
The first will be tasked with reviewing our current website, identifying issues and recommending how the village can better communicate with our community. They will be reporting to the board in June.
The second task force will explore the transportation requirements and needs for the village. The team will be developing surveys for residents, talking to experts and working with the Rockland County Transportation Department to develop strategies to meet those needs.
We are continuing to develop new ways to make our village both a pedestrian- and bike-friendly community. Construction on the Broadway revitalization project is quickly approaching— we are just waiting for the NYS DOT to approve the final designs. This project will cover sidewalk and streetscape improvements for the entire stretch of Broadway. We will be meeting with merchants and residents to get input so that construction happens with as little disruption as is possible. Call Ann Marie Tlsty at Village Hall if you would like to be a part of these discussions.
Residents and officials from the villages and hamlets in the Nyack School District have come together to develop a bike and pedestrian plan for our students. The Nyack Walk and Bike Master Plan Steering Committee has been working diligently to identify opportunities that will make the Nyack School District a safer place for bike riders and pedestrians. A public open house to present the ideas will be held on Tuesday, June 12 at 7p at Nyack High School. Once again, we commend the volunteers who have worked so hard to develop this plan. They have devoted many, many hours and given much thought to how to make this village safer for our children and the rest of our community.
Head Start has asked the village board to explore solutions regarding traffic and safety issues on Depew Ave. New signage has been installed, parking authority and police presence has been increased. We are also looking at changing the pedestrian crossings and will continue to monitor the situation with Head Start staff. At our May 10 Nyack Village Board meeting we voted to lower the school zone speed limit on Depew from 20 mph down to 15 mph.
We are working with our neighbors in South Nyack, Piermont, Grandview and Upper Nyack to find shared-service opportunities for trash and recyclables. We are excited about the possibility of bringing better service and tax savings to our residents!
One of the most asked questions in the village is about Bartaco. They are coming, I promise! Final agreements have been signed and we anticipate the land-use process to plan for the renovation and upgrades on the building to start soon.
Construction at the Rockland Community College Culinary School is in full swing and classes are scheduled to begin in September of 2018. This is an exciting project that will bring students, visitors, community engagement and additional great culinary options to our village. Not to mention, that it will also bring a jolt of energy to the corner of Broadway and Main and give Nyack residents one more fantastic place to eat and buy locally sourced food and beverages.
The Nyack Village Board adopted its 2018/19 budget at our last meeting in April. This was a difficult budget process that included a focus on mandated services and board priorities and values, which were demonstrated by continued funding for youth activities through the Nyack Center, Rockland YMCA, Nyack Hoops and our recreation department.
We also set aside funding to pursue becoming a Climate Smart Community and began the process of this important designation. We are committed to the environment and creating a sustainable community. More initiatives will be announced in the coming months. Becoming a Climate Smart Community also qualifies our village to apply for grants that further our goal of creating a sustainable community.
There have been some great events in our village over the past month throughout the village. From Rockland County's first Repair Café, with 14 repair stations; to Keep Rockland Beautiful and Riverkeeper bringing us together to clean up Memorial Park; to the Nyack/Valley Cottage Little League returning to Nyack; to Arbor Day tree planting; to Street Fairs our village has been an active and amazing place. Thank you to everyone who organized these events, from Sustainability Coordinator Marcy Denker and her tree planting team, to Riverkeeper and NVCLL for keeping our waterfront clean and busy. It truly takes a village.
Spring is in the air, and that means pothole repair and street paving. Upper Depew and Kilby Street were repaired last week. There is still some pothole work to do. We want to thank Jim Dean, Superintendent of Highways from the Town of Orangetown and their Highway Department for assistance in milling and paving these streets. Work on North Midland Avenue will start again around the end of May. There are still some handicap accessible corners that need to be completed, then milling and paving will commence. Please visit Nyack-NY.gov to report potholes around the village.
I hope you have seen the great new welcome to Nyack sign on Kilby Street. Special thanks to Ann Marie Tlsty, Montefiore Nyack Hospital and Belleville Landscaping and Construction.
Upcoming Events Include:
Our Memorial Day Parade is May 28.
June 2 is the 10 anniversary of the African American Parade. This year will feature great bands and the parade route includes Main Street and Broadway. The parade finishes in Memorial Park and activities will continue throughout the afternoon. There are plans to paint our crosswalks for this important event. The parade steps off at 11a.
June 8 will celebrate Pride Walk Nyack with opportunities to participate in special activities throughout the weekend. Stay tuned!
June 10 is the Annual Nyack Fireman's Memorial parade stepping off at 9a.
Your village board attended the Undoing Racism Workshop run in April and will be discussing how to integrate the lessons and new understandings from this workshop to impact our service to the village. This will be a focus of our workshop session on May 24.
We end our update with a sad note on the passing of Dr. Arnold Roufa, our unofficial village photographer, advocate and good friend. He was a joyous and wonderful presence in our village for many years. His love of our community is evident in the almost countless beautiful pictures he took of Nyack during his time here. We are sad he has left us and we offer our sympathies to Arlene and his family.