This weekend join the Nyack Tree Project and help give back what winter took away. Also, if you are an early riser, join Bike Nyack for a nice ride to Oradell or, if you rather walk, try the Oak Hill Cemetery tour. And don't miss out on an evening in an enchanted forest at the Moonlight Masquerade Dance.
Friday
Stop by the Nyack Community Poem Reveal Party. Bring your poems, songs, words, rants, prose and stories to share at the open mic. 7-9p, 95 1/2 Main, 95-1/2 Main St, Nyack.
You might know Matt Braunger, as Marvel's Agent Carter. Tonight he won't fight the bad but you will fight tears of laughter at Levity Live. 7:30p and 9:45p, 4210 Palisades Center Dr A-401, West Nyack.
Experience the genius of Paul McCartney at the height of his career. The McCartney Years, a live concert,  spanning two decades from The Beatles to Wings. 8p, Tarrytown Music Hall, 13 Main St, Tarrytown.
Saturday
Spend your evening in an enchanted woodland forest to celebrate Blue Rock School's 30th Anniversary with a
Moonlight Masquerade Dance & Silent Auction
. Tickets are $15 online or $25 at the door and include complimentary wine and hors d'oeuvres. All proceeds will benefit the Blue Rock's scholarship fund. 8-11p,
Nyack Center
, 58 Depew Ave, Nyack.
Do you have "The Ride Stuff" for a Saturday spin to Schirra Park in Oradell? Join Bike Nyack for a ride to the parklet named for Mercury 7 astronaut Wally Schirra. Meet up at 8:30a at the corner of Depew & Piermont Aves adjacent to Nyack Memorial Park.
Celebrate Earth Day and Arbor Day by planting trees! Join friends and neighbors of all ages to plant trees along the streets of Nyack. Nyack Tree Project Tree Planting Day, 9-11:30a, 157 High Ave, Nyack.
Art talk with Sean Scully. He is an inspirational and humorous public speaker, who is providing Nyack locals a glimpse into his work with a jewel of an exhibition at the Hopper House. 2p, Nyack Library, 59 S Broadway, Nyack.
Drive returns to Casa del Sol to rock and roll the night away. Enjoy hits from all decades. 9:30p, Casa del Sol, 104 Main St, Nyack.
Sunday
Autism Speaks Greater Hudson Valley presents The Rock 'n' Rollers. Celebrate Autism Awareness Month with a concert filled with classic rock songs. 6 teens and young adults will knock your socks off with their talent and passion for music. 12-1p, Palisades Center, 1000 Palisades Center Dr, West Nyack.
The Historical Society of the Nyacks kicks off their walking tour season with the Oak Hill Cemetery Tour. Meet 2p at the Cemetery entrance gate, Route 9W, between Sickles and 5th Ave, Nyack.
Celebrate National Poetry Month with a reading by five local poets at the Piermont Public Library. After the presentation  the audience will have an opportunity to read original work during an open mic session. 2-3:30p, 25 Fly Wheel Park W, Piermont.
Next Week
Monday
The International Jewish Film Festival concludes with An Act of Defiance. 7:15p, Regal Cinemas, Nanuet.
Thursday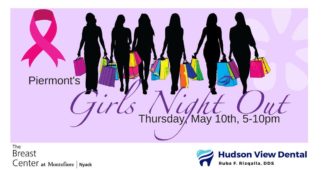 Girls Night Out! – an extra special night. The evening is sponsored by the Nyack Hospital to help promote Breast Health Awareness. There will be a walk-about-raffle and of course many other treats and events inside the businesses of Piermont. 5-10p, Piermont Chamber of Commerce, Piermont.
To get the Nyack Weekender delivered to your mailbox auto-magically every Friday morning, add your name to our mail list. Visit our
online sign-up sheet
to subscribe.